Docebo
We believe in the limitless power of learning
It was true in 2005 and it's true today: Learning is everything.
Learning is how people evolve, how they develop new skills, and how they generate creative new ideas. And it's how businesses grow, innovate, and compete.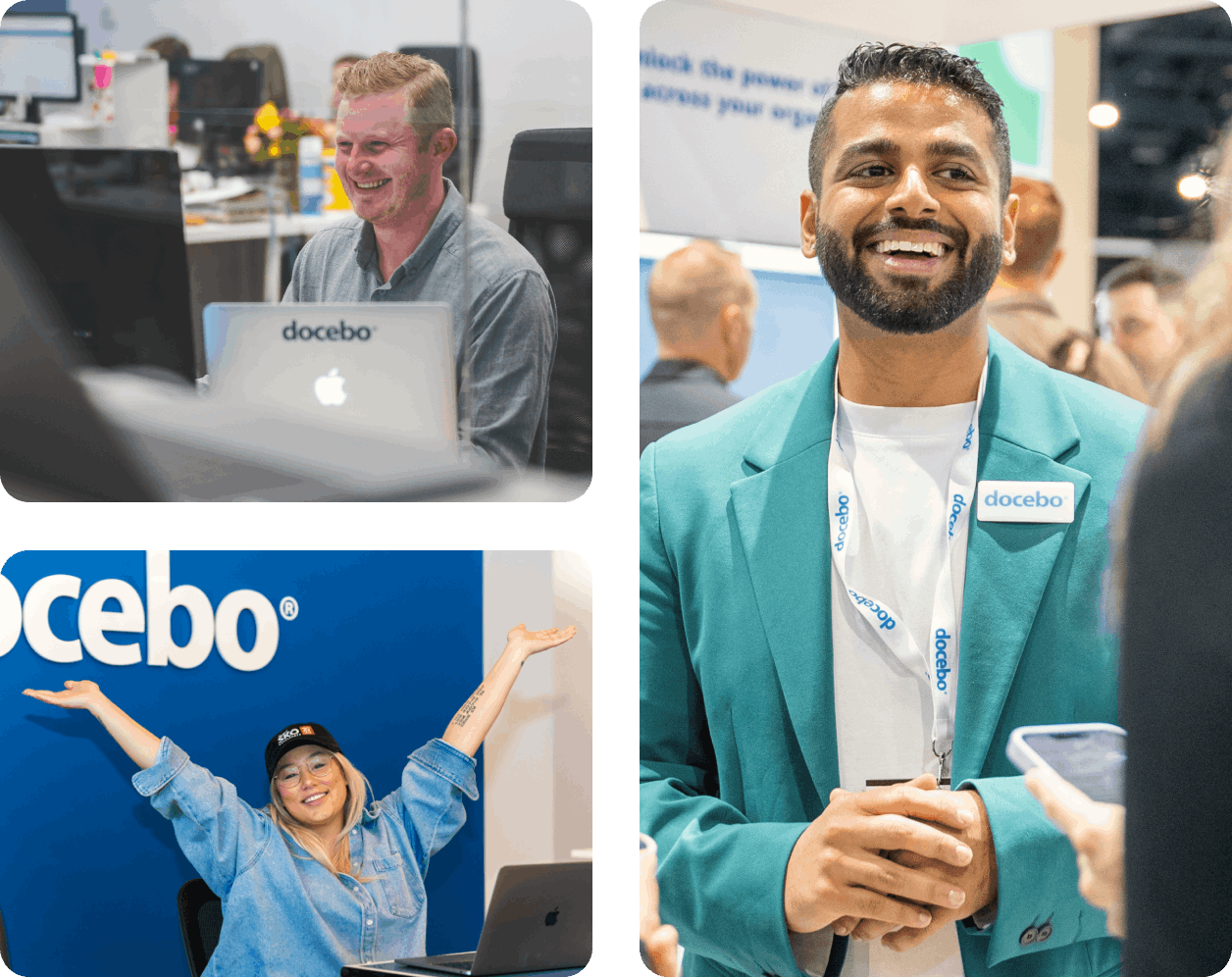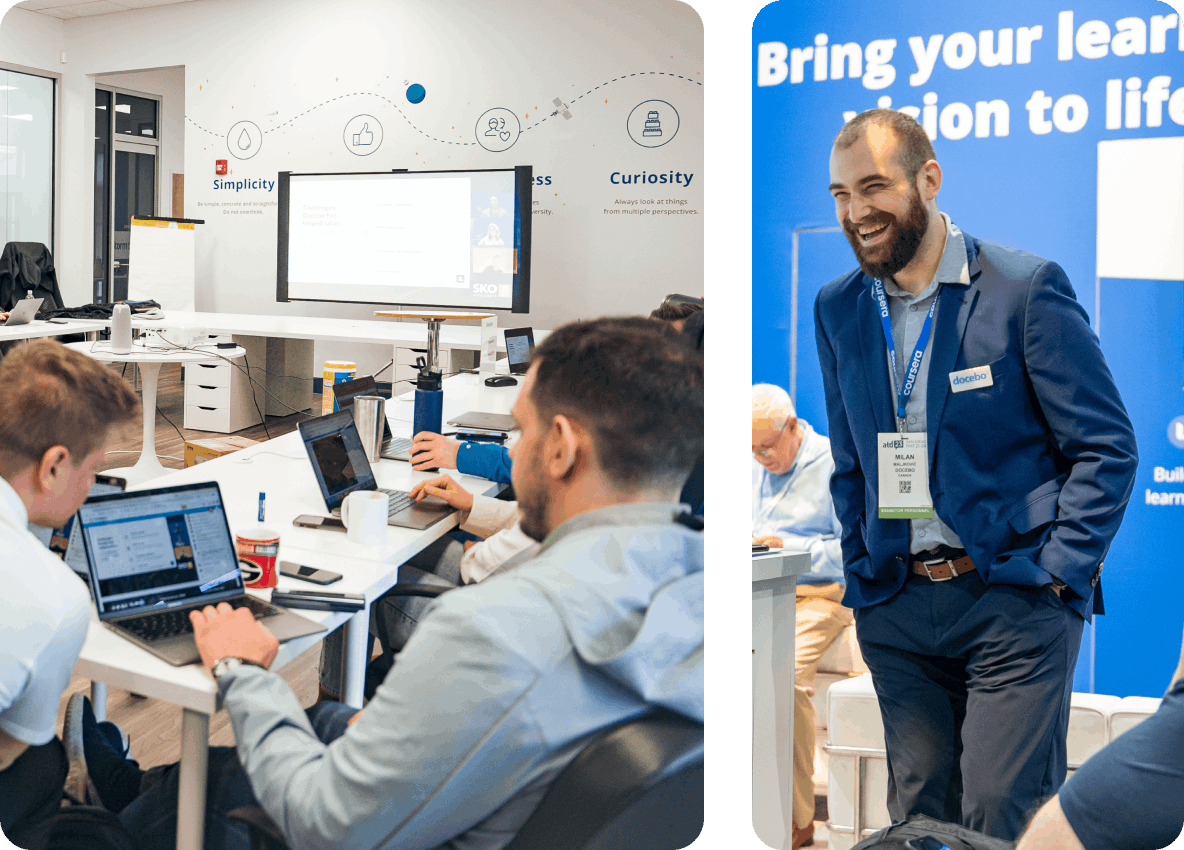 Technology and innovation
Docebo has always been on the forefront of new technologies because technology can make learning simpler and more effective.
We use automation to scale learning programs and reduce manual tasks. And we were the first in our industry to embrace machine learning and generative AI, because every learner should be able to create and experience high-quality, relevant, and personalized learning content.
Technology can also amplify the best parts of being human: It can facilitate mentorship and social learning, reinforce culture, and help people grow into their full potential.
Built for the business of learning
Business success requires skilled people and high productivity, which makes learning more critical than ever.
Employee learning improves productivity and retention. Customer training helps customers get more value and grows bottom-line revenue. And Partner training makes partners better sellers and brand advocates.
Docebo is focused on helping enterprises deliver scalable, hyper-personalized learning to all their audiences. And we believe learning should have a measurable business impact—by growing revenue, reducing costs, mitigating risk, and engaging learners.
About Docebo
Founded in 2005 in Macherio, Italy, Docebo has grown into a global company with offices all over the world, including the United States, the United Kingdom, Canada, France, Dubai, and (of course) Italy. We first IPOed on the Toronto Stock Exchange in October 2019 and on the NASDAQ in December 2020 (TSX and NASDAQ: DCBO).
To learn more, download our corporate one-pager.
In Latin, docebo means 'to teach.' And that has been our focus since the beginning: Helping people and businesses learn better and more effectively. Because that's what teaching is all about.
Our people
The Docebo family has grown to a team of 800+ innovators worldwide. We believe learning is for everyone and that we all have something we can learn from each other. That's why we've built a diverse and inclusive community that learns together, grows together, and appreciates one another.
Simplicity
Keep it simple, remove barriers and bureaucracy, and adopt a problem-solving mindset.
Accountability
Empower people, own your responsibilities, and be a do-er.
Togetherness
Work ethically, celebrate efforts and accomplishments, and take care of each other.
Curiosity
Explore unconventional ideas, seek new data, and make informed decisions.
Innovation
Experiment and find new ways to do things. Stay optimistic, with an eye towards progress.
Impact
Understand our customers, make their lives better, and make a tangible impact on their business.
Claudio Erba
CEO and founder
Claudio Erba is the founder and CEO of Docebo, the leading global enterprise learning platform. Mr. Erba holds a degree in Economics and Marketing from the Catholic University of the Sacred Heart in Milan, Italy. In 2005, Mr. Erba used his experience as a guest lecturer on Content Management Systems at the University of Florence (2001 – 2004). Today, Docebo is the top cloud-based LMS AI platform of choice for organizations all over the world. Launching Docebo's growth into the stratosphere isn't Mr. Erba's only passion – one day he wants to explore the galaxy himself and is patiently awaiting his chance to buy a ticket on Virgin Galactic (contact him if you know where to get them).
Alessio Artuffo
President and Chief Operations Officer
Alessio Artuffo brings over 15 years of experience in the e-learning and knowledge management industry to his role as President and COO of Docebo. Previously, he served as the Company's Director, International Business Operations from 2012 to 2013 and Chief Operating Officer, where he played an integral role in establishing the operations of Docebo in North America. More recently, Alessio held global sales and marketing responsibility as Docebo's President & Chief Revenue Officer. From 2009 to 2012, he was Country Manager for North America at eXact Learning Solutions S.r.l., ("eXact"), a software enterprise technology company providing software solutions for knowledge and learning content management. From 2007 to 2009, Alessio was a Project Manager and was later promoted to a Sales Engineer Manager at Giunti Labs, before it rebranded to eXact. Alessio is also on the board of advisors to Athensmade, Inc., a non-profit organization based in Athens, Georgia, that exists to educate, support, and promote homegrown brands, entrepreneurs, and creative professionals.
Fabio Pirovano
Chief Product Officer
Fabio Pirovano has over 15 years of experience in e-learning software development.Fabio has been with Docebo, in various roles, since 2005. He has been the Company's Chief Technology Officer since 2012 and assumed the role of Chief Product Officer in 2022. Prior to this role, he worked with Mr. Erba to develop Docebo's e-learning platform before being promoted to Team Leader of the Docebo LMS team. Fabio holds a Bachelor of Science degree in computer science from Politecnico di Milano in Milan, Italy and an Executive MBA from SDA Bocconi School of Management, Italy.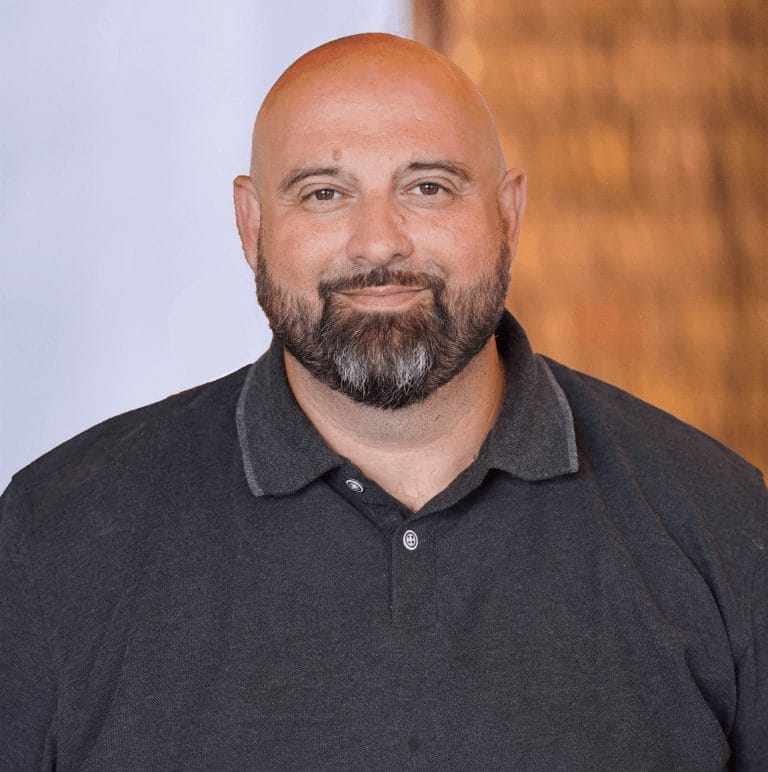 Domenic Di Sisto
Chief Legal Officer
Domenic leads the Legal Department and is responsible for Docebo's global legal matters. Domenic began his law career in 2004 with the firm of McCarthy Tétrault LLP in its Business Law group in Toronto. He has extensive experience leading publicly-traded companies on corporate/commercial transactions, including corporate financings, mergers and acquisitions, and providing counsel on complex legal, governance, and compliance matters. Prior to joining Docebo, Domenic was Vice President & General Counsel of Points.com Inc. an e-commerce and technology service provider to the loyalty industry listed on both TSX and Nasdaq. He holds a Bachelor of Laws Degree from Queen's University, a Master of Arts (Financial Economics), and Bachelor of Commerce from the University of Toronto. Domenic was called to the Bar of Ontario in 2004.
Francesca Bossi
Chief Human Resources Officer
As CHRO of Docebo, a global leader in Enterprise Learning SaaS, Francesca has built the organization's global family.With over a decade of experience in e-learning, digital environments, and scalable processes, Francesca loves the challenges that come with high-growth, global expansion and supporting her people globally. Francesca is a lover of technology, whose passion is fueled in her support of young women to understand their unlimited power. Her belief is that technology will rule the world, and women need to master it in order to be active actors in the new era upon us.
Sukaran Mehta
Chief Financial Officer
Sukaran Mehta serves as CFO at Docebo, where he's responsible for building and leading the finance organization to support the strategic and internal execution of the company's scaling and growth. Sukaran brings more than 15 years of experience in Technology, Financial Services, Private Equity and Venture Capital. Prior to Docebo, Sukaran was VP Finance at Finastra (a Vista Equity Partners owned financial technology company), overseeing key finance operations, including business planning, finance systems implementation, and recurring revenue operations. He previously worked at RBC on several finance initiatives, including the acquisition of City National Bank. Sukaran started his career at PricewaterhouseCoopers, is a graduate of the National University of Ireland, Galway and holds Chartered Professional Accountant CPA, CA Ontario and FCA Ireland designations.
Grow with us
There are many ways to grow with Docebo:
Join our team
We're all about learning. Bring your ideas, skills, and innovative spirit to Docebo and let's learn together.
Use our platform
Docebo is built for the business of learning. We are the platform for growth you'll never outgrow.
Become an investor
Invest in the world's most powerful learning platform and the future of learning.