How Kiehl's Since 1851 amplified and modernized over 170 years of education
Find out how Docebo helped Kiehl's Since 1851 create a connected, global learning experience.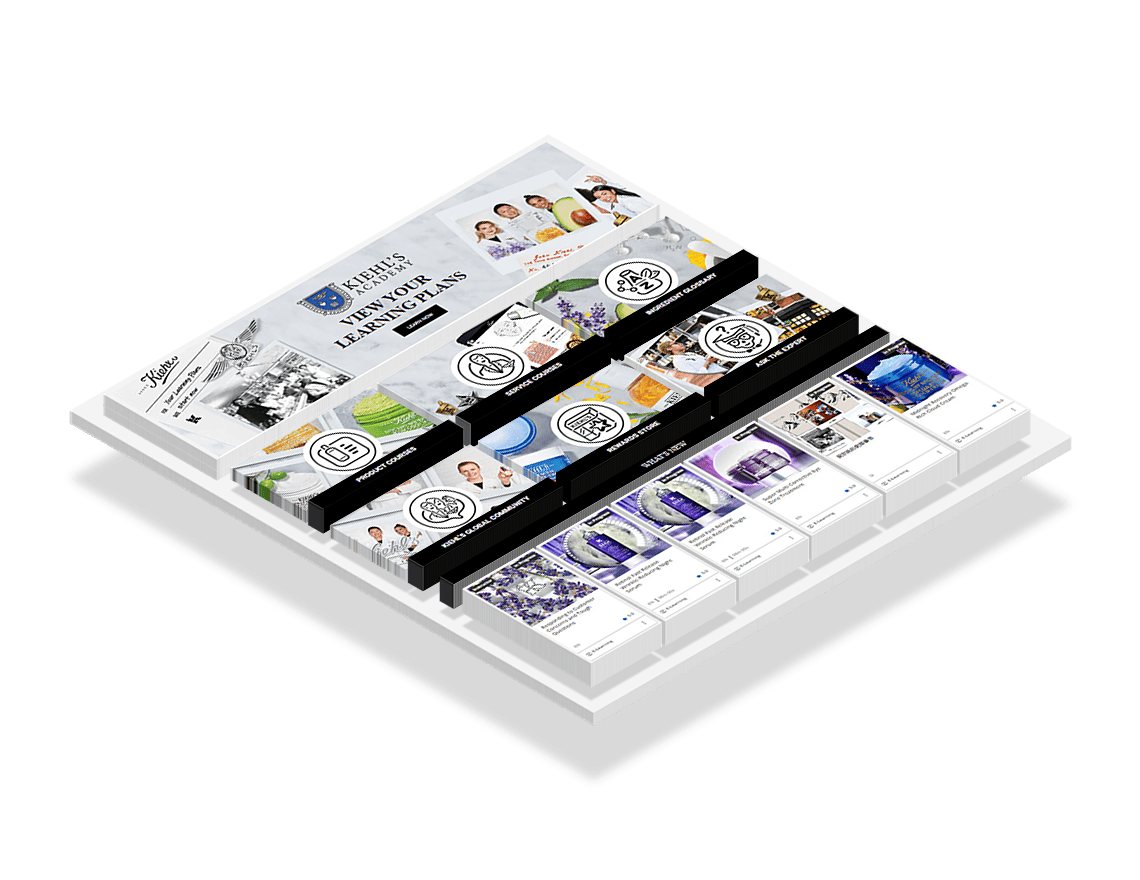 300+
courses available in 11 languages
100%
users completed onboarding & virtual sustainability training
45+
new countries onboarded
Kiehl's Since 1851
Kiehl's Since 1851 began that year in New York's East Village. For over 170 years, Kiehl's has provided customers with highly personalized skincare expertise, with over 4,500 Skin Pros worldwide. Passed down through generations, the mission of Kiehl's has always been guided by founding family member Aaron Morse's vision for making "better citizens, better firms and better communities."
Mia Kernaghan is a Global Digital Education Specialist at Kiehl's Since 1851.
"With the partnership of Docebo, we are able to bring our expert-level education and superior brand standards to our teams around the world, making the experience more engaging and accessible than ever before."
Mia Kernaghan
Global Digital Education Specialist, Kiehl's Since 1851 The Challenge
Kiehl's Skin Pros require expert-level knowledge and training.




As Kiehl's expanded worldwide, they wanted to build Kiehl's Academy: a highly personalized, accessible, and educational platform where both new and existing users could advance their education from anywhere in the world, in any language.




Building Kiehl's Academy would fulfil the longstanding dream of founding family member Aaron Morse, who had long wanted a unified platform for employees to elevate their knowledge of Kiehl's products and the science of skincare.



The Solution
Kiehl's partnered with Docebo to build a global e-learning platform that respected their brand's identity.


Personalization was the core: AI-based recommendations meant that each learner's courses were personalized the same way each customer's skincare recommendations would be.

Community came to life through Kiehl's Social Community and Ask an Expert features, which encouraged mentorship and social learning.

Generosity was woven into the platform as well: users could earn badges, achievements, and points, which could be exchanged for sustainable rewards.
"We are proud to partner with Docebo to bring to life our long-standing vision of creating a digital and modern Kiehl's Academy. Kiehl's Academy is a place to advance users' education and strengthen their connection to the brand in a truly meaningful, impactful and original way."
Mia Kernaghan
Global Digital Education Specialist, Kiehl's Since 1851 The Results
Digital education is accessible in over 45 countries, with more than 20 of those added and onboarded during the pandemic.

300+ courses, available in 11 languages.

100% completion rates for measures like training completion and educator adoption.

"I can learn from Skin Pros around the globe through photos and videos on Kiehl's Global Community—and I can be creative and share anything about Kiehl's! I am so thankful to be a part of the Kiehl's Community!"
Jem
Kiehl's Skin Pro, Philippines