How Smartly.io uses Docebo Connect to automate tasks and focus on impact
Find out how Docebo Connect allowed Smartly.io to connect their LMS to the rest their tech stack
Who is Smartly.io?
Smartly.io is a social media advertising automation solution that helps companies create unified advertising campaigns across networks.
Ian Janes is a Learning Solutions Manager at Smartly.io.
"The rapid growth of our organization during the pandemic has brought a lot of challenges for L&D… but they're made easier by not having to waste precious time on the same repetitive, tedious housekeeping tasks, week after week."
Ian  Janes
Learning Solutions Manager, Smartly.io
The Challenge
Finding a way to connect their LMS to the rest of their tech stack
Managing new user enrollment, course uploads, course updates and differing training calendars- all in the LMS
Without tapping into busy developer resources.
"If we wanted to use internal resources to build these integrations, we would have had to make the case for why we needed them…It's much harder to push our way to the top of another team's list of priorities than it is to just do something ourselves."
Ian Janes
Learning Solutions Manager, Smartly.io
The Solution
Seamless integration with tech stack, facilitated through Docebo Connect. 

Set up by the L&D team, with no outside resources.

Up and running in hours, instead of months.

Easy connections to their HRMS, AirTable, and Google Calendar.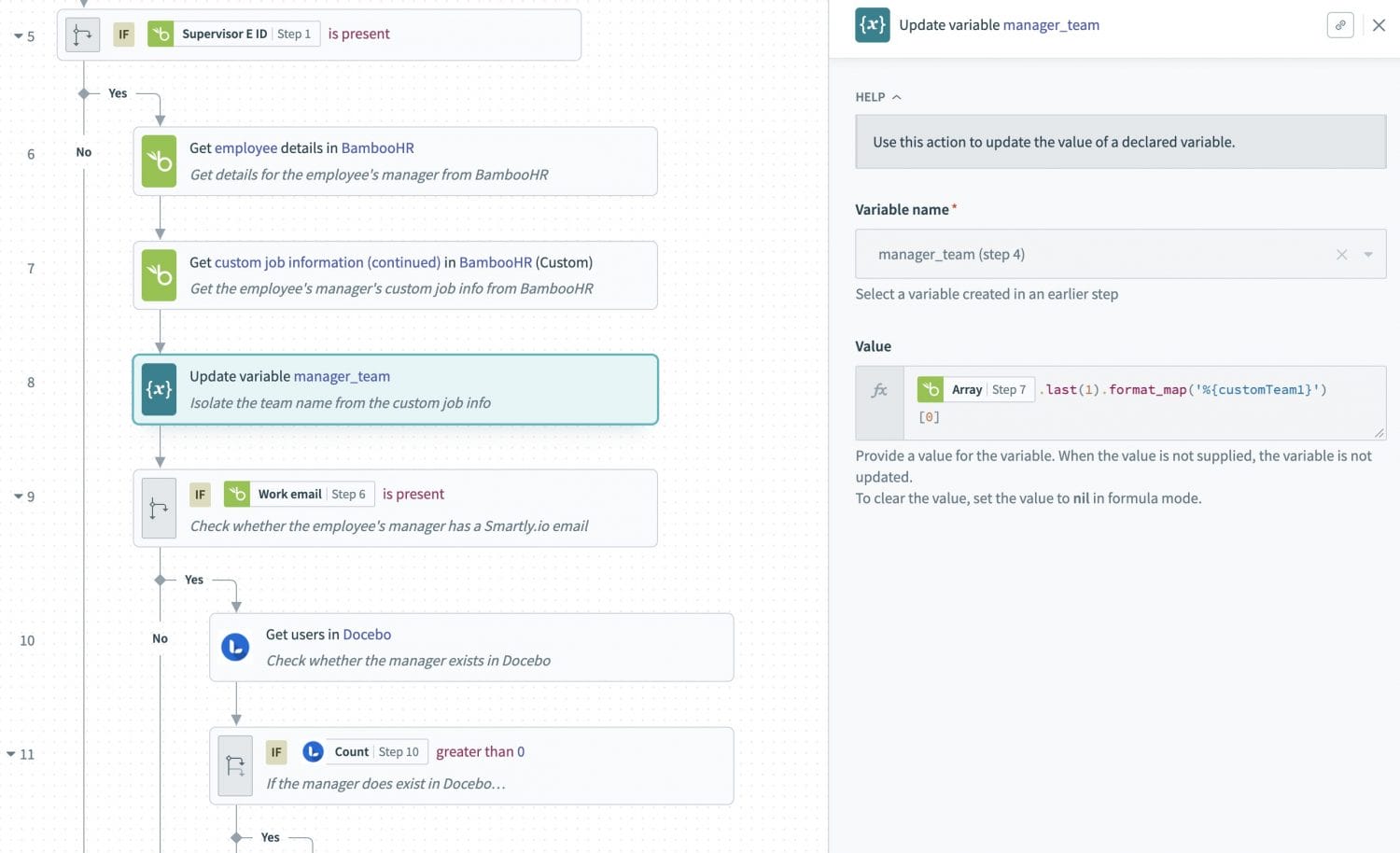 "Everyone was much happier not having to make changes manually…It wasn't just the time savings, either. Automating such a tedious task was great for morale. And Docebo Connect allowed us to do that."
Ian Janes
Learning Solutions Manager, Smartly.io
The Results
Automations and recipes that cut down hours of tedious, manual tasks.
More time to focus on valuable work instead.
The ability to push projects forward without external resources.
Increased autonomy for their team.
"It makes a big difference to employee engagement to be able to focus on tasks that make a difference, rather than working on tedious manual tasks that anyone could do. That's the biggest impact for me."
Ian Janes
Learning Solutions Manager, Smartly.io