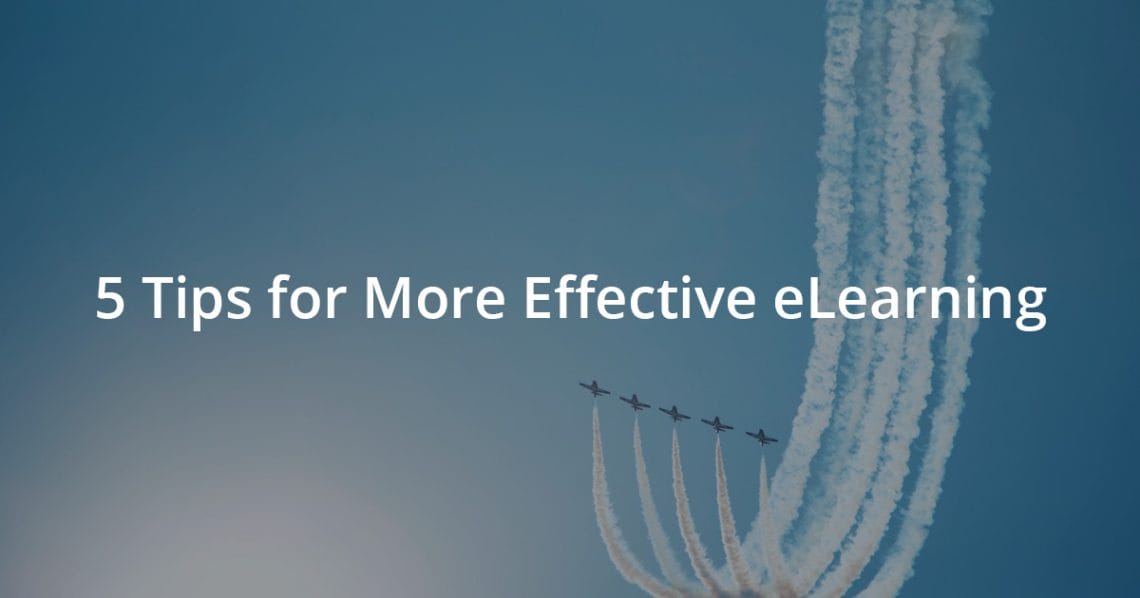 Follow these 5 critical eLearning tips for better L&D results
5 Tips for More Effective eLearning
Have you implemented an eLearning solution yet? If not, this might be your first problem. eLearning is one of the most effective ways of engaging learners today, and should be the foundation of any successful learning and development program. However, sometimes eLearning solutions aren't executed properly, and this can lead to disarray within the organization. With that in mind, here are five tips to observe as you strive to build a successful eLearning solution.
Give a Great User Experience
As we frequently state, user experience is the weakest link in the eLearning chain. In an ideal state, your users should love to use your learning management system (LMS). In the worst case scenario, your learners hate using your learning platform. A clumsy, awkward, hard-to-use LMS spells the difference between success and failure in eLearning. Alternatively, an effortless, easy-to-use LMS is the most key ingredient in engaging learners and ensuring the success of your learning management solution.
To ensure successful eLearning outcomes, put yourself in the shoes of your learners. If your LMS is unintuitive and hard to use, your users are already at a disadvantage. In other words, if you need to be trained to use your LMS, user adoption will suffer and your eLearning solution will be compromised right out of the gate. A great LMS leverages common, web-based  conventions and shouldn't need much – if any – instruction to use effectively.
Get Mobile
The benefits of taking eLearning mobile are apparent. Learners today are practically joined at the hip with their devices. And learning, as we know, takes place everywhere: in the workplace, on the go, and even at home. As we enter the mobile age, it makes more and more sense to leverage mobility to engage learners wherever they go.
Smart eLearning solutions provide learners with the opportunity to learn on the go, wherever they happen to be, through their mobile devices. Great mobile eLearning solutions enable users to access course content, complete learning activities, and share insights with or ask questions of peers with a few clicks or keystrokes on their mobile devices.
Plan and Strategize
An ad hoc approach to L&D is simply insufficient. We can't cultivate learner engagement, drive successful learning outcomes, or onboard new hires expeditiously if we don't have a robust and well-realized learning strategy. And while an L&D strategy can be established over time, too many organizations fail to build a sufficient eLearning strategy before they actually select an eLearning vendor.
As this great Brandon Hall Group paper outlines, too many organizations say poor strategy and planning during the vendor selection process results in unsatisfying learning technology outcomes. It is tempting to let vendor selection rest in the hands of L&D alone, but great eLearning implementation results need a cross-functional team of stakeholders involved in vendor evaluation. This includes L&D, IT, HR, and – perhaps most importantly – end users themselves. A robust L&D strategy supported by a cross-functional team of all parties that will be affected by the eLearning solution deployed will result in the most successful learning technology solution.
Be Social
The classroom is a mainstay of learning. In-person, instructor-led training has always been a part of the learning ecosystem, and it always will be. However, it should not come as a surprise that a large part of effective learning takes place outside of the classroom, on the job, and through social interaction.
It's the "20" in the 70:20:10 approach to learning, and if you haven't incorporated social learning into your L&D strategy, it's time to start. So how can eLearning support this? An eLearning solution that incorporates social learning components drives engagement by facilitating knowledge exchange, encouraging peer-to-peer interaction, and retaining a database of job-relevant information developed by internal subject matter experts
Go Micro
It's no secret that attention spans today are limited. Between the distractions of social media, an abundance of notifications on our mobile device, and an oversaturation of content, it's a wonder we can execute day-to-day activities in life. While it is ideal when learners retain focus, it's useful to understand how they best absorb content.
And that's exactly what microlearning adapts to. It's all about the idea of providing small, bite-sized pieces of course content in formats the average learner can easily access and absorb. Think short videos, audio clips, and visuals that can provide basic instructional snippets in under 90 seconds. These pieces of content will connect with your learners in the most immediate and direct ways, and ultimately ensure knowledge is absorbed and retained effectively by not overwhelming the user with an abundance of content across a lengthy course.
Download our free 14-day trial to explore what's possible.