If you are dealing with Extended Enterprise (EE) learning you are probably aware of all the issues that come with this approach, for example, reaching people in different countries at the same time, approaching different organizations with their own behaviours and needs, ensuring compliance, and the high costs in delivering and monitoring these activities.
Many of these goals can be achieved using an Learning Management Solution like Docebo – media-rich (and better) content can be delivered to a broader and wider audience; learning environments can be custom-created for different groups of users; you can also manage large numbers of users, groups, business units, or any other silo within your user base with a user management tool; and increase partner collaboration and involvement in the training process to see an increase in partner sales.
In a previous article we looked at how to measure the business impact of EE learning and the measurable benefits of using an LMS to deliver EE training – now let's take an in-depth look at the tools that you can use to set up an LMS with a focus on EE training.
Step1: focus on the users organizations
Map your customers in your LMS by creating a single folder for each unit you have to manage. Units, of course, represent different companies, clients dedicated academies, partners channels, or dealers you have to train.
Inside each folder you will subscribe users belonging to the relative customers. You can completely customize the users information that you want to collect according to each organizational chart folder:  within Docebo it is possible to assign different fields for each branch of the organizational chart in order to better optimize the users' details related to different companies, countries, offices, or any other sorting category you use to classify your learners.
After creating the list of your additional fields, you can choose which ones to assign to a specific branch of the organizational chart.
Step 2: customize the look & feel/ branding of platforms
To optimize the Extended Enterprise learning process we have created the new Multidomain App.
This brand new app allows you to completely rebrand your Docebo platform to show customized branding elements for each organizational chart node. This means that with the same LMS you can create as many layouts as you need, buliding a specific layout for each folder of your organization chart. In this way, users from different units will see different layout elements, such as colors, logos, favicons, web page titles and more.
Remember: by using the color scheme feature and CSS editor it will be very simple to recreate the corporate identity of each customer. Moreover with the whitelabel app you will able to completely rebrand the platform by customizing the footer and naming  elements, and applying specific parameters to each customer.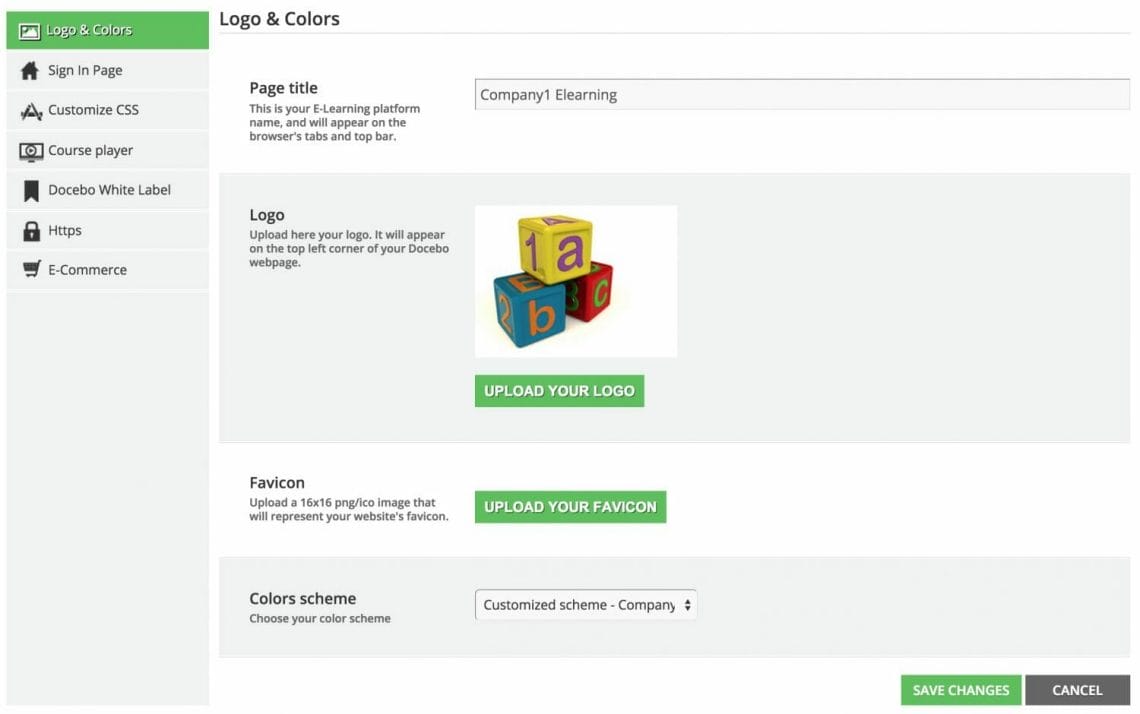 Step 3: create different URLs
You can create specific URLs for each unit you have created in your organization chart and completely customize the signin page from which users will log into the platform.
When you activate your Docebo installation, you will first choose a default domain name for your new platform (e.g. elearningbox.com), but the intention with this App is that by using custom URLs, you can assign additional domain names to the same Docebo installation so that users in different folders will reach the platform from completely different URLs, maintaining the user's perception that s/he is entering an environment dedicated to his/her company.
By customizing the login page you can create specific templates by changing the position of the login boxes, choosing and uploading a specific background image, and adding text and additional web pages.
Moreover within the new Custom Domain Https App you can enable the https protocol, and upload and install your SSL certificate for each domain configured through the Multi-domain App.
Step 4: create a customized learning program
Once you have completed the setup of your platform you can start creating courses and learning programs. Docebo allows you to create and build specific catalogs, courses and learning plans and then associate specific ones to each branch of the organization chart.
This means that users from different customers will see only the catalogs, courses or learning plans assigned to their specific branch. Furthermore you can also apply different e-commerce settings to each branch, using different currencies or payment gateways, according to each customer's need/s.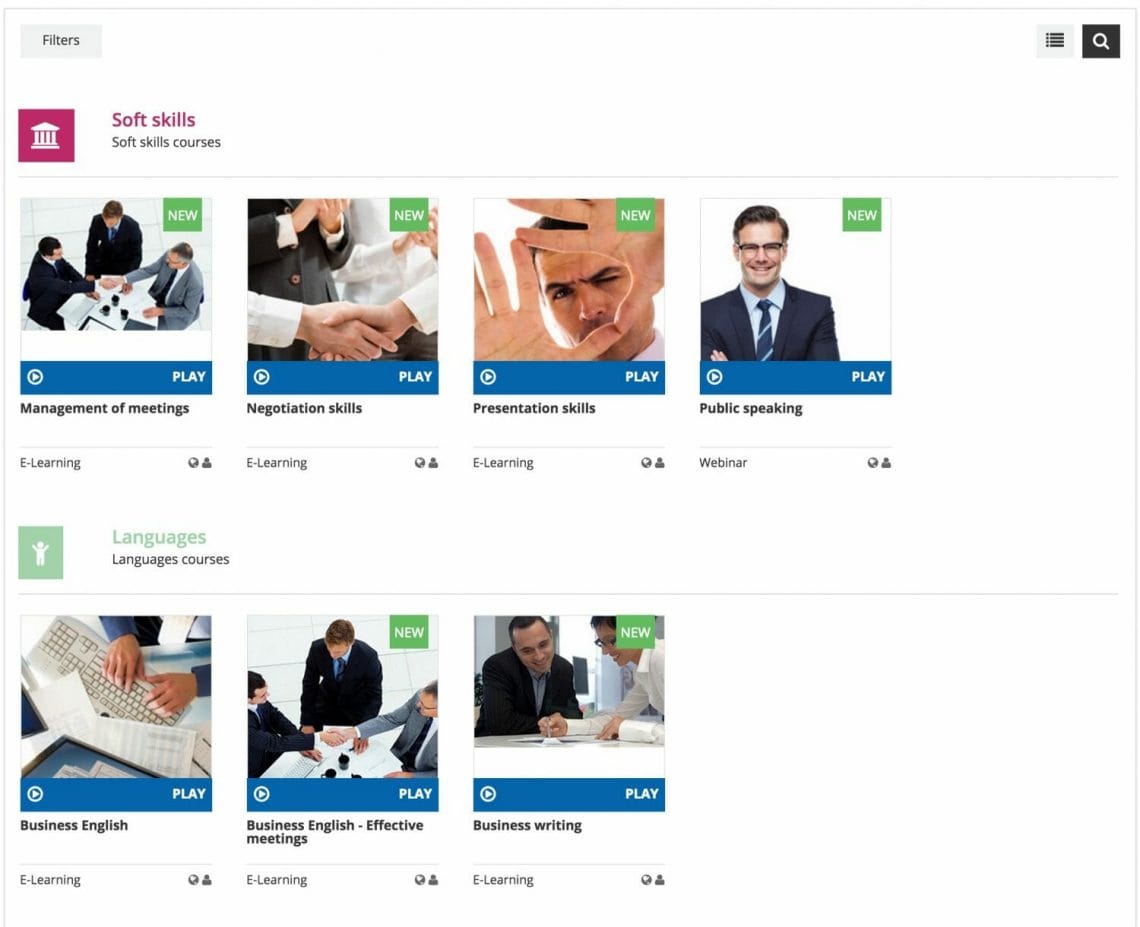 Step 5: create a manager profile for each customer
It is very important to define processes and precise roles within an EE learning project.
To help you in creating customized profiles in charge of these specific processes, Docebo has created the Power Users app. So within Docebo you can create fully customized profiles, assigning them some very specific permissions and powers according to each customer's needs.
You can create a specific power user profile for each customer or, what's more useful and less time consuming, you can create one specific power user profile and then assign this profile to the manager of each customer folder.
Step 6: customize specific dashboards for each customer
We understand the need to organize information for users in the most simple and straightforward way. This is why we have created a new welcome page for users called "My dashboard". This page includes all the information and modules that you want your users to have quick access to, and highlights the relevant activities that they need to keep up with.
You can create as many dashboards as you want, and you can customize a dashboard based on your organizational chart nodes by building and assigning a different welcome page to each branch.
You can also create dashboards based on the user level, for example, creating one dashboard for the super admin, one for the power users, and one for the learners. Also each dashboard will display different information as per your needs – so you can create customized dashboards for different customers users, admin and power users.
Start building your own Extended Enterprise training project by activating a Docebo free trial.