Imagine completing onboarding training while lying in a hammock or retaking compliance courses from a snow-covered cabin.
Online learning has made this a reality. And while most of the workforce isn't upskilling on a tropical island, they certainly benefit from learning at their own pace and location.
Savvy organizations have leveraged e-learning for years to deliver impactful training programs, especially after the pandemic. At the heart of any successful online training program is a Learning Management System (LMS).
Once upon a time, this was a technologically challenging and expensive proposition. Companies had to develop these platforms themselves or pay for custom learning solutions.
Today, there's a simpler and better way to deploy an LMS in your organization. It's called the cloud-based LMS, and that's what we're diving into in this guide.
What is a cloud-based LMS?
A cloud-based LMS is a web-hosted e-learning platform accessible from anywhere with an internet connection. All information is stored on the cloud, and learners simply log in with their account credentials to access learning content from any internet-enabled device.
In contrast to self-hosted (also known as locally-hosted or on-premise) LMSs, there's no need to install any specific software or hardware to use the technology.
Most cloud-based LMSs are SaaS products, with pricing dependent on the number of users and specific LMS features your organization needs.
We'll get into the differences between on-premise and cloud-based LMSs in the next section.
What is the difference between an on-premise and cloud LMS?
Let's turn our attention back to the two types of LMS locations: cloud-based and on-premise.
Here are the key differences between them.
Accessibility: You don't have to be a rocket scientist to figure this one out – on-premise LMSs are hosted locally and only available on the specific laptop or desktop that they're downloaded to.
Cloud-based LMSs, however, are hosted on remote servers, meaning that you can access your platform from any device, anywhere, as long as you have an internet connection.
This accessibility is good for learners and admins. Admins can access functionality like course creation from anywhere, and learners can get their learning content on the go through mobile devices.
Installation: On-premise LMSs need to be installed on individual devices as well as on your company's local network – this can take a lot of time and effort from your IT department.
On the other hand, cloud-based LMSs can usually be downloaded from the vendor in minutes, and once this is done, you have instant access to the platform's dashboard.
Payments: An on-premise LMS is generally a 'one and done' payment, as you buy the platform license upfront. After that, it's up to you to manage and maintain it.
Due to the nature of cloud-based LMSs, you'll tend to subscribe on a monthly or annual basis and have the constant attention of the vendor. Any bug fixes, updates, upgrades, or new features are automatically installed.
The downside to this, however, is that cloud-based LMSs tend to have more maintenance fees involved as a result.
Scalability: Since the on-premise LMS is literally on your premises, it's up to you to provide enough bandwidth, storage, and computing power to serve the number of users you'll have.
This can be an issue when your workforce grows, and you suddenly need to add a lot of new users to your employee training programs.
Cloud-based LMSs allow you to increase your bandwidth and storage at any point, meaning your LMS can grow with your business.
Now that we're clear on the differences, let's see what benefits cloud-based LMSs offer.
What are the benefits of a cloud-based LMS?
Many organizations are migrating from an on-premise LMS to cloud-based solutions. That's because the latter offer certain tangible benefits to a company's training programs and bottom lines.
Here's what those benefits are.
Improved learner experience
Cloud-based LMSs allow users to access programs and data from any device and location, with some content even being accessible offline.
In the era of learning on the go, the ability to access your learning material via your smartphone, tablet, or laptop without losing your progress and data is extremely important and allows for just-in-time learning.
Future-proof platform
Whether your business is growing or your employees are working remotely, having access to your learning platform from anywhere at any time gives you the flexibility to react to any circumstance.
Today's business landscape is constantly changing with new technologies and processes. Staying ahead of the curve requires robust training programs to upskill and reskill your employees.
To take advantage of new learning approaches like gamification and social learning, you need an LMS provider that offers a learning platform that moves with the times. That's much easier with a cloud learning management system than with an on-premise solution.
Increased security
It's no secret that cloud-based systems are more secure than in-house IT infrastructures. With laptops broken and external storage misplaced, it's not worth the risk of housing all of your important data where it can be so easily lost.
Cloud solutions have a variety of data security measures in effect, from data encryption to SSL.
You can even password-protect certain sections of the e-learning platform to ensure that only certain individuals are granted access. If there are any attempted breaches, the system will automatically document the incident and any pertinent details.
In addition, with Single-Sign-On (SSO) allowing you to streamline access to your cloud software, you can be safe in the knowledge that your platform is secure while still being accessible from anywhere.
Reduced costs
For a long time, when you bought a piece of software, you bought it outright. This was true for consumers as well as enterprise customers.
While there is a definite appeal to the "one and done" way of doing things, there are also drawbacks. Once you pay the license fee, you're on your own when it comes to maintaining everything.
This means that companies that use on-premise LMSs often incur additional and unpredictable costs related to upgrades, hardware issues, or scaling up the platform.
On the other hand, most cloud-based platforms offer a simple ongoing per-user pricing model. Since the subscription remains constant yearly or monthly, it's easy to have an overview of costs and determine LMS ROI.
Most importantly, LMS vendors often include future upgrades, bug fixes, and new features in the subscription cost. This makes choosing a cloud solution more cost-effective in the long run.
Lower maintenance needs
We've mentioned that with an on-premise LMS, you're in charge of maintenance. What does that mean? Essentially, your IT department (if you have one) will need to take care of uptime, solve any technical issues, and provide learner support.
With a cloud-based solution, the LMS vendor does all that for you. Cloud platforms have nearly 100% uptime and a dedicated team to maintain the software.
Your IT people have other priorities in addition to dealing with the LMS. Because of that, it's good to think about the total cost of ownership when you're drafting your LMS implementation plan.
Many cloud-based LMS providers also have 24/7 customer support to help with troubleshooting issues.
This makes cloud LMSs an excellent option for smaller companies with a limited number of IT personnel on hand.
10 Top cloud-based learning management systems
The market is overflowing with cloud-based apps of all sorts. Just take a trip to your smartphone's app store if you don't believe us.
It's much the same in the learning management system space too. There are several solutions, targeting different industries and use cases.
If you're looking to choose a new LMS for your business, you're in the right place.
The table above shows our picks for cloud-based LMS platforms and an overview of their top features.
Need more info before you put together your LMS request for proposal? Just scroll down to find an in-depth overview of each pick.
Platform #1: Docebo
Docebo is a cloud-based LMS platform that lets organizations create, manage, and deliver various types of online training materials.
With Docebo, you can create and manage your own e-learning courses, quizzes, and assessments and then deliver them to your employees, partners, or customers.
The platform comes with AI features as well. For example, a virtual tutor guides learners through training activities, and the Shape tool lets users turn external content into bite-sized microlearning lessons.
Docebo also integrates with popular learning content authoring tools such as Lectora and Elucidat.
Who is it for?
Thanks to its robust set of features and scalability, Docebo can be a good fit for organizations of any size and many use cases.
From companies looking to implement sales training to nonprofits hosting a lot of webinars.
Using Docebo, you can take advantage of modern learning technologies such as social learning, gamification, and personalized learning with custom learning paths.
Top features
AI-based virtual tutor and learning content recommendations
Social learning and gamification for increased learner engagement
Integrations with over 400 productivity and enterprise apps and tools
Mobile learning on any internet-enabled device
Platform #2: TalentLMS
TalentLMS is a cloud learning management system that organizations can use to manage and conduct online learning programs.
Source: TalentLMS
TalentLMS focuses on being user-friendly, with the company promising that admins can skip the long setup times and create new courses quickly.
Like many cloud-based LMSs, this platform supports features like gamification, social learning, white labels, and others.
Who is it for?
Thanks to a long list of features and a focus on user-friendliness, TalentLMS may be a good fit for many different industries, from manufacturing to consulting.
Furthermore, the platform supports a good number of use cases, such as employee training, onboarding, and compliance training.
Top features
Built-in content creation tool
Learner progress tracking
Reporting and analytics
Platform #3: Litmos
Litmos is another platform that organizations in the market for a cloud-based LMS can check out.
Source: Litmos
Being a completely cloud-based platform, you don't need to spend a lot of time deploying this LMS. Unlike an on-premises LMS, Litmos offers a quick setup.
Another feature that cuts down on time-consuming tasks is the built-in content marketplace, where you can find courses on leadership, management, social skills, and more.
Who is it for?
With features such as encrypted data storage and GDPR compliance, any company can use Litmos to power its learning and development programs.
Nevertheless, this particular LMS might be the best option for those organizations looking for a one-stop-shop solution. Litmos lets you install your learning solution quickly and deploy ready-made training courses without much hassle.
Top features
Centralized learning and development management
Personalized content
Instructor-led training module for virtual classrooms
Platform #4: Absorb LMS
Absorb LMS is a cloud-based learning management system that focuses on mobile learning and analytics.
Source: Absorb LMS
Absorb's Smart Administration feature lets admins automate menial tasks and receive an overview of learning KPIs in a centralized dashboard.
AI features are in the mix, too, with an AI assistant that responds to natural language. Using this, administrators can cut down on time-consuming actions and focus on more meaningful work.
Who is it for?
With a high focus on customization, Absorb LMS can fit into the workflows of many different organizations.
Additionally, its built-in e-commerce features make it an interesting proposition for companies that want to sell online courses. For instance, you can set discounts, preferred pricing, and even manage taxes.  
Top features
Customizable cloud-based LMS
AI features and automation
Robust e-commerce integration
Platform #5: LearnUpon
LearnUpon is an LMS hosted in the cloud that helps companies deliver employee, customer, and partner training, among others.
Source: LearnUpon
As with most cloud-based LMS platforms, there's no complicated installation and configuration. Instead, your trainers and admins can focus on delivering the best learning experiences.
Moreover, LearnUpon focuses on streamlining the learning management process so that all activities, such as delivering and tracking the online courses, are centralized and accessible from one place.
Who is it for?
One of LearnUpon's selling points is getting experts from their customer experience team to work with you to help achieve your goals. As such, this can be a good choice for companies with little experience managing training programs.
Of course, just like most cloud-based LMS solutions, LearnUpon is scalable enough to fit the needs of most companies out there.
Top features
Create unique learning environments for different audiences with Portals
Integrations with webinar platforms for blended learning
Automated user creation and enrollment
Platform #6: iSpring Learn LMS
iSpring Learn is a web-based LMS platform allowing companies to run various kinds of online learning programs.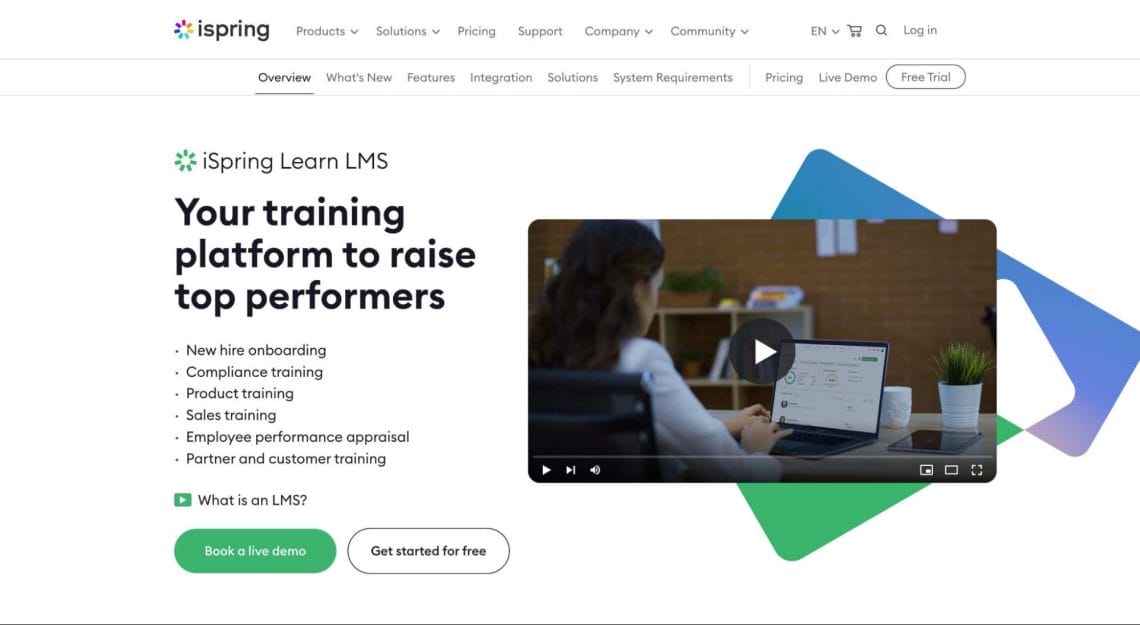 Source: iSpring Learn LMS
Like several other platforms on this list, iSpring Learn's LMS also features built-in content creation tools. This can be a good choice for companies that don't have a lot of pre-existing learning content available.
In addition to this, with iSpring, you can set multiple admin roles so team leaders and department heads can participate and share the workload of training administration.
Who is it for?
Companies looking for an all-in-one solution for training programs might do well to take note of iSpring's offerings. When put together with iSpring Suite, this LMS platform can take care of everything from course creation to determining e-learning ROI.
iSpring Suite's standout feature is the ability to create learning content in PowerPoint and convert it to SCORM files for use with an LMS. This makes it especially useful to companies without dedicated L&D staff.
Top features
Create learning content through PowerPoint
Unlimited cloud storage space
Gamification with points and badges
Platform #7: 360Learning
360Learning is a cloud-based learning platform with a twist – it's fully devoted to collaborative learning.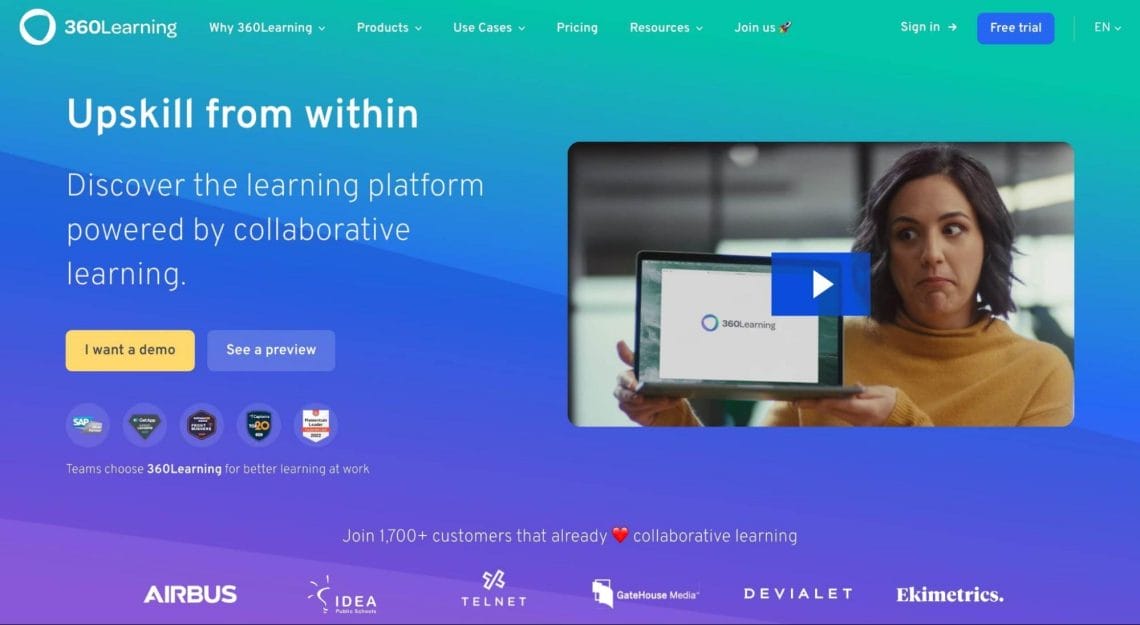 Source: 360Learning
The philosophy (there's a manifesto, too) behind 360Learning is that everyone can be a trainer. Their system is meant to empower your internal subject matter experts to become L&D leaders.
Ultimately, this means a company can upskill from within rather than relying on top-down instructor-led training or outsourcing.
Who is it for?
Companies that want to move fast and try a somewhat different approach to training. Compared to some more traditional LMS platforms, 360Learning puts social features and collaboration first.
On the other hand, it may not be the proper fit for those organizations that need a more top-down and formalized approach to training.
Top features
Focus on collaborative learning
AI learning path recommendations
Salesforce integration
Platform #8: LearnWorlds
LearnWorlds is a cloud-based LMS with features focused on e-commerce.
Source: LearnWorlds
With this LMS, you can create and then sell your online courses. The platform comes with a host of features geared toward schools and other organizations that want to monetize their expertise and learning content.
Who is it for?
For instance, LearnWorlds lets you create fully customized and branded websites and mobile apps through its comprehensive approach to white-labeling.
Furthermore, the LMS can integrate with popular marketing and affiliate tools to facilitate promotion and sales.
As such, this platform can be a good option for online schools and other educational institutions. Entrepreneurs and influencers can also take advantage of this LMS to sell their subject matter knowledge.
Top features
Built-in marketing and sales tools
White-labeled website and mobile app builder
SCORM-compliant
Platform #9: MoodleCloud
MoodleCloud is the cloud-based version of the popular open-source LMS, Moodle.
Source: Moodle
Moodle is one of the oldest and most widely used open-source LMSs and is known for being very customizable. Not to mention, free.
However, installing and maintaining a self-hosted version of Moodle can be daunting for users with less technical knowledge.
For these reasons, the MoodleCloud offering can be a good alternative.
Who is it for?
MoodleCloud is essentially the same Moodle you remember from your college days, but hosted in the cloud.
As such, some functionality is not available to free users or users on a lower subscription tier, most notably the ability to install custom plug-ins.
Nevertheless, if you're looking for a simple and time-tested LMS platform, Moodle can be an excellent choice. Especially considering the rather low subscription cost, starting at $110 annually for 50 users.
Top features
Learning content and tasks in a range of formats
Social learning capabilities
Tracking and analysis of learner progress
Platform #10: Canvas
Canvas is another popular open-source cloud-based LMS, aimed primarily at educational institutions.
Source: Canvas
Canvas provides a range of features to enable instructors to create, manage, and deliver learning content.
The company behind Canvas, Instructure, also offers several other K-12-centered tools to complement the LMS, such as Mastery (assessments tool) and Elevate (learning analytics).
Who is it for?
While Canvas does have a focus on K-12 schooling and higher education, companies can (and do) use it to power corporate training.
This is thanks to features such as tracking and reporting on learner progress and course analytics.
Top features
Live audio and video chat
Unlimited file size
Third-party integrations with tools such as Nearpod and Google Assignments
Now Over to You
Compared to hosting and maintaining an LMS on your own, choosing a cloud-based solution offers many advantages.
When using a cloud-based LMS, the vendor takes care of the hosting and maintenance so you can focus on building the best training experiences possible.
Docebo is a cloud-based LMS that can power your organization's learning culture and training initiatives. To learn how – schedule a demo today!