Enabling partners and employees with product training delivered through Docebo
"Our partners were always asking for 'more training, more training,'" explains Dan Newman, who works as a trainer at Datto, a backup and disaster recovery solutions company. "It was clear there was a business need, as well as a vocal demand, for the entire organization to have access to a common baseline of knowledge."
Sound familiar? Our latest case study is all about how Dan was able to train Datto's partners and employees on product knowledge using a comprehensive approach that included gamification, certifications and learning plans. He also relied on Docebo for the learning technology to make it possible!
Incentivizing Partners to Develop Product Expertise
Datto is a channel-focused company that sells their solutions primarily through an extensive reseller network. That makes partner training particularly important for the company's success.
Or, in Dan's words: "It's business critical for us to arm these partners with not only the knowledge necessary to use the products, but to sell the products as well."
The more Datto's partners engaged with training, the more effective they'd be as partners. For that reason, Datto's Partner Program was designed to reward increased engagement with Datto – filling the requirements of these different tiers warrants actual business incentives, such as free shipping.
"We designed learning plans in the system so that partners who wanted to move up the tiers in Datto's partner program would be required to complete relevant training," explains Dan.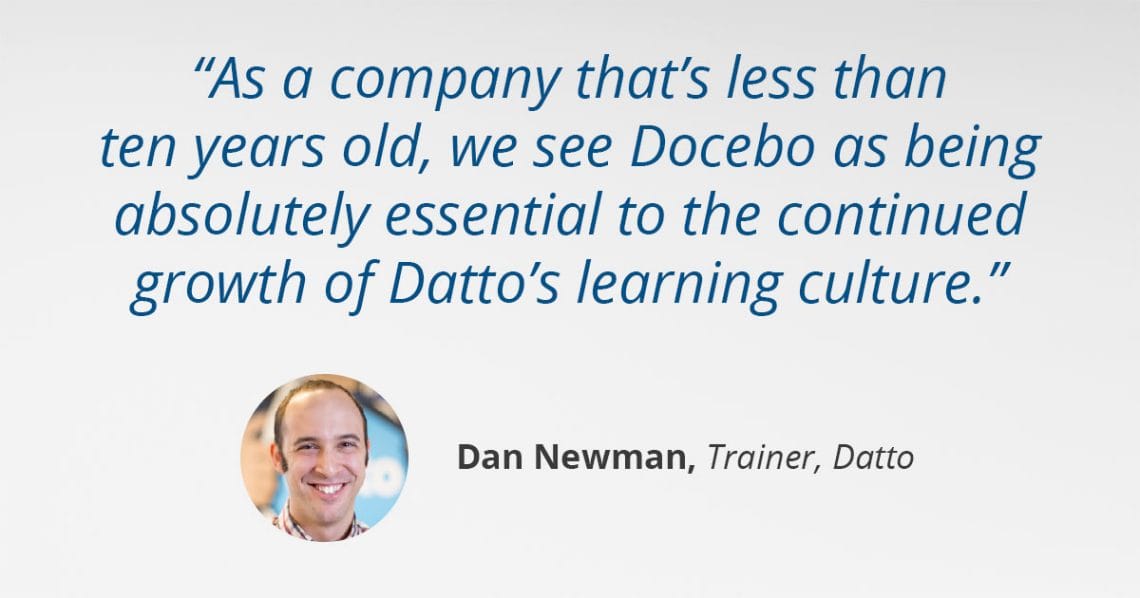 Decreasing Technical Support Requests from Partners
Reducing the number of support tickets associated with partners was also a primary goal for Dan's partner training initiative.
"Many tickets submitted to Technical Support were simple fixes that stemmed from a partner's lack of knowledge about Datto products," says Dan. "With Docebo we were able to ensure access to relevant education and training resources so that partners could support customers with confidence on their own."
Datto now has visibility into which partners are engaging with training resources and are able to identify the partner's level of commitment to succeeding with Datto. "We're starting to see that the partners who are participating in training are producing superior quality tickets and faster resolution times," says Dan. "They're also increasingly solving issues independently."
Launching Company-Wide Product Training
Dan also had an internal training audience to think about. "The level of basic knowledge varied greatly from person to person," says Dan. "There were employees who had been with the company more than eight years but may not have stayed current on the organization's developments."
Datto branded their internal training program the "Datto Graduate School" and launched the initiative with a company-wide contest, where all employees were divided into three teams under three executives.
"This helped us to ensure we left no learner behind," says Dan. "Encouraging that kind of large scale use of the Academy right away also allowed us to proactively identify and correct issues, which set us up for success with countless other projects."
For more insights into how Datto launched these initiatives through Docebo, and how they're continuing to nurture their learning culture and deliver on the value of extended enterprise training, download the full case study!