Want to make your elearning project appealing for learners? Then how about tailoring its look and feel as per your company's preferences? Docebo offers several ways to accomplish that for you. Let's take a look at the various options available.
1. Logo
The first item to change is your logo – this makes an immediate difference! By uploading your company logo your users will recognize the LMS as your system, as opposed to some external tool they have no affiliation with.
2. Web page name and favicon
You can brand your pages with your desired favicon and web page name so that pages look familiar to learners and are consistent with your corporate branding guidelines.
3. Login Page
What will learners see as their login page? Use your own background image or choose from three different pre-loaded homepage layouts. You can also add text and additional pages. Customized login pages can, for example, be very useful when you want to provide information about your training project upfront. Also, this option helps you to provide further details about your company and specify how the users can reach you in case of need.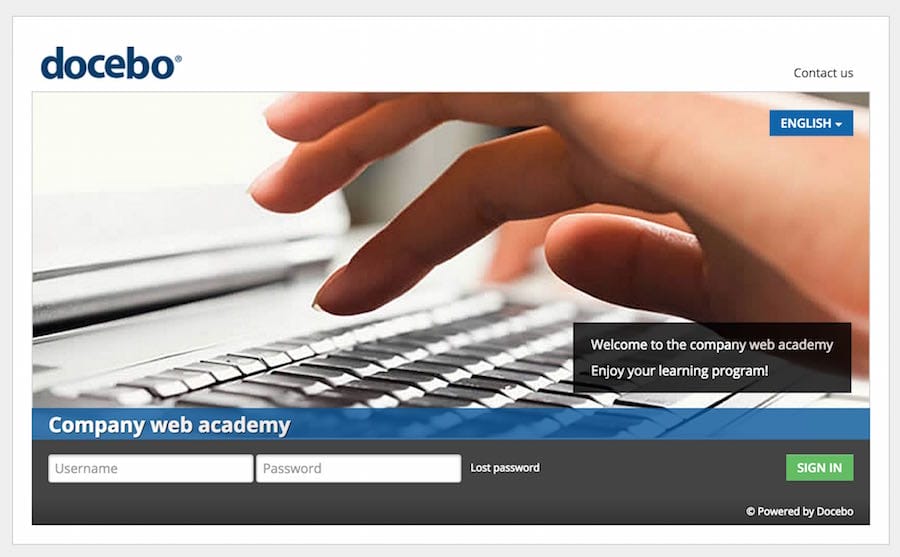 4. Color scheme
Both preloaded color schemes and custom colors for each element of the user interface are available for you to define and set.
5. CSS
If you have basic CSS (Cascading Style Sheets) knowledge, you can customize and brand your LMS layout to the finest detail. Font, size, style, spacing etc, can all be adjusted.
6. User menu
By customizing the main user menu you can provide different groups of learners with a specific set of menu commands. That way they only have access to the commands that are relevant to them. You can even design new menu items for them if you wish.
7. Courses
Training materials within courses can be displayed in different ways:
Player view, "browser" mode: the default setting
Player view, "preview next" mode: a way to quickly navigate through the course
List view: a list of all training materials, including thumbnail and description for each
9. Multiple layouts for different domains
If you use a Docebo Extended Enterprise LMS, and manage various different domains, you can completely rebrand your Docebo platform to use customized branding elements for each separate domain. That way users can see different logos, color schemes, URLs, home page images, and course players, depending on their own organizational chart node / domain.
10. Start now!
All of these options are available in the Branding and Look & Feel menu of the Docebo LMS. Want to check these options out? Do a 14-day free trial!