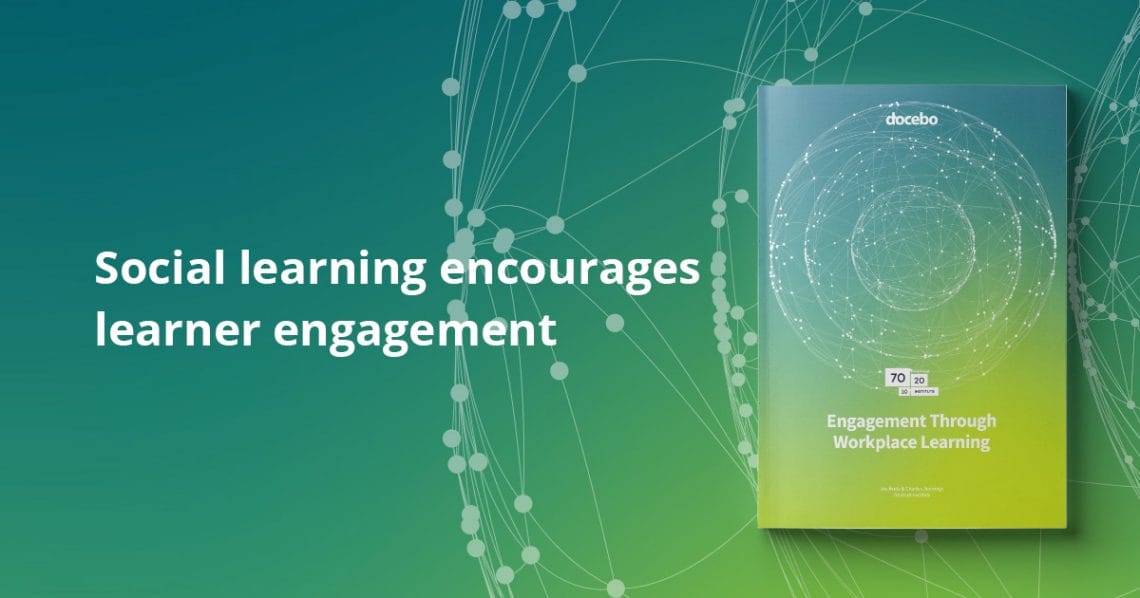 Social learning in the workplace is no longer an option – it's a necessity
In today's speedy and complex business environment, organizations must recognize the benefits of social learning in the workplace. This is particularly true among companies that struggle with issues related to employee engagement and retention.  
More than ever before, employees are placing a premium on professional development opportunities, and value organizations that are willing to provide those opportunities to them. Learning in the workplace is no longer an option – it's a must have.
Establishing a corporate learning strategy that gives employees opportunities to develop and learn new skills not only improves organizational performance and productivity, but also encourages them to be more engaged with their positions and more likely to stay with your company longer.  
This whitepaper, "Engagement Through Workplace Learning," from the 70:20:10 Institute examines:
The urgency at which employers must develop L&D strategies that enhance employee engagement and retention

The connection between informal learning and organizational performance

The economics of workplace learning

How to refine L&D programs to deliver the most impact and internal engagement

How the 70:20:10 framework enables learning from working

Gallup's "12 Elements of Engagement"
An Important Issue That Needs a Timely Solution
Extensive research suggests that social learning is more important than formal learning to create value for any organization. While these aren't new insights, addressing them quickly is imperative, and demand solutions delivered at the right time.
For example, a 2017 Gallup report found that employee engagement levels were at an all time low. In the US, just 33% of employees reported being engaged with their positions, compared to 70% among the world's top organizations.
A 2009 Corporate Executive Board report found that organizations witnessed a 300% increase in performance and 262% increase in engagement from employees exposed to high levels of on-the-job learning opportunities compared to those who weren't exposed to the same programs. In today's business environment, forward-thinking companies are those that recognize that most learning in the workplace happens in subtle and informal ways.
Forward thinking companies recognize not only the value of learning in the workplace, but that the best results are derived in subtle and informal ways. This would suggest, then, that learning from work is arguably more important than formal training as it relates to driving employee engagement and performance.
From "Learning to Work" to "Learning From Work"  
In a world in which business leaders expect HR and L&D departments to improve business performance and increase employee engagement, the status quo just won't do. Today, organizations must reframe their approach to learning so that it enables a learning from working approach if they're too achieve the desired results from their L&D programs.
Indeed, doing so is easier said than done.
But adopting particular learning frameworks can make the transition easier. For example, the 70:20:10 model helps L&D professionals adjust the learning process from a focus on learning and instead to a process focused on performance.
This whitepaper outlines 5 actionable strategies to help you re-think and reframe your organization's approach to learning to boost employee engagement and drive their performance. Among the many insights you'll uncover, the 70:20:10 Institute concludes that refocusing from formal to experiential and social learning, employees are empowered to learn from work instead of learning to work.
5 Ways Workplace Learning Enhances Engagement and Operational Performance
Revise your L&D strategy.

Stop committing the majority of your resources to formal learning, and instead embrace informal learning opportunities to deliver greater value to not only your employees, but to the health of the organization.

Refocus L&D practices

: Go from push to pull. Align L&D strategies with business objectives. "Start with the 70" – Experiential (on-the-job/in-real-life) learning, based on the 70:20:10 framework.

Prioritize performance.

Determine how your existing approach can adjust to create value and enable performance.

Understand stakeholder challenges. I

ncrease overall engagement by aligning your L&D solutions to solve key stakeholder pain points.

Empower leaders to support workplace learning

. Managers who focus on on delivering operational excellence and on challenging their people empower teams to outperform others by more than 25%.
"Engagement Through Workplace Learning," published by the 70:20:10 Institute in partnership with Docebo, examines the above concepts extensively, giving you an opportunity to put these methodologies into practice within your organization. Download the report to learn how to maximize the value of engagement through workplace learning.