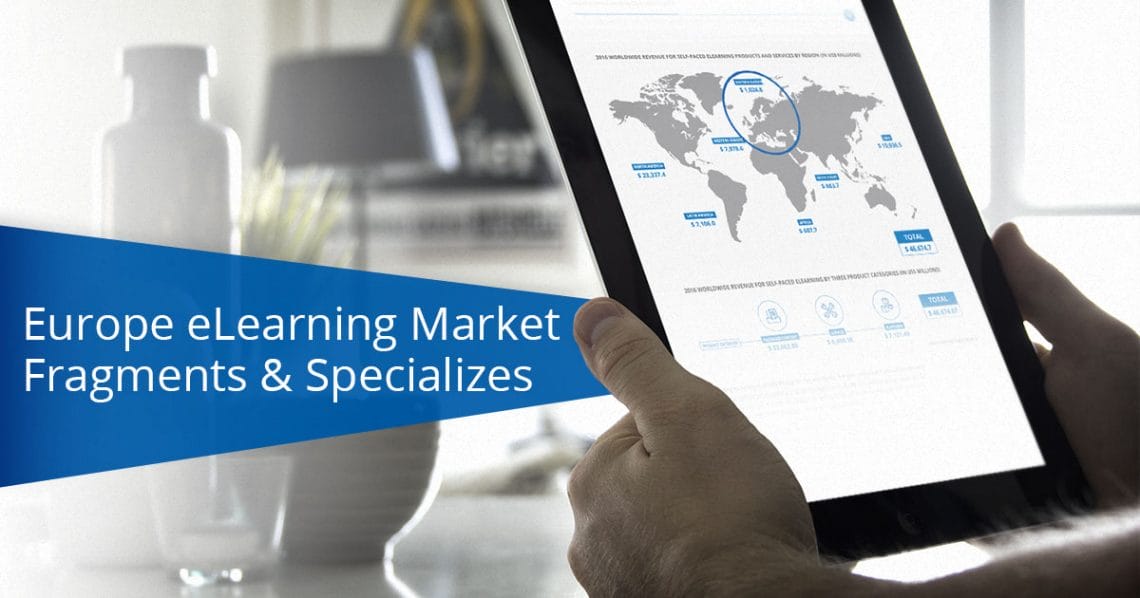 EU corporate training market set to grow at a CAGR of nearly 9% between 2016-2020
We know eLeaning and the learning marketing general has been huge in the US and North America at large, but how is eLearning in Europe performing these days?
According to Ambient Insight, the self-paced eLearning market size in Western Europe eLearning market was around $8 billion in 2016, while the Eastern Europe market was around $1 billion. The spur of market growth in the region can probably be tied to increasing adoption of these solutions in medium and small sized businesses. The largest buying country in Eastern Europe is the Russian Federation and the UK is the largest buying country in Western Europe.
Europe is a mature market where all classic buyers, including school, government, high education, and corporate, for eLearning product and services are highly demanding. Many analysts predict that the rise of demand for continuous learning in Europe will increase the adoption of different learning methodologies and products.
Further, market research analysts at Technavio have predicted that the corporate training market in Europe will grow at a CAGR of close to 9% between now and 2020.
According to different many sources cited in our recent eLearning trends report, training is still dominant in the corporate training market, but distance learning, in all the present forms, is gaining field.
The corporate training market in Europe is one of the most dynamic markets due to the presence of training solution providers and training professionals. The market is also more fragmented and specialized than many of its counterparts globally, and players are designing solutions for specific requirements like problem-solving, behavior-developing skills, and other non-conventional IT skills.
Challenges for eLearning in Europe are global eLearning challenges
We predict that the market will have new players and providers that hone in on targeted training elements. Also, the EU market will see a rise in training organizations that deal with specific industries.
So, what's to be said about the EU learning market? It is on the rise, but it is also seeing some of the challenges we have been seeing globally. Read our full report on the present and future of eLearning globally to learn more.
Download our eLearning Trends Report for more information on developments in eLearning globally.