A modern Learning Management System, such as Docebo LMS, is not to be considered an IT cost, but rather a technological investment to achieve better business results.
Today, we all agree on the importance of continued education that is required for compliance training, market-specific certifications and soft skills improvement.
However, many people are still concerned about training 'costs' and do not yet realize the true value of enhancing learning technologies. In this article, we would like to prove how E-Learning can help reduce those costs while optimizing time; in other words, how E-Learning in general, and Docebo LMS in particular, can maximize your training-related and elearning ROI (Return on Investment).
In order to properly evaluate the procurement strategy, we have to take into account 3 crucial elements: costs reduction (savings), compliance and service level/quality.
Cost Reduction – Savings
It is commonly known that E-Learning creates savings when it comes to:
Travel cost reductions
Optimization of training time & delivery
Structural cost reductions (location, trainers)
In the past, those savings when compared to the cost of developing E-Learning (i.e. the technical infrastructure and training of the involved people), have obtained negative results.
Today, the scenario has changed, mainly in light of the new "Software as a Service" model: Learning Management Systems can be purchased as "Saas" with low recurring fees, while online courses can be delivered on-demand and with a convenient "pay-per-seat" formula.
The SaaS approach comes with no maintenance costs: for example, Docebo offers a low recurring fee for a service streamed in the Cloud, assisting its customers with a complimentary Help Desk support system.
Hence, today, there are two elements that are crucial for calculating savings:
SaaS Business Model: no hardware costs, no dedicated internal resources, and no money wasted (just pay as you go).
Online marketplace for courses: immediate time-to-market, and highest standards of quality
The importance of "Compliance"
However 'savings' is just one of the elements involved in the ROI calculation. The next important element is 'compliance', as national and international laws require employees to be trained in specific topics and within mandatory timeframes. On the topic of timing, it is clear that through the adoption of a LMS, companies can deliver trainings "just in time" to specific employees or groups who have a high turn over rate or practical job rotation.
Moreover, regarding 'compliance', it does not just cover regulatory issues (i.e. external stakeholder) but also refers to a homogenization of performances at a global level (i.e. internal stakeholder). Multinational companies need to have proper Human Resource trainings in their subsidiaries in order to enable them to reach the highest level of efficiency and productivity and ultimately meet and exceed business objectives. This can only be done through having a proper Learning Management System to run a comprehensive E-Learning project designed to disseminate the overall mission of the company.
A real case study of successful ROI
---
The use of the Docebo E-Learning platform, off-the-shelf integrated with an existing web conferencing software, has enabled Solo Affitti to rapidly increase the quality and the quantity of training delivered to the overall network, with the ability to internalize the training phase and manage it in a flexible and effective manner, customized and based on the needs of franchisees.
Today, the Docebo E-Learning platform is a critical tool to deliver education programs to Solo Affitti's agency network. It is the best way to contribute to the overall training programs of the agency network.
---
(Click here to read the full case study).
The quality of Service
The third crucial element is the quality of service; with today's employees expecting 'training' to be a key benefit of their work development, it is essential that the trainings match these high expectations. Software delivered "as a service" precisely meets this need because it continuously maintains and automatically updates to the latest versions available at no additional cost (no need to think of update fees).
Furthermore, a SaaS system can be easily integrated with already existing HR software. This is not only beneficial for the company, but also the employees, who will recognize this 'integrated environment' as a great element of HR development and devotion.
The quality of the service is also linked to the ability of delivering the right training at the right time (that is: when you need it), which can easily be done by integrating a LMS with a CRM.
What makes this worthwhile for the company? By reducing the time needed to deliver training about a brand-new product for example, means that the company will also get the product to market faster.
Taking another scenario into account, imagine you can deliver "just in time" training about a small but crucial product update. How? You will be able to train the entire team, including the Help desk team and customer care all at the same time through a quick and simple training update.
This level of service is assured by the adoption of a LMS, which is a real added value for any company. This is why having a SaaS Learning Management System like Docebo developed and supported by a solid company that is able to ensure great support and management, is the right choice to achieve the highest level of business results.
Management of Talents and Environmental Impact
We can now complete our elearning ROI calculation process by including a couple of emerging social factors:
Improving the management of talents
Reducing the environmental impact of the company
The task of managing talents is becoming more crucial as competition in a market where skills and competencies are continuously improving creates more demand. This is why companies today adopt strategies to retain their best talents: strategies related not only to salary improvements, but also to granting continuous and collaborative training systems. The adoption of a LMS makes this kind of strategy possible, since it allows the development of online learning communities.
The opportunity to leverage E-Learning for corporate training comes also with a positive environmental impact that is a pillar in terms of social corporate responsibility. The distance training is a smart choice for companies to reduce their overall carbon footprint.
To conclude, the table below is an E-Learning ROI calculator that takes into account all the crucial elements to be considered: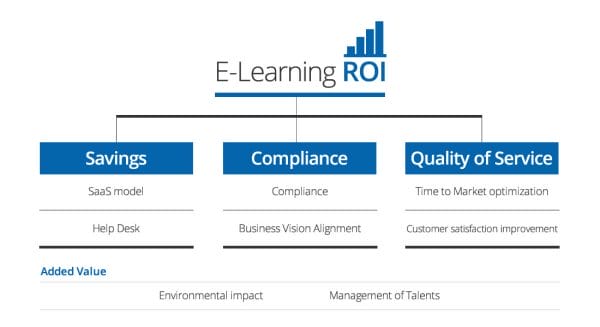 ---
[banner-bottom-eng]