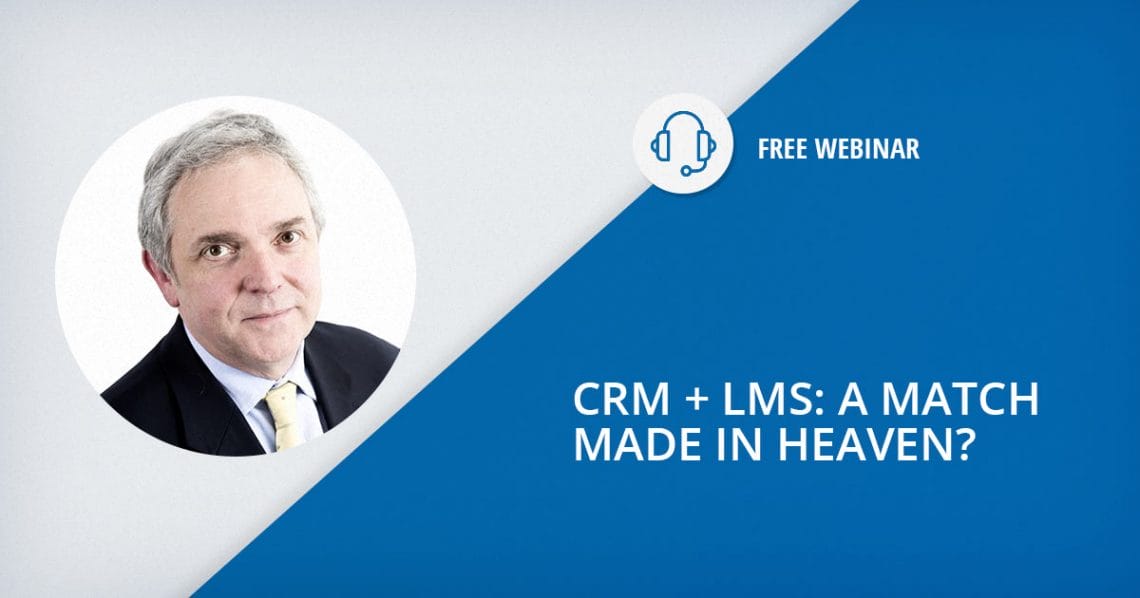 Take advantage of these two game-changing benefits of integrating your LMS and CRM
Integration of business tools is a really important topic for business leaders right now as they look to gain the benefits of more and more technologies, while minimizing any new headaches. When it's done right, good integration of your customer relationship management platform and learning management system can bring great benefits to your in-house sales team and extended enterprise network, bringing yet more sales thanks to your LMS and CRM integration.
Below, David Patterson, director of Learning Light, a research-led elearning consultancy and training provider in the UK, previews just two of the benefits of integrating your most important business tools and previews some key points of an upcoming webinar, co-hosted by Docebo.
Benefits of LMS and CRM integration
1. Simplify data management by creating a single place for your most important information

IT systems such as your LMS and CRM can each generate huge amounts of data, and keeping this data up to date can be laborious. By integrating the LMS and CRM, hands-on data management time is significantly reduced. Solid integration with an ever-growing set of technologies that make your daily tasks easier is essential to prevent staff from being overwhelmed by a plethora of login pages and passwords, and for sales staff in particular, the CRM is where they are always logged in.
2. Accelerate knowledge sharing across the entire organization and the partner network

By integrating your LMS and CRM, you eliminate the need for your partners, customers and employees to wait for new or updated training material to be rolled out. Individual learning, or that delivered across specific teams, can often be of benefit to more of the organization and even to external partners, such as resellers, retailers and other channel partners. By sharing knowledge across your network, you make more information available to more people at once.
We're long-term admirers of Docebo at Learning Light, and have included the company in many of our top elearning technology lists, including our recent review of the best LMS for training providers.
Clearly it's not just our opinion though, as yet again they've been listed among the world's best learning management systems – most recently by GetApp, which is run by Gartner.
Rather than simply creating a good LMS solution for the present day, then spending years just pushing it out to the masses, Docebo has a real focus on continuous improvement.
This progressive culture means that Docebo is always keeping track with the latest and future workforce development needs, and the wider business context – including integrations with other systems.
For these reasons, I think the Docebo team will bring some extremely well-informed and practical insights to debate on LMS and CRM integration.
I'm really looking forward to discussing this topic during our webinar on 4th August, and, alongside Docebo, fielding any questions from those who join us.
About David:
Since 2005, David and the Learning Light team have helped hundreds of organizations develop engaging, effective elearning. As well as being a popular consultant and speaker, he has been mentioned multiple times on the annual elearning 'Movers and Shakers' list. David always welcomes enquiries from L&D, HR and other company leaders looking to use technology to improve their workforce development.
You can connect with him here on LinkedIn.
Register for the webinar and get more insight from David into how you can take advantage of one of the most underrated integrations available to enterprises that want to cut costs and save time on data management while providing an enriched learning experience for your sales team.