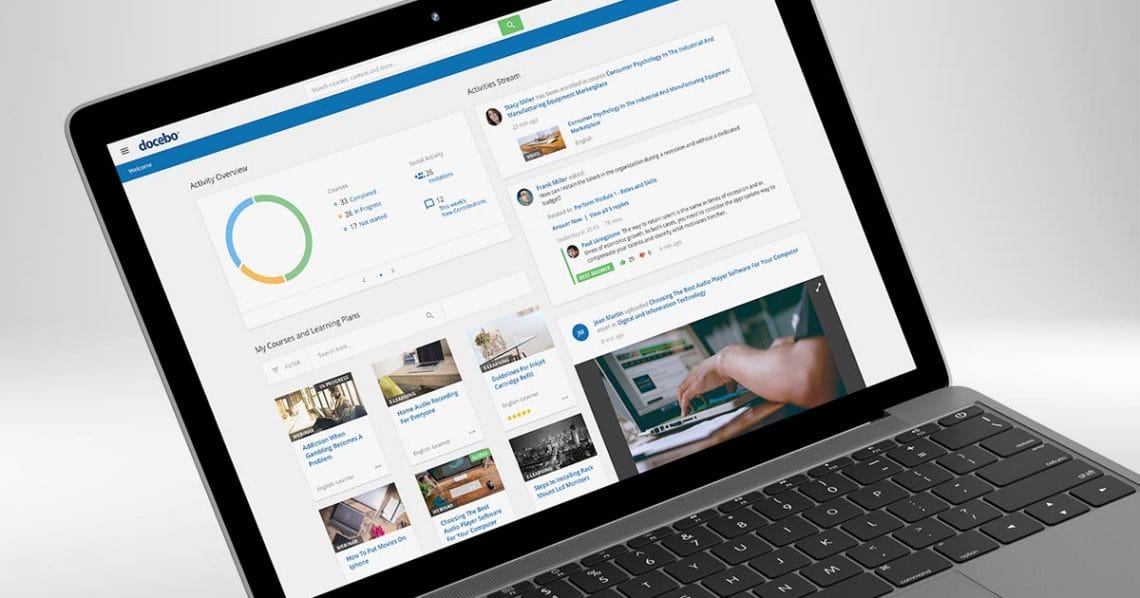 Design, adapt, build, and manage your learner's unique needs
We are excited to announce the release of Docebo 7.4, that gives  you the power to design, build and manage any page or menu of your learning platform, in minutes, adapting them to the unique needs of your diverse learner groups.
Our newest release brings a number of new features and improvements, but the most anticipated  functionality in docebo 7.4 release is Docebo Pages.
Docebo Pages: Limitless customization with no coding skills required
With Pages, LMS admins have now a completely new way to design their users' experience, end-to-end, with no coding required, by composing pages using drag and drop widgets as building blocks, and by creating different menus for each audience.
A wide selection of widgets, and the ability to assign a specific navigation path to each group of users provide limitless customization power for LMS admins that translates into exceptional learning experiences for learners.
Working closely with our customers over the years, they have expressed the need for customization to target their user's individualized way of learning.  We have seen some of them making very customized changes to promote further engagement. Docebo Pages addresses the need to seamlessly adapt to evolving learning needs and effectively providing new ways of engaging and keeping learners coming back for more.
Docebo Pages is be available for all customers in all plans. As Pages will replace your current dashboards and menus, there will be a transition period during which you can use to get familiar with the functionality, and get the most out of it. See here for more details about the transition
More personalized learning experiences
Pages is a major contribution to the goal of making learning experiences more personalized for your learners, and  there are a couple of other new features in this release that have been introduced along the same theme of personalization
Docebo Coach and Share: Improved playlists:

Learners can build personal playlists by aggregating learning assets of any nature

including formal courses

. Playlists can be used as personal lists of learning assets and courses that learner aggregate based on topic or simply as a watch later list. Playlists can be shared with other learners.
Here is a complete list with everything new with 7.4
Docebo Learn
Pages – A completely new way to design your learners' experience. Compose your own pages by using templates and by dragging and dropping widgets.  Control page visibility by creating custom menus for each of your audiences.

New dashboard – At-a-glance view and detailed reporting of course enrollments and completions by branch.

Remember me – You no longer need to enter your credentials every time you login.

Ecommerce

Manage one-time course bundle purchases by using any payment gateway

Content Partners: report on learning content sales by partner, manage discounts and account for referrals

New Widget: My Transactions
Docebo Coach and Share
Improved playlists: build personal playlists by aggregating learning assets of any nature including formal courses.
New regional off-the-shelf content provider: Skilla (Italian)

Download our free 14-day trial to explore what's possible.