Your learning management system (LMS) is the lynchpin of all your learning and development plans, initiatives, and needs.
It stores, delivers, and facilitates e-learning of all kinds—from onboarding to compliance training and beyond.
Nevertheless, because these platforms are so powerful and jam-packed with features, it can be overwhelming to try and pick the best LMS for your team and company.
In this guide, we'll take a look at the top 24 features of LMSs and what they mean.
That way, we'll demystify them and help you understand which features are important for your particular needs and use cases.
24 key learning management system features
We've grouped the features by use case to make it even easier to understand what they're about at a glance.
If you want to delve deeper into what makes a good LMS, check out our guide on LMS requirements.
What is an LMS (learning management system)?
An LMS is a software application organizations can use to administer, document, deliver, and track training and development programs.
Learning management systems are tightly connected to the concept of e-learning, emerging in the 1990s to facilitate learning through computers and the Internet.
LMSs don't just serve up e-learning content to learners, though. They also come with powerful metrics to help identify skill gaps and optimize training courses.
Employee development & retention features
Employee development and retention are among the most important goals of any learning and development program.
Investing in employee development and retention will result in a more engaged and motivated workforce that feels connected to your company's mission.
Here are some LMS features that will help you achieve those goals.
1. Social learning tools
We are more socially connected than ever before. (Can we get a retweet🐦? )
Because online social interactivity is now second nature to most of us (see Business Insider for the most downloaded apps of the decade), more and more organizations are turning to social learning modules.
This LMS feature creates learning environments where professionals in the same organizations can communicate, collaborate, share best practices, and learn from subject-matter experts.
Social learning features provide a way to ask questions and share user-generated content (think YouTube) to drive learner engagement and knowledge sharing across your organization.
Related: What is social learning (and how to adopt it)
2. Gamification
Gamification is an LMS feature inspired by the world of video games. Get ready for points, badges, leaderboards, contests, and rewards.
Taking the essence of video games and applying it to professional learning objectives makes the learning process fun.
Having these features in an LMS boosts learner engagement, knowledge retention, and competency, and promotes healthy competition.
The final score?
A positive and enjoyable user experience.
Related: Why you need gamification in e-learning
3. Mobile learning capability
We'd be willing to bet that within arm's reach, there's a mobile device. When you're not at work, you probably do most of your Google and Youtube searches on it too.
Not to mention all the TikTok binging.
Smartphones have become the gateways for work and learning. So, LMS platforms that aren't mobile-friendly aren't bringing in as many people as they could to your online learning program.
That means missing out on the ability to reach your learners on their favorite mobile devices and let them learn on the go.
These days, people expect to access any online content on their smartphones, and that goes for training courses too.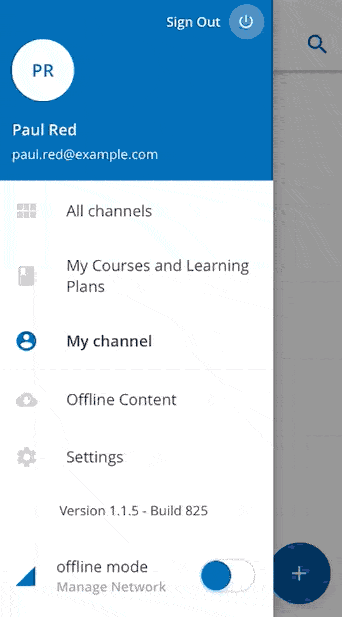 Related: What is mobile learning? (m-learning)
4. Video conferencing integrations for virtual classrooms
In the world of L&D (learning and development), we've quickly learned how essential video conferencing is when we need remote training.
This is especially true for remote and global workforces who can't travel to a conference whenever more training is needed.
This is why video conferencing integrations are a critical LMS feature.
If your LMS can integrate with video conferencing tools like GoToWebinar, Teleskill, or SkyMeeting, you can easily set up a virtual classroom through your favorite video call app.
5. Artificial Intelligence
With virtual coaching, auto-tagging, and content suggestions, AI is a powerful companion to LMSs.
And that's not only because it lets L&D pros work smarter and not harder.
With AI features, your learners become more self-sufficient, learning paths get more personalized, and your admins have more time to focus on improving your programs.
Virtual coaches are proactive tools to guide and steer learners through learning activities. They provide learners with unique learning experiences by having chat conversations that guide them toward e-learning content that is relevant to them.
They also save admins time as the virtual coach is available to answer basic questions. No more answering the same questions on repeat!
Member training features
The e-learning needs of professional associations are somewhat different from those of single companies.
Therefore, if you're running a professional or another kind of association and need an LMS, look for one with these member-training features.
1. Branding and white labeling
Staying 'on-brand' isn't just a buzzword.
Picture walking into the Apple store–you immediately know exactly where you are. That's how you want your users to feel when they log onto the LMS.
There's value in maintaining a consistent aesthetic, tone, and appeal that is unique to your company or association.
White labeling makes it so your learners can't tell your platform is owned by someone else, helping them feel right at home.
Remember: it's the little touches that separate professionals from amateurs. 😉
Related: Configuring the branding, look & feel of your platform
You don't want your company's learning experiences to look amateurish, so find an LMS vendor that allows you to white label.
That'll let you tailor your learning content and retain a consistent brand identity throughout your whole online presence, from your social media to your LMS.
2. Course management
This one is a pretty big deal – shout out to our admins 📣. Admins need to be able to:
Categorize them
Enroll users
Generate reports quickly and easily
An LMS with robust course management features will let admins manage everything from a central location (otherwise known as a central repository) where they can easily:
Create courses
Assign courses to users
Change layouts
Upload and manage course material
Bulk-enroll users
Configure advanced course settings
Good course management also requires the LMS to be compliant with SCORM and other e-learning standards and APIs.
This means you can add any learning object to your system, no matter where it was sourced.
3. Globalization
These days, businesses and associations operate globally and not just in their home countries.
That's why training and learning have to be accessible everywhere, for all learners regardless of their language and cultural background.
This is why it is so important to have an LMS equipped with broad language localizations, domain management, and global payment gateways for e-commerce.
4. E-commerce
With e-commerce functionality, you can use built-in stores or integrations with vendors like Shopify or Paypal to make selling (and shopping for) training courses simple.
E-commerce integrations also let you create and sell bundles of courses and manage different plans for different groups of customers.
This makes it easy for your customers to browse, preview, and purchase training materials or course catalogs from your LMS – all through a clean and friendly user interface.
Related: How to sell courses online using your Docebo LMS
5. Blended learning capability
Blended learning is an LMS feature that helps you supplement traditional modes of learning with e-learning content.
With blended learning, a part of the training happens in a traditional classroom (in-person or virtual) with an instructor.
This is known as instructor-led training, btw.
However, in addition to the instructor-led training, learners can access various materials, exercises, quizzes, and other e-learning resources through an LMS. Blended learning gives you the best of both worlds—the immediacy and guidance of instructor-led training with the accessibility and convenience of e-learning content.
Related: What is blended learning? (Benefits of blended learning in your LMS)
Sales enablement feature
Remember when we said LMSs are powerful?
That's because they're platforms that go beyond just delivering learning content. Sure, your LMS is essential for onboarding and training your employees.
But, with the right integrations, it can also play a big role in sales enablement, partner training, and increasing your bottom line.
Salesforce integration
Salesforce is everywhere, and it's where salespeople spend most of their time.
With a Salesforce integration, salespeople can stay in Salesforce to get their training — no need to switch platforms.
That means the relevant sales training information is always at their fingertips.
If a sales rep needs a refresher on their product knowledge, they can get it easily without having to search for the information elsewhere.
All this applies to external stakeholders too. LMSs with Salesforce integration can deliver information to your partners as well.
You can train your partners right and measure the performance of your channel partnerships by tying certification and training to sales metrics.
At the same time, Salesforce integration can also help your customers.
You can offer them learning experiences that will boost customer success and turn them into brand ambassadors and net promoters.
Related: Introduction to Docebo for Salesforce
Enterprise learning features
Consolidation, scalability, reporting…
These are not just fancy words to use in board meetings.
These are features you need to add to your LMS request for proposal if you're a large enterprise looking for a new LMS.
1. Learning suite consolidation
All-in-one shampoo and conditioner? Best avoided if you like your hair.
All-in-one learning suite? Wonderful and positively magical.
There are few things more frustrating in L&D than having to pay for separate LMSs to manage separate systems for different use cases.
A one-stop shop learning suite means you can bring all of your use cases into one single learning solution, saving you time, money, and unnecessary hassle.
L&D pros should be able to manage the entire enterprise learning lifecycle—from content creation to program delivery and measuring learning's impact on your business.
It's the learning suite spot, if you'll pardon the pun.
2. Advanced LMS reports
Learning and development are a big investment, so people in charge like to see actionable LMS metrics that connect learning with organizational performance.
Sophisticated reporting on your e-learning programs is not a big ask; it's something that any modern LMS needs to support.
Configurable dashboards help admins and managers get at-a-glance evaluation reports on training activities.
You should be able to monitor learner performance with simple reports at the click of a button or build custom reports across groups of learners, learning plans, certifications, and dates.
If you use an LMS with advanced reporting capabilities, you'll be able to judge your e-learning ROI and help your learners by optimizing training programs based on LMS metrics.
3. Organizational management
In addition to course management, your LMS must let you get granular about access and user grouping.
For instance, you might want to offer product training to both your sales team and your customers.
But you don't necessarily want both groups to get exactly the same information.
That's where organizational management features come in.
Configurable organizational management in an LMS means being able to customize different domains, branches, and user groups. That way, everyone stays in their lane, and admins have full access control.
4. Learning suite scalability
Growing pains are a real thing, and they can suck.
With the time, money, and professional resources it takes to select, launch, and maintain a good LMS, you want to make sure that it's going to scale with your needs and support your growth.
Scalability in your LMS means that as new use cases emerge and your needs grow, you have the option to turn on new extensions, features, and integrations that help address these needs.
General features
So far, we've looked at some specific LMS features that are important for different types of organizations.
The following features, on the other hand, are general features that no LMS should be without. So if you're looking to switch to a new LMS, ensure it's equipped with all of them.
1. Personalized learning paths
Managing numerous learners in an LMS can feel like heavy lifting, especially if you want to provide a more tailored experience to everyone.
Different job roles overlap, particular skill sets are shared, and certain courses are mandatory for all employees – figuring out who needs to be enrolled in what course can become a nightmare.
Sequenced learning paths allow you to have hassle-free enrollment because they guide learners once you set them up.
In addition, some modern LMSs have AI features that make learning more personalized, similar to how Netflix and Spotify's recommendation algorithms operate.
The LMS begins to understand your learner's preferences and guides them along the learning path that's right for them.
Related: How learning paths help to create structured learning programs
2. Intuitive user interface
Simply put, if e-learning is not easy to use, your people won't use it – we've all suffered the pain of navigating an app with an unfriendly user interface.
e-Banking apps, we're looking at you… 👎
An intuitive and user-friendly interface is the basis of a good user experience.
Your learners should be on your LMS to learn and improve their skills. Not to feel lost and annoyed because the e-learning platform's interface hasn't been updated since the mid-90s.
Related: Time to level up: your guide to the ultimate learning experience
3. Role management
Let's just be honest – even in an LMS that offers a lot of freedom and autonomy, we still need some control over what our learners can and can't do.
Being able to view, edit, create, and delete rights for different users is the most basic feature of any LMS. User roles let admins control access to potentially sensitive information, too.
You do not need Steve from IT posting videos of his cats to the social learning forum.
And you don't want Mark from HR to accidentally delete a whole module while trying to change the course branding.
4. Assessment tools
Learning isn't all just fun and games (even with the best gamification in the world). At the end of the day, we have no idea who passed and who failed.
Assessment tools are crucial to tracking progress and making sure learners complete the training satisfactorily.
Multiple-choice, short answers, essays, and true/false assessments; there are many different ways to assess learning.  And any LMS worth its salt needs to support them.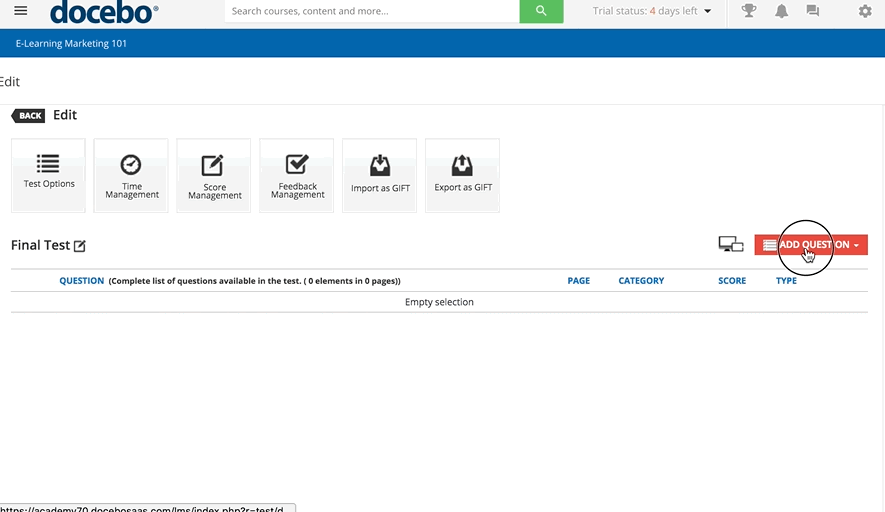 Related: Learn how to create and manage a test in your Docebo LMS for e-learning courses
5. Certifications
With some topics and skills, it's not just important to pass a test, but also to have a document to show for it. Especially if the skills and knowledge fall under your industry's regulatory compliance obligations.
This is when certification programs come in handy, something you should be able to create quickly and easily.
With LMSs that support certification, you can track which employees have completed the necessary courses, which still haven't, and whose turn it is for a certification refresh.
Related: Certified to blow your mind: how to manage e-learning certificates
6. Data migration
Your LMS has a wealth of important data in it. The training courses, the knowledge bases, and of course, the know-how itself that you used to build your training.
Suppose you end up deciding to switch to a new LMS, however. Would you be willing to start from scratch?
Of course not, that would be too expensive and time-consuming. That's why you need to choose an LMS with data migration features.
Data migration makes it easy to import e-learning content into an LMS and also to export content from it.
That way, your content stays yours and is not tied up in the LMS platform.
7. Responsive design
Mobile learning or m-learning is all the rage these days – and for good reason. It lets learners access the learning materials at any time. And from anywhere where there's an internet connection.
But one thing that often gets overlooked is responsive design. What's the link between responsive design and m-learning, you might ask?
Responsive design is the name given to a feature of design software (and that includes LMSs and authoring tools, too) that can automatically adjust the design of online content to fit the device it's displayed on.
Meaning – if you want to make your e-learning content available on desktop computers and mobile devices, you don't have to design two separate courses.
Responsive design will take care of it. Your course will look and feel great on any device.
8. Notifications
Sometimes, we all need a friendly reminder to get our stuff together and get things done. Notification features do just that, so you can make sure your learners complete their courses when new ones are added (or when it's time to retake mandatory compliance training).
An LMS should allow you to create and send event-specific, dynamic-content notifications to targeted users through a variety of channels.
Whether through email, the LMS itself, or integrations with communication apps like Slack – the important thing is that the LMS can notify learners about important events.
9. Calendar configurability
Where would we be without our calendars? Probably still in our office while there's an important meeting going on.
Keeping track of training sessions (virtual or in-person) can be tough for busy employees. That's why it's very helpful if your LMS software can integrate with various calendar apps.
And, of course, it should have a built-in calendar as well.
That way, you can have a nice overview of the length and milestones for each part of your training program.
3 different types of LMS to consider
We said LMSs can be complicated, so don't be surprised by this section. Yes, there are different types of LMSs to choose from, and which one to choose for your LMS implementation plan depends on a few factors.
Let's see what they are.
1. Installed vs. SaaS LMS
These days, we're used to everything being "in the cloud." With LMSs, it's pretty much the same. As a result, the most popular learning management systems today fall into the category of "SaaS LMS."
SaaS stands for "software as a service." It means that you pay a monthly or yearly subscription and access the service online. The opposite of this is a self-hosted LMS which you put on your own servers.
Self-hosted LMSs might be a good fit for companies that need to control every aspect of their L&D program (and have a lot of tech expertise).
For everyone else, it's best to go with a SaaS LMS. Compared to self-hosting, it offers faster deployment, more flexibility, and most importantly – the total cost of ownership is lower.
2. Enterprise vs. SMB LMS
At first glance, it's kind of hard to differentiate a small and medium business (SMB) LMS from an enterprise solution.
On their web pages and in their marketing literature they tend to tout the same features and capabilities.
However, the main difference is how they handle scale. An LMS aimed at small and medium businesses will let you set up and deliver training courses, and the main focus will be on ease of setup and use.
Learning management systems that are focused more on enterprises (that's companies with more than 500 employees, more or less) have a lot of features that deal with scalability.
With high user counts (don't forget partner and customer training which adds to the number of users), these LMSs allow for a lot of automation, user segmentation, and integration with other enterprise apps.
3. Free vs. commercial LMS
The best things in life are free … or are they?
When it comes to LMSs, you might want to reconsider the famous maxim. Sure, there are free LMS solutions out there, and if you're a small startup that's bootstrapping its way to the top you should consider that option.
If you have more serious needs and complex use cases, you'll want to stick with the paid offerings. If for no other reason than they come with tech support.
Now over to you
Training courses, webinars, onboarding … There are a lot of use cases for an LMS in most organizations.
Picking a fully featured LMS means that you can conduct and streamline all your L&D activities from one central location. And the best LMSs scale and follow your growth.
Find out how Docebo can fit in your organization and power its L&D – schedule a demo today!