A learning management system (LMS) is a powerhouse of knowledge for your organization to store, unpack, and facilitate training (basically, they're awesome). The pieces that make up a great LMS are their own LMS features.
These systems help people in the eLearning industry enable their employees, partners, and customers. The goal is for learners to reach their peak performance and stay engaged in their development and career progression. When your learners are 'all in', it drives an organization's bottom line (but you already knew that if you've landed on this page).
Learning management systems require time, resources, and maintenance, but if you end up with a process that requires too much of any of these, an LMS can inhibit productivity and learning from happening (womp womp womp 🎺).
Different LMS platforms come with different functionality. We've listed the top 24 functions and LMS requirements that will help you make the most of your learning management system, streamline your training, and get your people kicking you know what 🍑.
---
Social Learning tools 💬
We are more socially connected than ever before (can we get a re-tweet?). Because online social interactivity has become second to breathing for most of us (see Business Insider for the most downloaded apps of the decade), more and more organizations are turning to social learning modules. This LMS feature creates learning environments where professionals in the same organizations can communicate, collaborate, share best practices, and learn from subject matter experts (even despite location). These LMSs create eLearning experiences that provide a way to ask questions and share user-generated content (think Youtube) to drive learner engagement and knowledge sharing across your organization. Need we say more?
Related: What is social learning (and how to adopt it)
---
Learning suite consolidation 🎁
All in one shampoo and conditioner: not great. All in one learning suite? Well, that's where the magic happens! There are far few things more frustrating than having to pay for different LMS platforms and manage multiple systems for different use-cases (internal/external etc.). A one-stop shop learning suite means you can bring all of your use cases into one single learning solution, saving you time, money, and unnecessary hassle. L&D pros should have the ability to cover the entire enterprise learning lifecycle, from content creation and management to program delivery to measuring learning's impact on your business. It's a little thing we like to call the learning suite spot. 
---
Advanced LMS reports 📈
We're all here to prove value and ROI. Sophisticated reporting on our eLearning programs is not a big ask, and it's one you should ensure is part of the package deal. Configurable dashboards in an LMS help learners and admins solicit at-a-glance evaluation reports of training activities. You should be able to monitor learner performance with simple reports at the click of a button, or build your own reports across groups of learners, learning plans, certifications, and dates with a variety of course and user-data fields. Make sure your LMS vendor gets an A+ in this department so your learners can too.
---
Personalized learning paths 🛣️
Managing numerous learners and online courses in an LMS can feel like heavy lifting, especially if you want to provide a more tailored experience (and trust us, you definitely do). As different job roles overlap, certain skill sets are shared, and certain courses are mandatory for all employees, so sequenced learning paths allow you to implement hassle-free enrollments.
In addition, some offerings that include AI as an LMS feature make learning easier and more tailored, similar to how Netflix and Spotify operate. The LMS begins to understand your learner's preferences and sets them on the right path. Personalized learning paths make the journey easier on both admins and learners, as customization  of courses in the LMS helps learners to master that particular topic or training program.
Related: How learning paths help to create structured learning programs
---
Branding and white labeling ✨
We might love Nike and Adidas, but we scarcely wear them together. Staying 'on-brand' isn't just a millennial buzzword. There's truth behind maintaining a consistent aesthetic, tone, and appeal that is unique to your brand.
Your learning environment and branding should be an extension of your culture and who you are as a company. White labeling makes it so that your learners can't tell your platform is owned by someone else, and it makes them feel right at home. An LMS vendor that allows you to white label your eLearning platform allows your university to house the same colors, logos, icons, and watermarks.
Related: Configuring the branding, look & feel of your platform
---
Intuitive user interface 👩🏾‍💻
Simply put, if eLearning is not easy to use, your people won't default to it – when was the last time you voluntarily decided to fill out your taxes on a manual form instead of using tools such as TurboTax or H&R Block? Yeah, probably never.
A learner's journey that is clear to understand is easy on the eyes and facilitates a cohesive flow between dashboards and overviews of courses. Intuitive user interfaces mean they are easy to use for admins and learners. This results in spending less time learning how to use the LMS and more time learning how to get promoted.
Related: Time to level up: Your guide to the ultimate learning experience
---
Course management 📎
This one is a pretty big deal – shout out to our admins. You need to be able to create and manage courses, categorize them, enroll users, and pull reports quickly and easily so your admins don't spend unnecessary time on tasks that could be more automated. An automated LMS will enable course management that is in a central location (otherwise known as a central repository) where they can create courses, assign them, change layouts, upload and manage course material, bulk enroll users, configure advanced course settings, and filter courses, channels, and learning plans (all without hemorrhaging an eight-hour workday).
---
Organizational management
In addition to course management, it's important that your LMS permits you to get granular and really operate inside of the details. Configurable organizational management in an LMS means being able to customize different domains, branches, groups, extended enterprise, and user provisioning capabilities to provide a highly independent and stellar functioning learning program.
---
Mobile learning capability 🤳🏻
We'd be willing to bet that within arms reach of you, there's a mobile device. When you're not at work, you probably do most of your Google and Youtube searches on it too.
eLearning has become the way we work and learn, so LMS platforms that are not accessible on other devices and mobile apps are not optimizing the bandwidth of their online learning program (lame). You're missing out on the ability to reach your learners on their favorite mobile device and catch them on the go with a user-friendly mobile app learning experience.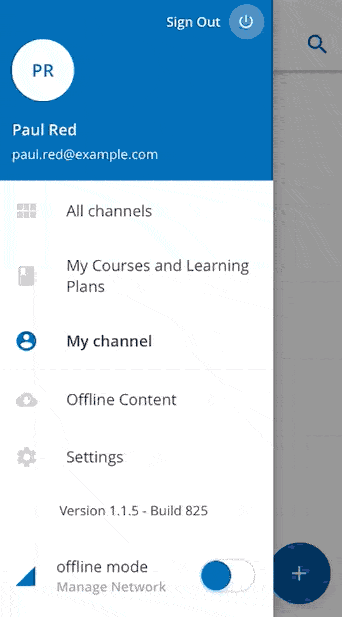 Related: What is mobile learning? (m-learning)
---
Gamification 🎮
Gamification as an LMS feature can operate with points, badges, leaderboards, contests, and rewards. The concept of taking the essence of games and applying them to professional objectives makes the objectives themselves more enjoyable for the learners (can I get a boo-yah?). Having these in a learning management system boosts learner engagement, knowledge retention & competency, healthy competition, and positive user experiences
Related: Why you absolutely need gamification in e-learning
---
Role management
Let's just be honest – even in an LMS that offers a lot of freedom and autonomy, we still need to have some control about what our learners can and can't do in our learning suite. Being able to view, edit, create, and delete rights for different users is a game changer, especially when it comes to social collaboration. You do not need Steve from IT posting videos of his cats instead of posting content related to work.
---
Video conferencing integrations for virtual classrooms 🎒
In the world of L&D, we've quickly learned how essential video conferencing is when we need remote training. This is especially true for remote and global workforces who can't travel everytime new information needs to be learned.
This is where the power of video conferencing integrations is unleashed. Some video conferencing tools and integrations include Adobe Connect, GoToMeeting, BlueJeans, GoToWebinar, WebEx, BigBlueButton, TeleSkill, SkyMeeting, and OnSync.
---
Globalization🌎
Business doesn't stop when you leave your home country. Learning has to happen and be accessible everywhere, for all learners. This is why it is so important to have an LMS that is equipped with broad language localizations, domain management, and global payment gateways for e-commerce.
---
E-commerce 💰
This LMS feature is pretty easy to understand – after all, we wouldn't love shopping on Amazon so much if it wasn't so easy, right? With e-commerce functionality, you can use built-in stores or integrations with vendors like Shopify or Paypal to make selling (and shopping for) training courses simple. With e-commerce, you can also compose and sell bundles of courses and manage different plans for different groups of customers. User interfaces that include e-commerce make it easy for your customers to browse, preview, and purchase training materials or course catalogs from your LMS.
Related: How to sell courses online using your Docebo LMS
---
Learning suite scalability ⚖️
Growing pains are a real thing, and they can suck. Like when you have to invest in a new house or car because your life has required upsizing. With the time, money, and professional resources it takes to select, launch, and maintain a good LMS, you want to make sure that it's going to scale with you and support your growth.
Scalability in your LMS means that as new use cases emerge and your needs grow, you have the option to turn on new extensions, features, and integrations that support your growing learning program.
Related: How to scale your learning programs to match the speed of growth
---
Salesforce integration ☁️
It's not unique, Salesforce is everywhere these days, and our salespeople don't like jumping off the site if they primarily live there. With a Salesforce integration, salespeople can stay in Salesforce to get their training as the integration makes it so that the training is framed into their instance. Salesforce integrations happen between the LMS and Salesforce to allow admins to embed learning experiences for the company sellers directly where they spend most of their time: in Salesforce. It also uses data from Salesforce to make enrolling less manual than ever.
Related: Introduction to Docebo for Salesforce
---
Blended learning capability🎨
Blended learning is an LMS feature that helps you supplement traditional modes of learning (these are your top-down formal learning course and ILT), and uses technology in your LMS to include modern learning methods too. This way you're able to reinforce that traditional learning with more modern material. Blended learning is a multi-dimensional approach to delivering learning content for a multi-faceted audience of individuals who have different needs. We love options!
Related: What is blended learning? (benefits of blended learning in your LMS)
---
Assessment tools 💯
Like in school, you've got to make certain your people are learning. Assessment tools are crucial to tracking progress and making sure required training is completed at a satisfactory level. There are many different ways to assess learning which help you cover different learner preferences for assessment. Multiple-choice, short answers, essays, and true/false assessments are all ways to assess learning, and you can also have people download a learning object and have them re-upload the completed version.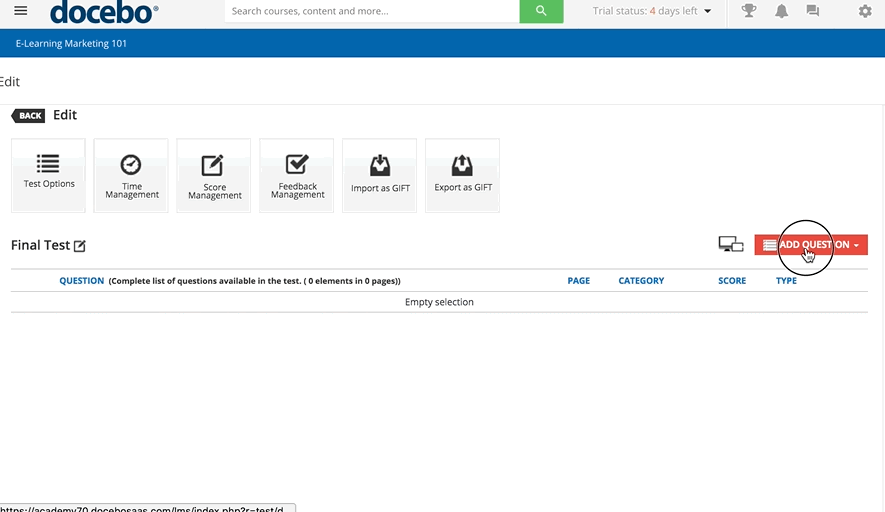 Related: Learn how to create and manage a test in your Docebo LMS for e-learning courses
---
Certifications 🏅
Some topics require a little extra coverage, or sometimes you need your people to cover a bulk of material to be certified and ready to do a job. This is when certification programs come in handy, something you should be able to create quickly and easily.
Related: Certified to Blow Your Mind: How to Manage eLearning Certificates
---
Data migration 💾
Data stored in an LMS is a goldmine, and the cost of losing that could cause an organization a lot of unnecessary pain. Data migration gives you mobility and freedom if you need to switch your LMS so that you can take all of your progress with you. With data migration in an LMS, you can take your valuable data with you and re-distribute it inside of a new LMS so that you're not completely starting from scratch.
---
Responsive design 📲
Responsive designs in an LMS make it possible for your learners to still enjoy a positive learning experience on different devices, despite differing slightly in format for the sake of optimizing whichever device they've decided to learn on. For example, your phone's formatting is very different from that of a laptop and causes the experience to be slightly different, but it should not be cumbersome.
---
Artificial Intelligence 🤖
With virtual coaching, auto-tagging, and content suggestions, AI allows L&D pros to work smarter, not harder. So your learners are more self-sufficient, learning paths are more personalized, and your admins have more time to focus on improving your programs instead of implementing them.
Virtual coaches are proactive tools to guide and steer learners through learning activities and help them work in their learning suite. Virtual coaches provide learners with unique learning experiences and can have chat conversations with learners that guide them towards content that is relevant to them. They can also save admins time pulling content as the virtual coach is available to answer basic questions instead of burdening admins.
---
Notifications 🔔
Sometimes we all need a friendly reminder to get our *you know what* together and get things done. Notification apps do just that so that you can make sure your learners complete their courses when new ones are added to the queue. Notification apps in your LMS software allow you to create and send event-specific, dynamic-content notifications to targeted user audiences through email, your learning suite, or even through integrations like Slack. Whether you're onboarding new employees, training customers or partners, or enabling your sales teams, notifications are a must-have LMS feature.
---
Calendar configurability 📆
Let's be honest; where would any of us be without our calendars? With this LMS feature, you won't have to find out. Calendar configurability allows you to view all of your scheduled activities in a personal calendar that can then integrate with your LMS. You can add your learning suite's calendar to your Outlook or calendar by performing a simple export.
---
The 🔚
Well, that's all folks! If you have any questions about LMS features or you're ready to give Docebo Learn LMS a test drive, feel free to reach out. We happen to know the best LMS provider for all of the above.