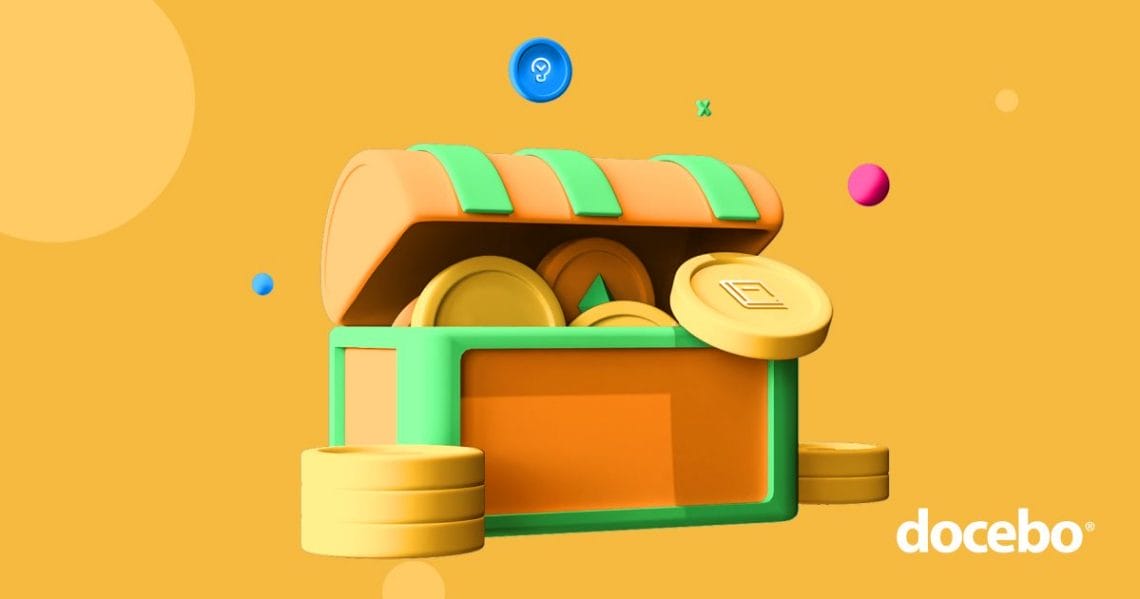 Any company serious about being competitive and providing a high level of service must invest in employee education.
But most companies need help establishing a learning culture and motivating their employees to learn.
A big reason for this is educational content that simply isn't engaging. Listening to hours of monotonous lectures or going through one PowerPoint after another is nobody's idea of a good time.
So, how do you engage learners and take motivation to the next level?
Enter gamification. It's a set of LMS functionalities that applies game design elements to online learning.
Achievements, levels, badges, educational games… All of this can make learning entertaining (and sticky).
This guide breaks down everything you need to know to become a gamification pro.
What is gamification in e-learning?
Gamification utilizes game mechanics in online learning experiences to help capture and engage your audience. It transforms a learning task or objective into a more playful and interactive experience for your learners.
A great example was the 'Pokemon Go' fad (rest in peace), where folks 'gamified' their walks using an app to catch virtual Pokemon.
These examples show how a little added excitement can reinterpret how we experience something.
eLearning Industry describes it best: "Haven't you always wanted to reach the top of a leaderboard? Aren't you used to getting points and completing levels and challenges to get to the next stage of a video game?
All these components have been successfully incorporated into online training as gamification features. Elements like badges, certifications, fun competitions, gifts, and more give an extra spark to your courses".
Brandon Hall Group suggests that gamification acts as a "positive disruption, a game changer that has the potential to level up the digital learning process."
But what does it mean for your corporate learning and development projects? It means that when people are given virtual incentives, they're motivated to learn and achieve good results in the learning process.
Gamification isn't just a trend in e-learning, by the way. Now, gamified fitness, mindfulness, health, and language learning apps also exist.
According to Statista, nearly 90% of people aged 16-24 play video games, and interestingly, more than 60% of those aged 55-64 also do.
Since there are already so many gamers in your workforce, using gamification LMS features to help them learn makes sense.
Key gamification elements
At its core, gamification has four key elements:
A challenge or a goal that establishes what a learner needs to accomplish to win.
Obstacles or impediments that learners must overcome to achieve the goal.
Incentives or rewards that users receive as they overcome obstacles and complete objectives.
Game rules that define the player's interaction with the game.
This concept of taking the essence of games (enjoyment, play, openness, creativity, and challenge) and applying them to professional objectives rather than solely entertainment makes the learning process more enjoyable.
Gamification in the workplace improves engagement and learning retention. If learners are engaged while learning and enjoy the experience, the material will stick in their heads longer.
Related: What Is Gamification and How Can It Boost User Engagement?
5 Top gamification LMS software
In the market for an LMS whose features include gamification? Before drafting your LMS implementation plan, look at our top picks.
Disclaimer: The information below is accurate as of June 14th, 2023 
You can refer to the table above to see the key features. For more detail and pricing info, head down below.
Software #1: Docebo
Docebo is a cloud-based learning management system designed to help organizations create, deliver, and manage online training and education programs.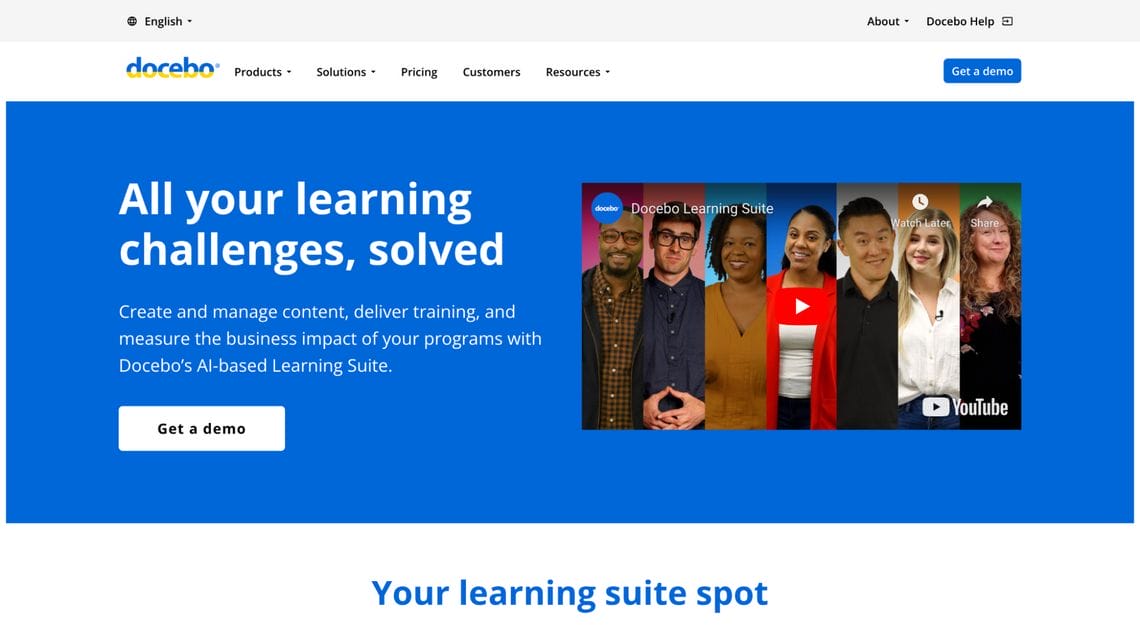 Standout features include AI-powered content tagging for personalized learning, rich social learning and gamification features to boost engagement, and comprehensive analytics to track learners' progress and measure the impact of training programs.
Who Is It For?
Docebo offers a wide range of features and is very scalable to the learning needs of an organization. That's why it suits anyone from small start-ups to large multinational corporations. With a wide range of integrations, it's a good option for companies looking for gamification LMS software that fits with their current tech stack.
The user-friendly interface (and mobile app) makes Docebo a good choice for any organization that needs a cloud-based SaaS LMS platform. And, of course, for those who wish to add gamification to their learning environment.
Key Features:
Badges, points, and awards
Learner progress tracking
Leaderboards and contests
Rewards marketplace
Docebo Pricing
Talk to a Docebo expert about pricing for your organization.
Software #2: iSpring Learn
iSpring Learn is an LMS that companies can use for a range of learning experiences, from onboarding to sales training and employee performance tracking.
Image Source: iSpring
One of the main draws of iSping Learn is its built-in learning content creation capabilities. The developer promises that even those who are not professional learning experience designers can still make courses, assessments, and other content quickly.
Who Is It For?
Like most SaaS LMSs on the market, iSpring can be used by many different organizations. It is particularly suited to those companies whose learning initiatives don't have large teams behind them. That's thanks to the already mentioned authoring capabilities.
Key Features
Points for webinar attendance
Built-in collection of badges
Review points and badges in the reports section
iSpring Learn Pricing
The annual business license costs $770 per author per year. This basic subscription level comes with e-learning authoring tools and 24/7 support.
You can also choose the Max subscription at $970 per author per year. This tier includes text-to-speech capabilities and a content library with templates and images.
Software #3: GoSkills
GoSkills is an online learning platform offering courses and training on various business and personal skills.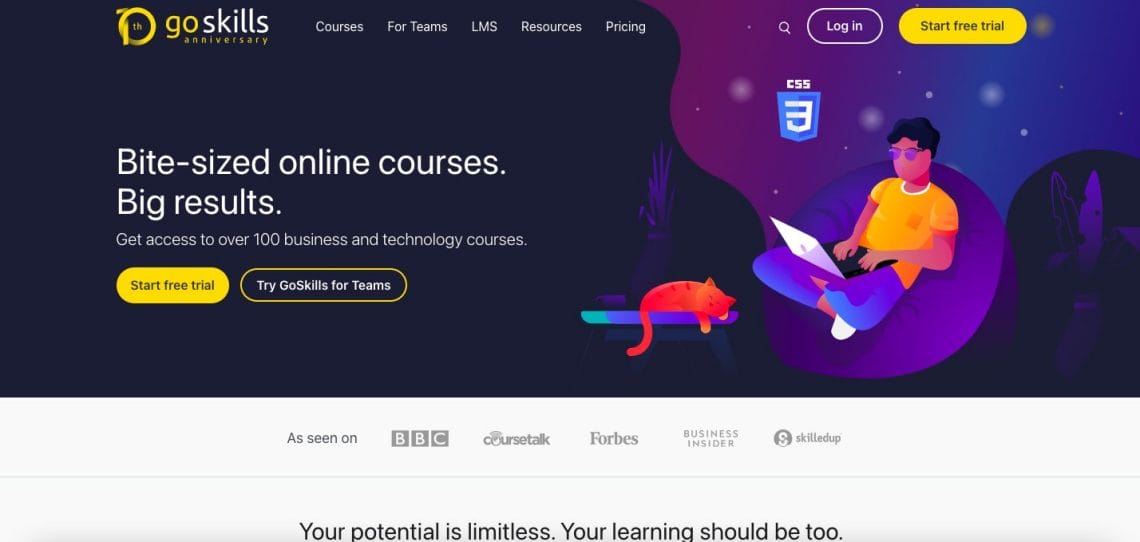 Image Source: GoSkills
Users can access learning content on project management, leadership, data analysis, and more.
Access to the platform is free, but you must purchase courses.
Who Is It For?
GoSkills is well-suited for individual use, but organizations can also use this cloud-based LMS platform to create courses with the platform's authoring tools and apply custom branding.
This LMS platform primarily targets small and medium businesses that wish to upskill their employees, although it's also suitable for larger companies.
Key Features
Time-tracking goals
Daily streaks
Personalized rewards
GoSkills Pricing
For teams, GoSkills costs $14.50 per user per month if billed annually. Monthly billing will cost you $29 per user per month. The team plan covers 2 to 50 learners. There is an enterprise plan for bigger companies, for which you'll have to contact the sales department.
Software #4: SAP Litmos
SAP Litmos is a cloud-based LMS that you can use to create and manage online training courses.
Image Source: SAP Litmos
Litmos focuses on being quick to deploy and customizable. It also comes with built-in content-authoring functionality.
Who Is It For?
Like most cloud-based LMSs, Litmos can brand and customize your learning experiences to fit your needs.
Because of that, it's a great solution for companies and organizations of all sizes can use it. Litmos offers robust support for 24/7 learning and accessibility, making it a good choice for companies prioritizing mobile learning.
Key Features
Points and badges
Assigning levels
Team and global leaderboards
SAP Litmos Pricing
For Litmos pricing info, you'll have to request a quote from the company.
Software #5: Paradiso LMS
Paradiso LMS is another option for those considering a cloud-based LMS platform.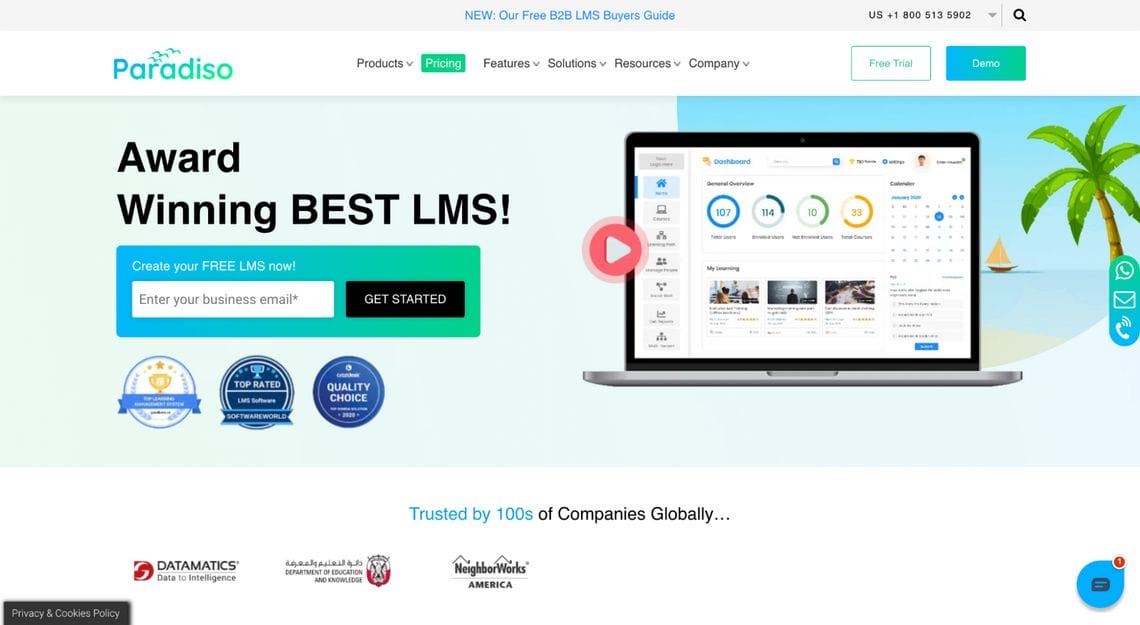 Image Source: Paradiso LMS
User-friendly, scalable, and modern, organizations of all sizes can use Paradiso LMS to create and manage their learning and development initiatives.
Like most modern LMSs, it comes with support for content authoring, mobile, and social learning.
Who Is It For?
Paradiso LMS supports a wide range of employee training scenarios. With built-in content authoring, assessments, and learner progress tracking, companies can customize the solution to fit their needs.
Paradiso LMS focuses a lot on AI-powered features such as the AI course generator and AI Media Studio. You can use these tools to generate courses and the accompanying media assets.
Key Features
Points and badges
Leaderboards and achievements
Users can share achievements
Paradiso LMS Pricing
For pricing information, you'll need to get a quote from the company.
4 Main benefits of gamification in e-learning
We get it. It feels risky to play games with your learning strategy. The last thing you want to do is distract or confuse learners.
However, gamified learning has some great benefits. Here's why it can pay off to incorporate game mechanics into your employee training activities.
Consider these benefits the main reasons you should include gamification in your list of LMS requirements.
Benefit #1: Learner experience
Think about your favorite apps like Nike Run Club, Uber, Starbucks, Duolingo, etc. Guess what – these are all gamified.
We all have that friend who brags about their 21-day streak or Starbucks stars.
The companies continuously play with user experience enhancements because the more engaging the apps get, the more people want to use them.
There is simply something exciting about watching stars, rewards, and badges pile up. Just ask the millions of gamers and Candy Crusher devotees.
Eventually, we become conditioned to look forward to these interactions alongside our purchases or experiences. It's like getting likes on social media or reaching a new level in a multiplayer game.
This is precisely what you want your learners to experience when they use your learning management system because it will keep them coming back.
Benefit #2: Engagement
One third of employees don't think their training materials are interesting or engaging.
That's alarming, considering learner engagement is directly tied to the success of your learning programs and your organization's overall growth.
If your learners are not interacting with your learning platform or are unproductive and underperforming, you never end up seeing any ROI on the LMS.
The easiest way to get buy-in and engagement from your learning audiences is to get them to a place where they enjoy what they're doing in the system.
Gamification can motivate people and drive employee engagement. Engagement will go up as the number of points goes up and your learners unlock new levels and achievements.
Benefit #3: Retention
Ensuring your learners are retaining what they learned is a challenge.
Generally, employees forget up to 50% of what they just learned within an hour – you can thank the famous Forgetting Curve for that. With this in mind, we must consider how we present information to our audiences.
If you want your training programs to have an actual business impact, it takes more than just tracking completion rates in your learning platform. What the learners take away from the training experience is what matters.
That's why knowledge retention is so necessary.
Some healthy competition with leaderboards, badges, quizzes, point systems, and contests can drive retention because, when we enjoy the experience, it becomes more memorable and vital to us.
Whether it's onboarding or sales training, game-based features make learning fun and unforgettable.
Benefit #4: Company learning culture
Every company wants to foster and maintain a continuous learning culture. Gamification in corporate training sends a message to your employees that you care about their learning experiences and want them to enjoy the process.
If learners are satisfied with your LMS platform and their learning experiences, they are more likely to take learning seriously and engage in it freely.
You want your learners to take pride in their accomplishments. When that happens, your learners will continue to show up and learn.
Taking advantage of learning technology, such as gamification and social learning, is essential to building a lasting learning culture.
Related: How to Leverage Motivation in Your Learning Strategy
5 Key features of gamified LMSs
Now that you're familiar with the benefits gamification can bring to your training courses, let's see which features you should look for when choosing LMSs that support gamification.
Feature #1: Badges
A badge is like a medal your users will get every time they complete an objective of the learning experience. To be considered among the top performers, your learners must earn as many badges as possible for completing different activities.
You can have fun with it and give your learners bragging rights by creating unique badges like "Master of the Universe," "Smart Cookie," or "Total Genius." Badges and points are pivotal to gamification in e-learning.
Don't worry if this is starting to seem like a lot of extra work. Leading LMSs like Docebo allow you to automate this process. Admin can simply create and assign badges to different modules or courses. Then, learners will automatically receive their badge when they complete the milestone in question.
Feature #2: Points
Everyone likes to see numbers go up, from finance guys looking at their portfolios to gamers climbing the leaderboards. Points are a great way to calculate how individual employees are performing. You can assign a certain amount of points to a learning module, and learners will automatically receive those points (alongside their badge) when they complete the resource.
The point totals can establish a basis for a rewards program or leaderboards. This creates encouraging milestones for learners' progress and builds some friendly competition.
Feature #3: Rewards
To incentivize your learners to collect points and badges, give them prizes after reaching a certain threshold. Stuff like Amazon gift cards, special company-branded swag, spa vouchers… you probably know what your employees would like better than we do.
If you really want to drive motivation, follow in the footsteps of companies like IBM and Walmart and create an official gamification program. Turning virtual badges into real-world perks is sure to jump-start user engagement.
Feature #4: Leaderboards
Leaderboards display the users with the highest number of points on the platform. It's a great way to get healthy competition among your learners. Additionally, the number of points a learner has can be a tool for self-assessment.
You can even give out special badges to learners with high leaderboard positions.
Feature #5: Contests
Running contests is a great way to engage your employees with your learning program. One example of a contest is assigning goals they should achieve within a specific period.
Some common contest ideas are "Most Course Completions" or "Scored Highest Points in Course."
You can also tie contests in with the rewards program we mentioned earlier.
Now over to you
It may be fun, but gamification is no joke. A stellar gamification strategy can boost learner engagement, enhance knowledge retention, and foster a learning culture in your organization. All this results in better business results.
If you want to engage and motivate your learners, switch to an LMS-supporting gamification.
A learning platform with in-built gamification elements like badges, points, and leaderboards will automate the process so you can reap the rewards without the elbow grease.
Docebo comes with many gamification features out of the box. To check them out, schedule a demo today!