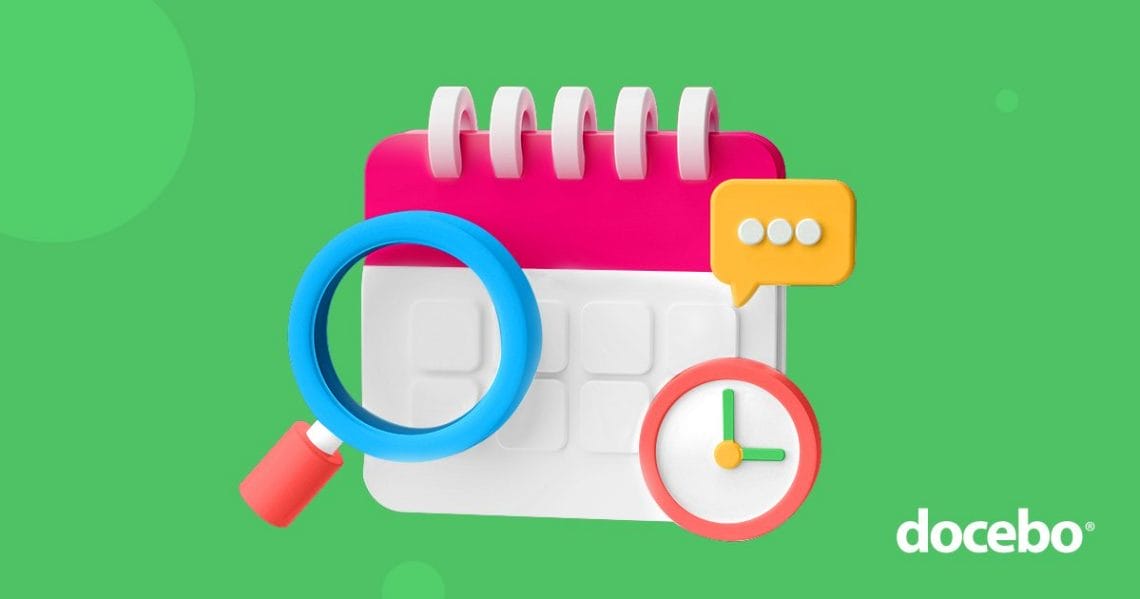 From start to finish, LMS implementation requires a lot of heavy lifting. It's a team effort, and there's no room for wishful thinking or blind optimism.
To make your LMS goals a reality, you need a solid strategy and a team that's ready to hit the ground running.
Whether your aspirations include more engaging training programs or better learning and development metrics, it all starts with the LMS implementation plan.
Because LMSs are not the simplest apps out there, it's important to pay attention to your implementation plan.  Your LMS implementation checklist is set out below – you can thank us later when you don't miss out on essential features and considerations.
A 15-point checklist for a successful LMS implementation plan
First off, don't be afraid. A 15-point checklist might sound scary, but a lot of these points are common sense.
Nevertheless, it's good to have all the points collected in the same place for quick reference.
You can download our handy checklist here!
Let it guide you through the process of creating a stellar LMS implementation plan.
1. Identify and define your learning objectives and goals
There's nothing like starting with a little bit of self-reflection. This is where you want to evaluate where your organization currently sits, where you want to be, and what you need to do to have online training programs that achieve your goals.
Make an inventory of your current limitations and pains and what challenges you could solve if they didn't exist.
You should also think about what you want your new learning management system (LMS) user experience to look and feel like; communities, portals, classrooms, etc.
By deciding what the journey should look like, you become a more empowered buyer than one who simply operates off a functional requirements wish list.
You may well need gamification, e-commerce, single sign-on, and webinars, but you first need to look at the bigger picture. Let the learning objectives you want to achieve guide which features to look for. Not the other way around.
2. Evaluate your resources before solidifying your implementation timeline
After some heavy brainstorming to begin your LMS project plan, it's time to gather critical information.
Choosing a learning solution is a lot more work than simply saying you need something, buying it, and setting it up.
People sometimes underestimate this preparation phase that happens before the sales cycle.
Don't make that mistake – consider these questions instead:
Do you have the information you need to properly manage an LMS (e.g., content source files, an HR system or user database that you can rely on, someone to administer the platform, any particular branding, etc.)?
What additional resources do you need or already have? Do you need to hire a project manager, IT consultant, LMS admin, etc.?
Do you know what information you already have, what you'd like to move into your new LMS, and what content can be archived?
Do you have clean data that is manageable? Who will work to get you everything you need, data-wise and content-wise, in your system?
Extra tip: Crowdsourcing many years' worth of content is a multi-departmental effort. It requires going through all necessary files and assets to make sure they're compatible and fit into the system you're going to buy.
Sometimes this means asking individual departments for proper courses and SCORM files before you even purchase and set up.
3. Product sourcing
Next, you'll want to create a detailed 'functionality matrix' or requirements list based on your current and future needs. This ensures you're purchasing a product that will nicely scale. It also determines what LMS features you'll be looking for.
Take full advantage of the sales cycle and take your time to find a product that fits your needs, along with a vendor that wants you to succeed.
4. Establish a timeframe for your project plan
Once you've started thinking about how to crowdsource the information and data you need internally, you can begin to set a timeframe for your LMS implementation project plan. The questions below will help to write your timeline:
What's driving your need for a new LMS? Is it a big new learning and development initiative, the end of a contract for another system, or perhaps a major business pain point (like underperforming sales training) to be solved ASAP?
When do you think you can devote complete focus to your project? Who is going to be responsible for this?
When is your current system expiring?
How long do you anticipate content creation and/or vetting will take?
Do you need to hire a project manager, and how long will this take?
How many user profiles and software programs do you need to migrate into your LMS?
5. Build your extended team
The next step in building your LMS implementation process is to assemble your core team and team leaders.
Your dream team members can be made up of LMS administrators and a collection of people from HR, IT, Learning and Development, Training, and Management.
This will be your implementation team that drives the project full steam ahead. Rock stars only, please 🤘.
6. Get stakeholder support (make sure your plan works for the organization's needs)
Your stakeholders need to be involved in conversations early because they're directly involved with and affected by the new LMS.
You need their support to make sure they are ready to commit to the project. If you don't have stakeholder buy-in, the adoption rate will be low and, with it, the ROI of your learning platform.
7. Prepare for deployment and administration
Once you've built your team and delegated tasks to your team leads, you'll want to ensure they're beginning to plan employee training for when the program has been deployed and tested.
8. Prepare for data migration (if needed)
You'll find that data migration looks different depending on whether you're using an on-premise LMS or a cloud-based LMS system (we prefer the cloud over here 😉).
Either way, data migration will require hands-on effort from your IT department or your LMS vendor, who will need to account for which courses, assets, and data you'll be transitioning into your new system.
Even if your courses are SCORM-compliant, sometimes you'll have to make adjustments anyway to conduct the system integration. That's why it's important to come together to strategize which courses need to be brought over.
9. Ensure you have quality e-learning content
Creating content from scratch is time-consuming. So, if this is your game plan, invest in a solid authoring tool to help your content creators build enough content to start you off.
Opt for an authoring tool that integrates with your LMS for best results. It will guarantee a more streamlined and seamless experience for learners and admin.
You may also consider getting content from a third-party provider. This arms you with a bigger arsenal of online courses for when your training needs increase, and your LMS needs to scale. Ensure you have the right people to manage, create, or source content.
10. Create points of contact
A successful LMS implementation is a multi-departmental effort, as numerous business units will use the new system.
Because of this, you'll need to make a big effort to keep these departments engaged and involved in implementation conversations. This includes which content should live in the new LMS platform.
In addition, make sure that throughout the process, you're continually engaging your stakeholders and key users. The goal is to keep everyone focused on the challenges that your LMS solution is out to solve.
11. Set your IT team up for success
A successful LMS implementation doesn't happen without your IT team. They're the masterminds behind data migration, data security management, LMS integrations, system configurations… you get the point.
We're talking about some heavy lifting. That's why it's crucial that your IT department is present throughout the creation and rollout of your LMS implementation plan. They have the expertise to execute it properly.
12. Follow the LMS best practices as outlined by your provider
While we love a bit of DIY spirit, it's important to remember that every LMS provider operates differently.
Each learning management system implementation has different best practices that ensure seamless operation from onboarding onward. Trust your vendor's guidance, ask for their specific best practices, and use their resources.
This is what happens when you don't…
13. Test your LMS system
This is where taking full advantage of the sales cycle comes in. Test, test again, and test some more.
Or, have the vendor's sales team demo very specific, detailed scenarios so that you feel confident in what you're diving into.
It's also important to conduct user acceptance testing (UAT).
This is where your QA or admin team goes into your system and follows a clear-cut script – how to log in, where exactly to click around, etc. – to check if everything functions correctly.
It's important to conduct these tests before end-users touch the platform for the first time.
14. Conduct a soft launch
It's not just for hipster hangouts, despite what you might think.
The soft launch, also known as the beta or pilot period, is where you ask a small group of users (not part of the implementation project team) to use the platform and give you feedback.
This is a crucial step because you get feedback from people unfamiliar with the program, who will pick up on different issues than your QA and admin teams.
A soft launch lets you check everything works as it should and helps uncover what doesn't make sense or is confusing.
You'll want timely feedback, so this soft launch should last between two and four weeks.
User testimonials from the soft launch can also help drive adoption and buy-in if you use them in promotional material such as newsletters.
15. Final rollout
This is your moment to shine when the rest of the company will finally start to benefit from all the work you put in! Take your time and collect feedback from different teams as you implement the final stages of your LMS.
It takes a lot of work, but seeing your learners through to this point is what it's all about. 😊
We're not quite done yet, however – read on for tips that'll help you evaluate your LMS implementation timeline.
4 tips to better evaluate your LMS implementation timeline
LMS implementation is serious business. Learning management systems are by no means cheap. You don't want to waste the money you paid for an LMS or time implementing something that doesn't fit your needs.
The way to avoid this is to follow our checklist and these best practices around LMS implementation.
1. Identify the project objectives
Starting a project without an objective is like setting sail on the Pacific without a map. Some may discover America, but most will hit an iceberg.
Essentially, the scope and objectives of your training programs dictate how long it will take to implement the LMS.
For instance, you might already have a lot of SCORM-compliant training content, so all you need to do (more or less) is transfer it to the LMS.
In that case, your implementation timeline will be shorter than if you had a bunch of PowerPoints, you need to convert to e-learning content, or you have to create a lot of material from scratch in an authoring tool.
Once you know the exact objectives you want to achieve (such as "use sales training to increase the number of deals closed"), you'll see what you need from an LMS. You'll also have a better understanding of how long it will take to implement it all.
2. Be prepared for unexpected delays
Even with the best-laid plans, things can go awry and roadblocks can appear.
It could be an issue with your data migration, or you need more time to onboard and train your staff to use the new system.
Leaving some wiggle room in your timeline to account for possible blockers is always a good idea. So is meeting with your L&D team to identify potential issues and make contingency plans.
3. Determine your team's experience & consider training time
Like any new app, system, or platform, it takes time to become familiar with an LMS and how it works.
This goes not just for the L&D team, but for everyone who will interact with the LMS. The instructional or learning experience designers, the trainers, and of course, your employees.
All the fancy LMS features and options mean nothing if your L&D team simply doesn't have the skills and know-how to take advantage of them.
Similarly, the best learning content won't do much if learners accessing it can't even find their way around the LMS interface.
That's why, when creating your LMS implementation plan, take into account how long it will take to get everyone up to speed with the new system.
4. Determine your assets
Unless you're buying an LMS for the very first time, you probably have some existing e-learning content you need to migrate, and your L&D personnel has authoring tools they're used to.
Determining which assets you'll want to migrate to the new system is an important step in your LMS implementation plan.
You'll also want to allow time for any possible incompatibilities or software issues.
Even if you're certain that everything will be compatible and the processes will go smoothly, keep in mind that it still takes time to finish all the "housekeeping tasks" like data upload, creating user groups, and so on.
Start your L&D program right with a good LMS implementation plan 
In the end, the reason you're choosing a new LMS is to achieve your L&D objectives.
It pays to be as thorough as possible when you work on your LMS implementation plan. This plan will guide you from identifying your training needs to picking the right vendor.
While it sounds like a lot of work, support is available. To talk with experts on how to conduct a successful LMS implementation, contact Docebo today!