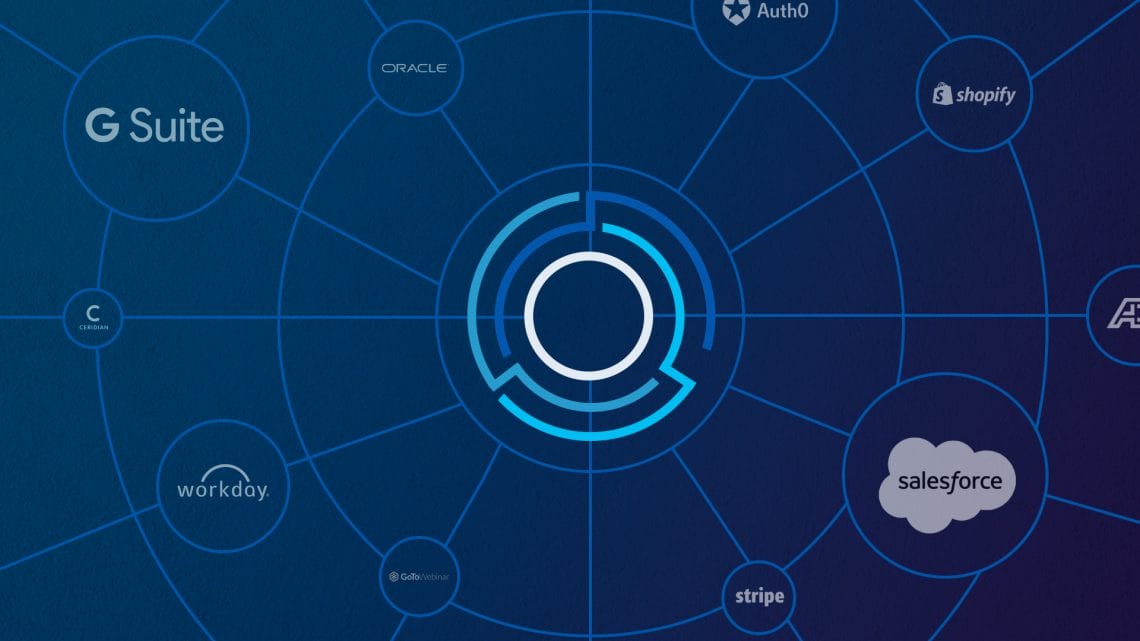 Let's get something clear – great cloud-based software doesn't operate in a silo – and your learning platform (LMS + Social Learning) is no exception.
Your learning technology must slot in naturally with your existing tech stack to help you to work more efficiently, keep learners engaged, and establish a robust and connected SaaS ecosystem that improves your business.
When choosing the learning platform that is right for your company, you have to understand how the system works with your existing software to maximize its full potential (and avoid logistical headaches).
To help you start your checklist of must-haves, we've compiled a list of the most important integrations to include with your learning platform.
HCM/HRIS
To link up your talent acquisition efforts with your learning activities, your learning platform must have an integration with your HCM / HRIS solution.
Without this integration, you will have to manually cross-match your employee information with what is listed in your learning platform, creating potential misalignment across channels, and wasting time that could be better spent optimizing performance (or anything else for that matter!).
Whether you're onboarding new hires, or simply tracking the progress of your existing employees, it pays to have a single source for all of your user information. Not only can you enjoy the automation of learning path assignment and dashboard creation, but this combo makes it easier to spot patterns related to career development, employee satisfaction, and retention.
CRM
What would a sales team do without their CRM system? When speed is the aim of the game, your team demands information at their fingertips, in the flow of work – something your learning platform can't offer unless it integrates with your CRM software for facilitating sales enablement.
As a department that works heavily within a CRM, sales teams must have their learning delivered in the same environment otherwise it simply won't happen. Along with the time it takes for your teams to become familiar with another system, switching between a CRM and learning platform to locate information is cumbersome. To increase engagement and completion rates, there's no need to reinvent the wheel – make learning as easy and accessible as possible and you will reap the benefits.
A CRM integration within your learning platform ensures that, while your sales teams are working in their CRM, you offer relevant learning content to support them through the sales cycle and accelerate the closure of deals. In addition, you have the potential to sell and manage customer training all within your CRM system.
E-commerce & Payment
When it comes to customer training and partner training, you don't want anything to inhibit your learners from accessing information, especially something as simple as payment. Once you have finalized courses, you want your external learners to jump on that content and stay as up to date with your messaging and product features as possible.
Delays in accessing new course materials can cause misalignment with your brand and lack of information, resulting in poor sales performance, and potentially damaging your brand's reputation.
Integrating your learning platform with payment and e-commerce portals gives you quicker and safer options for selling your learning content and securely receiving payments. Not only does this mean your transactions are secure, but now you never have to worry about delays in content sharing.
Single Sign-On (SSO)
Efficiency is a top priority in business, and Single Sign-On (SSO) solutions are a necessity in today's market. We've all been frustrated with systems that lock us out because of too many password attempts, or having to contact our IT department to reset our logins (and sometimes, your top priorities aren't a priority to others).
To help you simplify the setup and login process for your business applications, linking your learning platform to your SSO system creates a swift and seamless access to your e-learning portal, so your teams can find information fast.
Content Integrations
Content creation is the result of hours of research, information grabbing, and long chats with your SMEs – a mighty task to conduct all in-house.
However much you may want to, you don't always have the time to create new learning materials, especially not at the speed in which they are consumed. Luckily, your own content isn't the only option when it comes to assembling learning programs – content integrations will be your saving grace.
Making sure your learning platform comes equipped with access to high-quality, pre-integrated content providers is a must if you want to give your learners the variety of materials they need, at the speed they need it. Be sure that the content providers integrated with your learning platform offer content that your learners respond best to, and examine the ways in which they operate within the learning platform before deciding on the right option for you.
Content Authoring Tools
Content authoring tools give you and your team the flexibility to create and deliver high-quality elearning content, but also come with the annoyance of having to manually download and upload SCORM files.
Not only does this take far too long, but it's a process that has to be repeated every time you create a new course. Your learners want information fast as this process is a major roadblock.
Integrating your content authoring tool with your learning platform saves time and allows you to streamline the management process to create and update courses faster. You can easily distribute and replicate learning assets across multiple courses and get your materials in the hands of your learners faster.
With this combo, you can implement small changes faster and more efficiently, meaning you'll always keep learning content up to date.
Learning Impact
Once a learning administrator's nightmare, learning evaluation methods have advanced and can now offer you clear, data-driven information to assess the quality of your learning materials.
Although there are automated options on the market, so many L&D managers do not take advantage of them, preferring the manual, time consuming, and inaccurate process of collecting information from their learners with smile sheets and inconsistent evaluations. Not only does this process provide no benchmark for success and take up too much of your time to create, but the data that you receive is often random, not taking into account the decay of knowledge over time.
For a deeper insight into the effectiveness of your learning activities, integrating ready-to-use surveys and reports into your learning platform gives you detailed information on how your learning materials are performing, where to improve, and how to gauge ROI from your activities.
Another bonus is the collection and storage of data within your learning platform, making for easy analysis of results and patterns over time.
Web Conferencing
A necessity in modern-day global businesses, web conferencing tools are a must-have for your learning platform. Whether you're collaborating with team members in different offices, hosting a virtual event, or running a webinar for your learners, ease of access is vital if you want to see good engagement rates.
Among other benefits, web conferencing software allows your learners to collaborate effortlessly with their peers, and brings learners closer to their coaches by creating a dynamic learning experience that can be watched anywhere.
An integration within your learning platform is vital for enterprise businesses who need to reach customers, channel partners, and global offices.
A Final Note
When choosing a new learning technology provider, it's important to ask about integrations and how your new platform can fit in with the other systems at your company.
Learning platforms are there to give you more control over your teams' learning paths and help you work more efficiently, but a lack of integration options can compromise this.
While many of these integrations have work arounds, or can be done manually, this is done at the expense of your learner's engagement, progress, and the overall performance of your business.
For a complete rundown of everything you need to guarantee executive buy-in and launch your learning platform project successfully, download our learning platform toolkit!