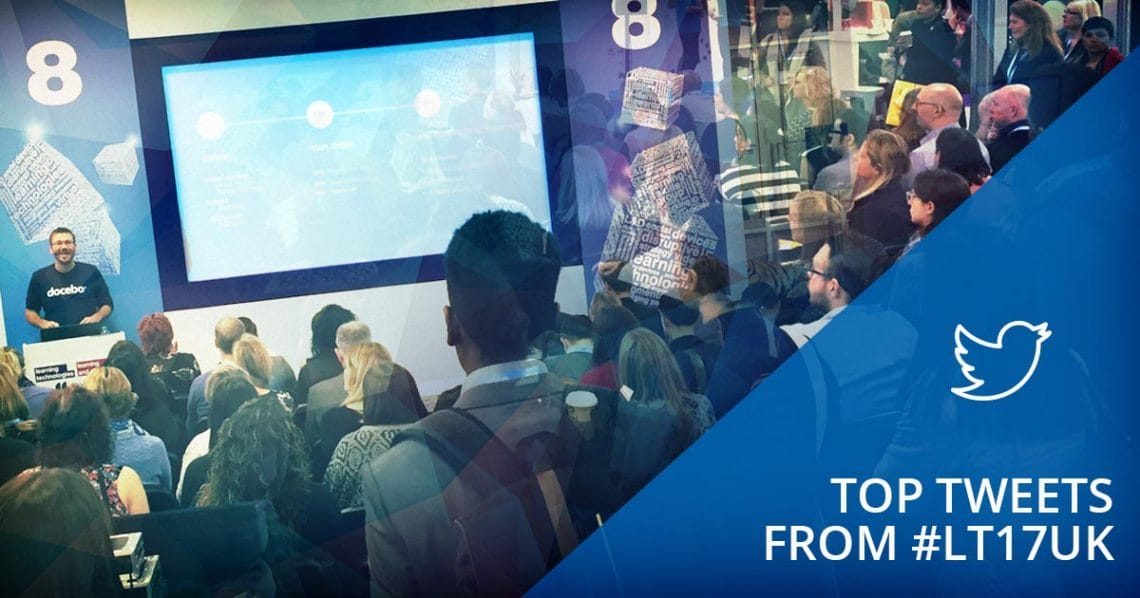 The tweets that got us talking following this week's Learning Technologies 2017 conference
It's been quite a week for the L&D industry! With a fantastic lineup of speakers, lots to see and do on the exhibition floor, and some fantastic conversation generated both at the conference and online in the Twitterverse, Learning Technologies 2017 certainly did not disappoint.
We're sure that we will be kept busy for weeks to come, reading follow-up articles inspired by the conference and mulling over the takeaways in our minds. But for now, let's keep the discussion going with a look back at some of the top tweets to come out the event.
While there was a lot of great discussion, we've picked out a few of the tweets that we think highlight some important or emerging themes in the industry. Don't be surprised if you see a lot of these ideas and insights being explored further!
New research from @fosway and @LT17uk reveals the realities of digital learning in 2017 https://t.co/BQzOP7DxB4 #LT17UK pic.twitter.com/y0ygQpYnyY

— David Wilson (@dwil23) February 2, 2017
This one tweet from David Wilson, CEO of Fosway Group, has enough insight and information to keep the L&D industry buzzing for a long time! Covering drivers of digital learning, changes in L&D investment and much more, this research reflects the pulse of the industry right now.
@DeborahFW #T1S4 #LT17UK presentations that are of no interest lack a story. Big take away from this keynote pic.twitter.com/ovyXKZmxFN
— Krystyna Gadd (@KrystynaGadd) February 2, 2017
Known for her eye-grabbing illustrations of core learning concepts, the Founder of How to Accelerate Learning, Krystyna Gadd, nicely captured the takeaways of Deborah Frances-White's well-received presentation on how learning benefits from storytelling. We'd highly recommend spending some time looking at the other drawings tweeted by Krystyna over the course of the week!
We are tapping into the wisdom of the crowd at #LT17uk how can we work smarter in order to respond faster to change? pic.twitter.com/WNAoihrmFV

— Laura Overton (@lauraoverton) February 2, 2017
It seems these days that change is a constant, and the most successful learning professionals are finding ways to adapt to that new reality. Figuring out how to respond to change better and faster may be a future differentiator, and Laura Overton, Towards Maturity's CEO and Founder, is ready to lead that charge.
Every model is flawed…. but some are useful
Oh how I wish more folk paid attention to this….#T2S4 #LT17uk @hjarche @gapingvoid pic.twitter.com/Px5HcYJdxL
— Julie Drybrough (@fuchsia_blue) February 2, 2017
Speaker Harold Jarche included this slide in his session on future learning and personal knowledge mastery. Captured by organisational consultant Julie Drybrough, it's an excellent reminder that we shouldn't let the perfect be the enemy of the good. Models are not gospel, but they can often be useful references that can point learning professionals in the right direction.
On stage for my first #LT17UK session, exploring #engagement and #trust. I'll be sharing the early Landscape of Trust research. pic.twitter.com/JZU9q2oabt

— Julian Stodd (@julianstodd) February 1, 2017
Julian Todd, author of the "Social Leadership Handbook" and founder of Sea Salt Learning, draws connections between trust and engagement. Trust is essential to a learning culture, because to learn you must admit you don't know everything – and that requires openness and vulnerability. Examining how your organization can foster trust may be a unique path to learner engagement.
Interesting concept…if people own their own learning, where does that leave the L&D team? #T5S5 #LT17uk
— kategraham23 (@kategraham23) February 2, 2017
As official queen of the LT17uk backchannel, Fosway's Content and Communications Manager Kate Graham was probably the most prolific of tweeters over the past couple days. But it's clear this question struck a chord with the Learning Technologies audience who heard Dr. Tobias Kiefer speak on the (perhaps uncertain) future role of the L&D department.
My top 3 takeaways from Day 1 of #LT17uk. @LightbulbJo @DonaldHTaylor @anupsoans @TowardsMaturity @toddtauber @emmaweber pic.twitter.com/W60g6FCEQy

— Sunder Ramachandran (@sundertrg) February 1, 2017
We'll cap off the list with Sunder Ramachandran, who does a really nice job of breaking down the top themes he observed at the LT17uk conference. He quotes one of the speakers he saw on Day 1, who suggested that while trainers will never be replaced by technology, they must embrace technology to remain relevant in the years to come. Couldn't have said it better ourselves!
Well #LT17uk folks, guess that's a wrap! Thanks for all the great info & convos – already counting down the days till next year! pic.twitter.com/jhIbw8QrbP

— Docebo (@docebo) February 2, 2017
One last bonus tweet! This one isn't particularly insightful or informative – just a heartfelt thank you, from our team to yours. We had a great conference, and we hope you did too!
Didn't get a chance to meet up with us at the LT17UK conference? You can see what Docebo is all about right now, with a free 14-day trial. Start yours today!