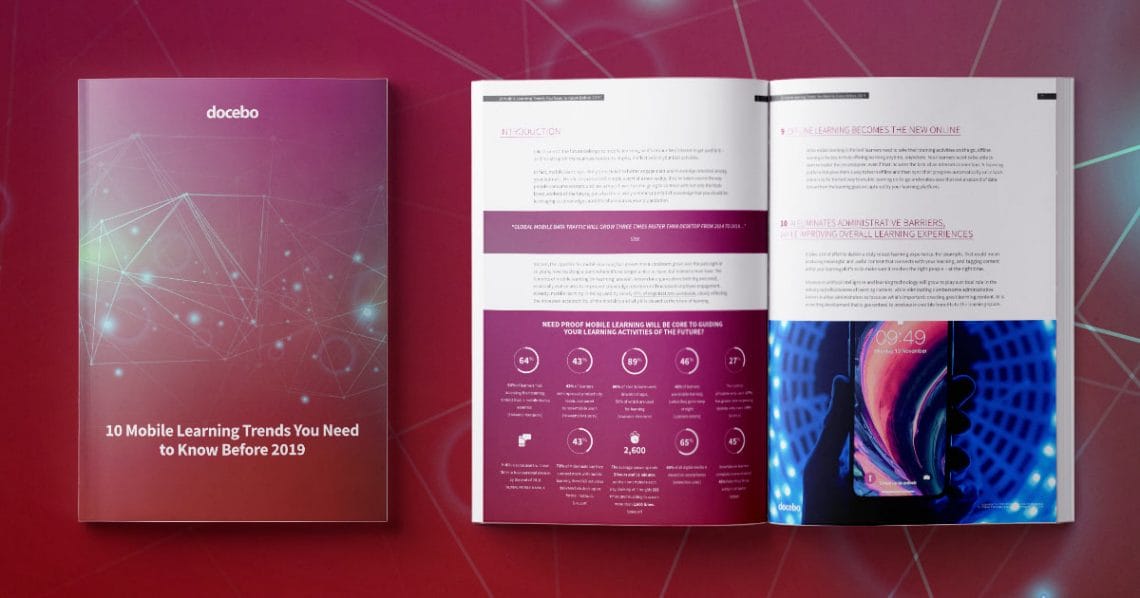 Download the free report to gather the knowledge you need to prepare your L&D activities for the mobile-first future!
Mobile devices aren't simply a part of a new reality, they've taken over in the way people consume content and are a must-have if you're going to connect with not only the fresh-faced workers of the future.
Are you ready for the mobile-first future? Docebo's latest whitepaper outlines the top mobile learning trends mobile that should be on your radar for 2019 (including a few actionable insights that will help you implement them).
For example: It's all about BYOD
With the proliferation of mobile devices in the learning space, it's only logical that the bring-your-own-device (BYOD) movement will continue to expand, as learners expect the kind of flexibility and consistency learning on their own devices provides them. While some organizations have been hesitant to allow employees the freedom that comes with using personal devices and the associated risks, many are finding the balance between freedom and control for work-related duties, including learning.
Benefits of BYOD for mobile learning include:
Positive work environment: By allowing employees to use their own devices for work and training, you're automatically appeasing their enthusiasm for using those devices and the apps they spend time on in their personal lives, while freeing them from the laptop or cell phone the organization may have chosen for them that they will always relate back to…work. Doing so creates an experience that's almost as enjoyable as those on social networks, where they have the freedom to consume and share whatever content they choose. This organically boosts engagement with specific learning content to deliver a boost in knowledge retention and an improvement in overall performance, while satisfying the learners desire for on-the-job development opportunities.
Increased productivity: Eliminating the need to learn on an unfamiliar device gives learners a way to immediately put all of their focus into job-specific training, and access support materials 24/7, giving them the flexibility to choose when it's most convenient for them to complete their training.
Reduced costs: The organization benefits from reduced overhead and IT costs with a BYOD policy. Additionally, as employees upgrade to the latest devices more frequently than any organization is able, you're giving learners a way to enjoy your learning content on the latest and greatest technologies – which also provides the organization the flexibility to more deeply leverage advancing technological content changes.
Download our free report to get your eyes on a number of exciting mobile learning trends, including:
The importance of a mobile-first design

Why video is the king of content

Why mobile learning and gamification go hand-in-hand

And much more
Gather the knowledge you need to prepare your L&D activities for the mobile-first future!