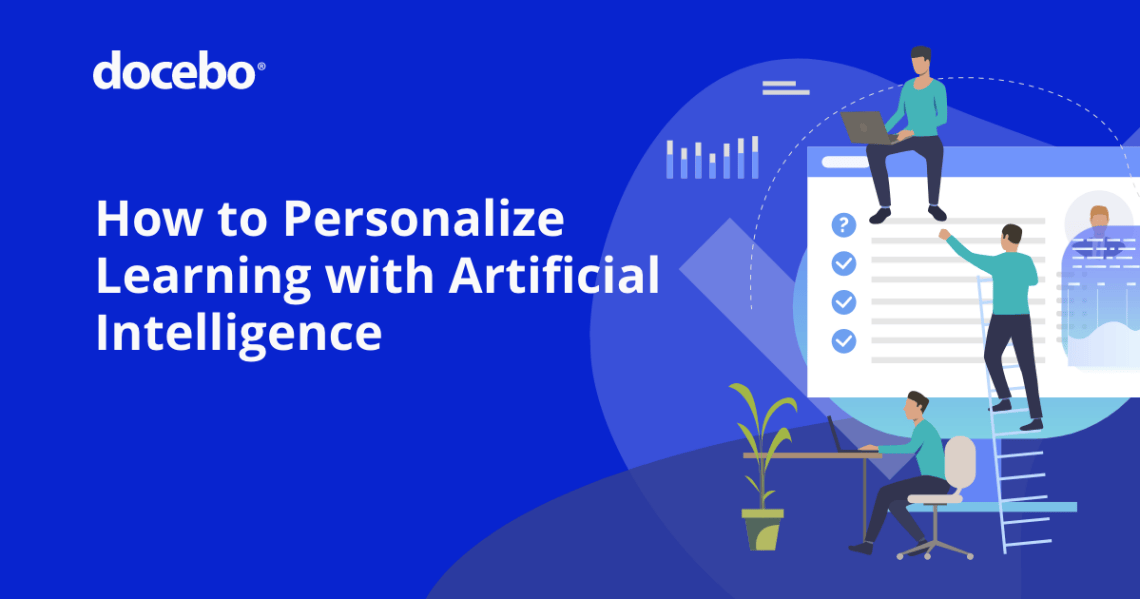 Artificial Intelligence (AI), a favorite buzzword that we love the chance to use (I can already feel my inner Steve Jobs bursting at the seams of my black turtleneck).
If we're being honest though, everything good comes with critics. How can we guarantee that AI will actually live up to the hype and prove its value? Is it actually capable of making life that much easier, and if so, how?
One thing we have proven is that you can have something that is sexy and also practical (I'd like to take a moment here to personally thank my Airpods and my Roomba – where would I be without you). Artificial Intelligence is similar because it is capable of making what we already do much easier, and much less time consuming.
In the L&D world, we've seen how AI improves the way admins and learners interact with content in learning platforms by subsidizing learning with a more personalized approach.
Personalization in a corporate environment was once unheard of. Employees were just a drop in the ocean of an organization's workforce and "one-size-fits-all" was the mantra. Now, employee training is a whole new ball game. A personalized learning experience is not only preferable, but simply more effective with AI.
---
Personalized Learning Experience – Why AI Holds the Key
The lines between our personal and professional lives are becoming blurred thanks to smart technology, which is shifting expectations towards personalized learning for training and development.
Think about how we now shop or watch TV online; it only makes sense that these same principles could be translated into applications within business systems. In the enterprise learning space, this is a major topic of conversation. Learning and Development leaders have a distinct appetite for a more personalized approach to corporate learning.
In a recent L&D Global Sentiment Survey, respondents were asked, "What will be a hot topic in learning and development?" The top answer was personalization / adaptive delivery with artificial intelligence following right after. Other high priorities in our learning approaches are listed below.
Personalization/adaptive delivery
Artificial intelligence
Learning analytics
Collaborative social learning
Micro learning
Learning experience platforms
Virtual and augmented reality
Mobile delivery (mobile learning)
Consulting more deeply with the business
Showing value
Performance support
Neuroscience/cognitive science
Video
Curation
Developing the L&D function
Other
The survey goes on to indicate that this data identifies a significant shift: "traditionally, L&D has revolved around the creation and delivery (in the classroom, or online) of content. Now it seems sentiment is shifting towards something else: personalized learning, supported by data."
When we start to consider the impact of data backed training programs on admins, we can often forget that the volume of data and analysis required to make sense of everything manually would be insurmountable. This is where Artificial Intelligence (AI) can be leveraged to inspect and interpret massive amounts of data and also constantly learn from its insights.
The best part? This doesn't come at the cost of replacing you. In fact, AI is a powerful tool that elevates human decision making because there is no statistical model or algorithm that can substitute the intuition of a human being.
Related: Why AI-Powered Personalized Learning Experiences are Here to Stay
---
Artificial Intelligence Delivers Automated And Personalized Learning (at Scale)
As we move into a new decade, the use of AI is on the rise and set to revolutionize the learning experience for learners and admins alike. Not only does it offer more personalized learning abilities, but, frankly, it will make your job a lot more enjoyable when all of your menial, time-consuming tasks are automated. Ask yourself the following:
What if your organization's learning management system knew your learners' interests, preferred learning style, and medium automatically, without any administrator intervention?
What if support queries could be answered immediately, at the point of need, directly within your learning platform?
The beauty of Artificial Intelligence is that you have the ability to reclaim a lot of your time while also accomplishing more than ever before.
For example, with AI you're still getting to create content, but then you're able to pass the baton and let the system take care of the more tedious tasks like reviewing charts and statistics.
You can also provide more immediate and personalized feedback without any human intervention. You are able to steer your learners in the right direction without devoting the time that you have been.
The best news here is that all of these capabilities are ready to be put to work. Successful learning organizations are already spearheading these innovations and seeing the results that come with.
Related: What You Should be Looking For in an Artificial Intelligence-Powered Learning Platform
---
Actionable Personalized Learning Strategies
Artificial Intelligence, which combines data collection and technologies such as machine learning, can bring automated and personalized learning strategies to life by being truly responsive to your learners' needs. Here are some of the benefits AI brings to the table:
Close skills gaps: AI will give us the ability to more accurately identify employee skills gaps and suggest the best ways to close them.
Uncover Learning impact: As our most important metric, AI will help us to collect better and more accurate data on how learning materials are impacting individual and business performance.
Proactively Support Learners: Still in their infancy, virtual coaches will become smarter and more targeted as they support learners with a proactive response to personalized learning and development.
Interpret Advanced Analytics Faster: AI can collect and interpret a vast amount of data, meaning that you will be able to gather key insights easier than ever.
Related: Personalized Learning Just Got Easier With Content Curation
---
AI and Personalized Learning: Name a Better Duo, We'll Wait
There's no reason to take on extra work that can be automated. If you are currently straining yourself with the weight of manually pulling data, suggesting content, and coaching, you are probably still not scratching the surface of where you could be.
An intuitive and polished user experience for admins and learners creates more customized learning opportunities. If you can achieve better results with less time and stress, there seems to be an obvious answer.
With AI powering your learning platform, you can take advantage of a system that adapts intelligently to users requests and allows them to take control of their own learning.
And as an admin, there are significant opportunities to automate and eliminate tedious tasks with AI, such as course enrollment, training content categorization and answering learner queries.
Download our whitepaper to learn more about how AI delivers automated and personalized learning – at scale.