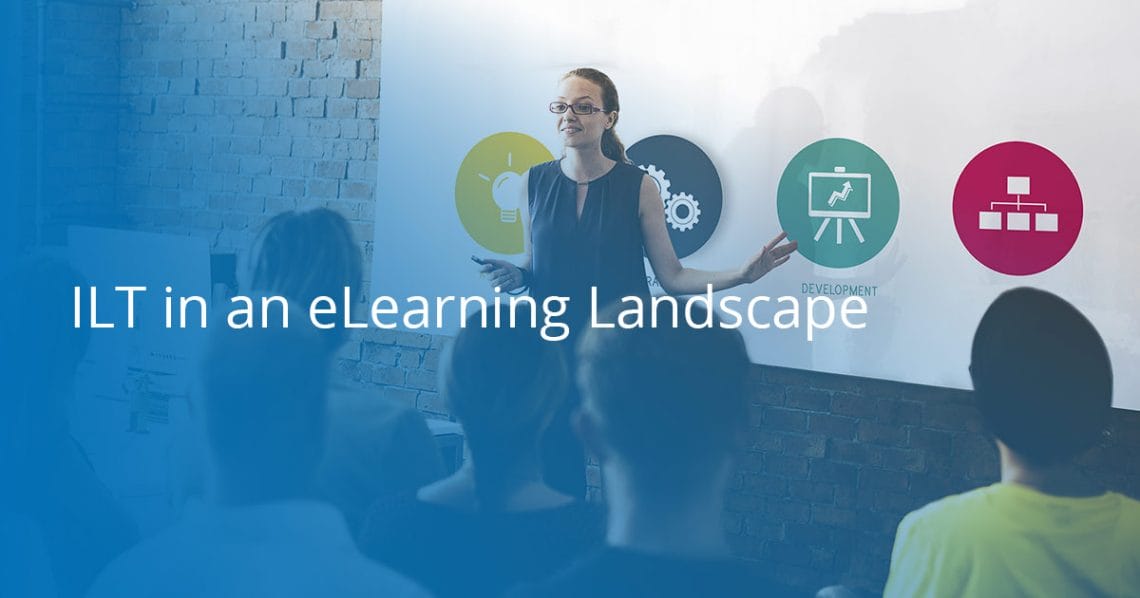 As technology-supported L&D continues to evolve, what role does ILT play in the eLearning landscape?
As a thriving eLearning software company, Docebo is passionate about the role technology plays in learning and development. We believe technology empowers learners to onboard, acquire job-critical information, and excel in their roles more efficiently and effectively.
However, we also believe that nothing will ever truly replace more traditional forms of teaching and learning. After all, standard classroom-based, instructor-led training in its various incarnations has been the bedrock of learning for literally thousands of years, all the way back to the Platonic Academy of Ancient Greece, and beyond.
With all of our talk about the explosive potential of technology in learning, it's important to keep in mind the fundamental importance of instructor-led training (ILT). In fact, it's essential to understand how ILT can survive and indeed thrive in a digital world.
But first, let's define what ILT actually is. At its core, it's all very simple: ILT is a more traditional, top-down, teacher-facilitated approach to delivering course material, frequently in a traditional classroom environment. It's a great forum for on-the-spot, question-and-answer sessions where a learner feels able to speak up and get the answers right from the source.
With that, let's look at 3 ways ILT can flourish in a digital-driven world.
1. Understand that it gives teachers more tools to execute training
Instead of thinking of eLearning as replacing what instructors offer us, consider that it instead equips them with a greater array of tools to empower them to execute training more effectively. For one, a digital environment combined with both eLearning tools and other web-based conference platforms and videoconferencing tools, instructors have more reach – locally, internationally, and globally. Virtual classrooms and videoconference integrations with learning platforms enable instructors to conduct lessons and engage participants remotely, still fulfilling the function of ILT, but beyond the four walls of a traditional classroom.
Also, integrated eLearning tools let instructors easily provide handouts and other supporting assets to learners in the midst of a session. And, we can't forget about gamification. An LMS that supports gamification helps instructors further engage students by incorporating badges, points, and leaderboards into lessons and overall courses.
2. Some topics lean ILT; others digital
Another key reason ILT will never become extinct is that certain topics lend themselves to digital learning while others are more suited to ILT. For example, think extremely tactical things that can be delivered through short, instructional videos (with a microlearning approach, for example). Learning how to operate industrial machinery on the field comes to mind. This is something that would almost be a waste of time and effort for an instructor in a traditional or virtual classroom setting.
However, when we think more in terms of theories, frameworks, guiding principle, and the overall "why" of using the industrial equipment, this is far more suited to an instructor's care and attention – particularly a human instructor that can answer specific questions and deal with complex scenarios.
3. That personal touch contributes to user engagement
Sometimes learners simply need someone to talk to. That can be in a classroom or remote, through online means. But in either case it is a personal touch factor that a digital approach simply can't replace. Learners will always have questions that PowerPoint slides can't answer. They have sensitivities and specific ways of learning that suit their unique selves that instructional videos simply can't pick up on. And they connect with and learn from actual people in a way they can't with a content repository. Never forget that blended learning and the human factor can be enabled by the digital ecosystem, but never replaced by it.
Experience the Docebo learning platform by talking to an actual human. Book a demo today and one of our talented account executives will walk you through the system.