Outdated and clunky learning systems are the death of employee engagement in any organization. That's precisely why many companies are trading in on-premise LMSs for a cloud-based learning management system. Also known as a SaaS LMS, it's a more efficient and effective way to manage your organization's training and development programs and keep employees engaged in learning.
In this article, we'll delve into the world of the SaaS LMS, explaining what it is, how it differs from traditional on-premise solutions, and the benefits it can offer your organization.
So, whether you're new to LMS or considering switching to a cloud-based solution, read on to discover everything you need to know about SaaS LMSs.
What are the benefits of a SaaS LMS?
5 Top SaaS learning management systems
What is SaaS?
SaaS (software as a service) is a cloud-based software delivery model in which a cloud provider hosts applications and makes them available to end-users over the Internet.
This means that instead of installing and maintaining software on your own computer, the software runs on the provider's servers. In this model, the cloud SaaS provider manages access to the application, including security, availability, and performance.
Let's see how that works when we apply it to learning management systems.
What is a SaaS LMS?
A SaaS LMS is a cloud-based subscription model for accessing a learning management system that supports SCORM (Sharable Content Object Reference Model) standards.
Unlike a traditional LMS, a SaaS cloud-based LMS is not installed on individual devices. Instead, it is hosted online, allowing easy access to the system and the ability to scale up or down the subscription based on business needs.
The pricing model for a SaaS LMS is usually based on actual usage, which makes it a more cost-effective investment. This type of learning solution is popular because it doesn't require any specific hardware or software installations to access and use it.
Users simply log into a web portal and have immediate access to features and courses.
SaaS LMSs are easy-to-implement, low-maintenance, secure, and configurable solutions that streamline employee training and development, monitor performance, and improve learning outcomes.
With a SaaS LMS, businesses can create and deliver learning content, manage learners and courses, and track progress – all on one centralized platform.
So let's look at how it compares to a traditional hosted LMS solution.
SaaS vs. hosted LMS
Businesses have two main learning management–system (LMS) options to power their e-learning solutions or training programs: self-hosted and SaaS-based.
While both aim to deliver online training, there are significant differences between the two solutions.
Self-hosted LMSs
A self-hosted or hosted LMS is a platform that requires installing hardware and software on a company's servers. The platform is hosted on-site and in-house, meaning learners can only access the platform on devices that have the specific software installed.
Hosted LMS systems require more maintenance than cloud-hosted LMSs since the company has to perform all the upkeep and necessary updates themselves. This can be time-consuming and requires significant IT resources, which can be costly for a business.
With self-hosted platforms, it's up to the internal team to manage activity and storage as user numbers grow.
The IT team must also apply any updates or improvements to a self-hosted platform across each device, which can be a significant undertaking for larger businesses with many employees.
SaaS LMSs
In contrast, a SaaS LMS handles most of the technical work for businesses since the provider manages the platform on its servers. At the same time, they have the same LMS features as self-hosted solutions.
Managers and learners simply log in and start learning, making it a straightforward user experience. Additionally, most SaaS LMS providers offer full support to resolve any technical issues quickly and easily.
SaaS LMS solutions also offer APIs (Application Programming Interfaces) that seamlessly integrate with other systems, such as HR software, content management systems, and e-commerce platforms.
Cloud platforms are generally more flexible and can quickly scale to any number of users as the company grows.
Now, we'll look at the benefits of using a SaaS LMS for your organization's corporate training and development needs.
What are the benefits of a SaaS LMS?
SaaS LMSs provide numerous benefits for organizations implementing a corporate training program.
The ease of use, scalability, flexibility, and seamless integration are just a few advantages that make a SaaS LMS an attractive option.
Let's delve into these benefits of SaaS LMSs in more detail now.
Fast development
Gone are the days when an LMS used to take forever to launch and deploy. A cloud LMS prevents unnecessary delays in getting online courses and corporate learning in front of audiences.
With a SaaS LMS, you can quick-start learning without needing a highly sophisticated IT task force to conduct the operation.
There's nothing to install or build from scratch when dealing with a SaaS LMS since the entire infrastructure is pre-built.
With less time needed before deployment, your online classes can be up and running quickly. As a result, corporations save time and gain revenue.
Easy usability
Since you don't need your whole IT task force to maintain and use a cloud SaaS e-learning platform, learners and admins will have a more pleasant user experience.
Different authoring tools and integrations allow the and training materials to be top-shelf without all the hassle of upkeep.
In addition, with a SaaS LMS, any new upgrades are automatically implemented across all devices and for all users. That way, you'll always have access to the latest version of the platform without the hassle of running lengthy updates.
Lower TCO (total cost of ownership)
If proving ROI to build a business case and get your LMS implementation plan off the ground is your roadblock, there's good news for you.
Your SaaS LMS cuts down on all the maintenance costs (infrastructure, upgrading, branding, fixes, features, etc.), thus making your training platform more cost-effective.
Generally, LMS vendors deal with all that mess for you so that when you go to your boss with the total cost of ownership (TCO) of an LMS, you get an easy nod of approval.
Scalability
Rarely do we like to buy a house, car, or even a pair of shoes that we know will be outgrown a short time after we purchase them.
No matter which LMS provider you go with, you want to ensure you can scale and grow.
Why? Because as your business grows, so will your training needs.
When you add more learners, training courses, and learning paths, you're not just developing talent but growing revenue. A SaaS LMS offers high scalability since you already have the infrastructure. Your learner's experience does not suffer even as your audience gets more extensive.
A SaaS LMS vendor that tops the market (we know a thing or two about that 😉) ensures that the platform and the infrastructure can match the market's changing demands.
Also, from a technical standpoint, the architecture of the LMS is such that it won't hit a glitch when the number of users spikes.
More flexibility and bandwidth
In today's competitive world, every organization needs its employees to be up-to-date with the latest information and knowledge. And a cloud LMS is an excellent fit for the job.
In the same vein, modern audiences are also used to mobile learning (we've all tried a life hack or two on YouTube before) and will expect it in their employee training programs.
Being able to access e-learning on a mobile device is pivotal.
Unlike the hosted LMS, learners can access modern SaaS-based learning solutions via their smartphones, PCs, tablets, or other devices.
As long as there's an internet connection, your learners are golden. This allows a better reach for audiences who are always on the move, traveling for work, or just want to train after hours.
As another example, let's talk about extended enterprise. Training members is crucial for associations, and legacy online learning systems won't cut it anymore. Leading SaaS LMSs like Docebo will let you transform your legacy content into beautiful, and the platform will grow with you as your membership increases.
In an extended enterprise, you need e-commerce functionality, training content, and the ability to conduct partner, member, or customer training.
Even if you're solely focused on employee or corporate training, the ability to conduct webinars, include blended learning, and enable gamification all drive engagement and revenue.
There's just no question about it. Open-source or hosted learning programs just can't stretch as far as a SaaS-based model, which means there's less they can do for you in the long run.
Seamless integrations
Organizations usually require their HRIS (Human Resource Information System) or CRM (Customer Relationship Management) data to be integrated with their LMS for easy reporting.
The SaaS-based LMS makes this more accessible than ever with readily available APIs that help the LMS and different systems communicate well with each other.
Usually, when operating with a cloud-based vendor, these integrations don't come with steep fees like on a hosted system.
With a clear understanding of the benefits of a SaaS LMS, let's look at the top five SaaS LMS platforms that can help your organization improve employee training and development.
5 Top SaaS learning management systems
When choosing the right SaaS learning management system, navigating the different options available can be overwhelming.
To help with your decision, here are the top five SaaS LMS platforms, each with unique features and benefits.
Platform #1: Docebo
Docebo is a cloud-based learning management system (LMS) that provides a comprehensive online learning experience. Its intuitive and user-friendly interface makes navigating the platform easy for learners and administrators.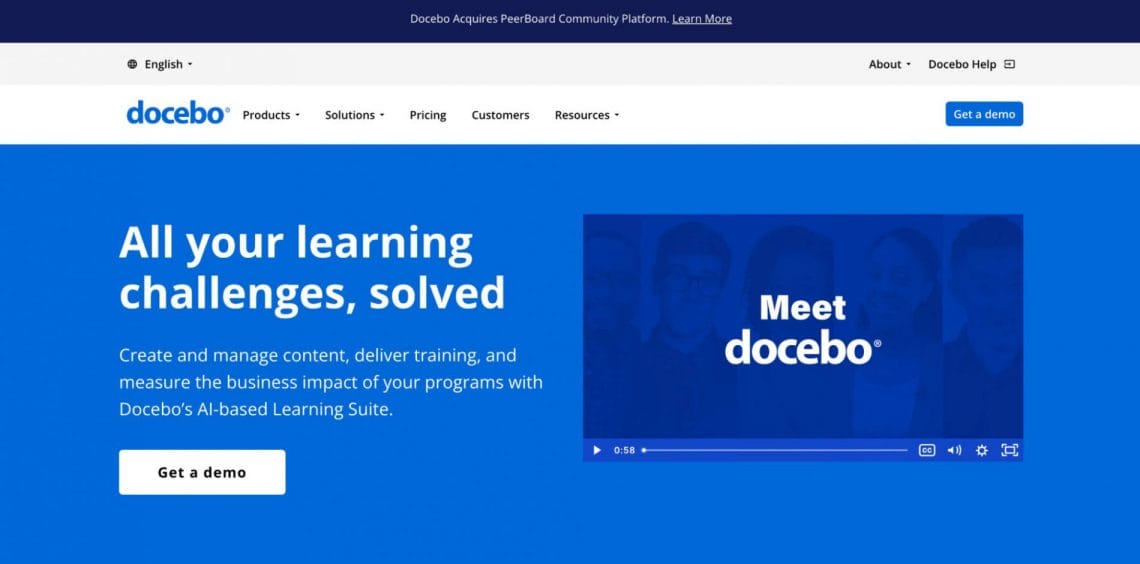 With a range of features, including gamification, social learning, and personalized learning paths, Docebo offers a highly customizable and AI-powered learning experience. Additionally, its sleek mobile app gives learners access to training materials on the go for a convenient and accessible learner experience. With a rich list of user management features and configuration options, it's a simple yet powerful way to streamline employee training and development.
Who is it for?
Docebo suits businesses of all sizes and industries, including finance, healthcare, and retail. However, it is especially suited for organizations with a large number of employees or those looking for a platform with extensive customization options.
Its flexible and scalable solution allows businesses to create and deliver learning content, manage learners and courses, and track progress in one centralized platform.
Top features
AI-powered learning
Gamification
Social learning
Customizable platform
Mobile app
Platform #2: EdApp
EdApp is a mobile-first learning management system that delivers bite-sized, engaging learning content. Its platform is built around microlearning, making it easy for learners to consume and retain information.
Image Source: EdApp
EdApp offers a range of customization options, including branded learning apps and customized templates. With features including gamification, social learning, and personalized learning paths, EdApp provides its users with a comprehensive e-learning experience.
Who is it for?
The platform can be a good choice for those who want to create engaging content quickly and easily without any coding or graphic design skills. It is also a fine choice for organizations looking to offer an accessible, mobile-first learning experience.
Top features
Microlearning
Gamification
Offline learning
Platform #3: LearnWorlds
LearnWorlds is a comprehensive learning management platform that offers a wide range of features to create, market, and analyze online courses.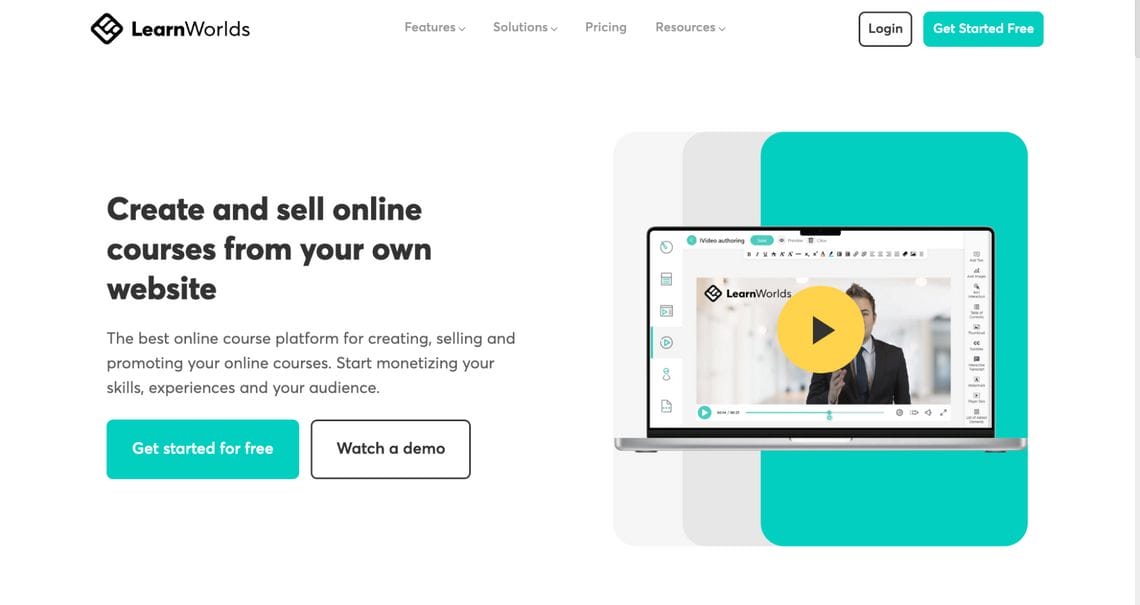 Image Source: LearnWorlds
LearnWorlds provides tools to help you create a professional website with zero coding knowledge and leverage marketing and sales strategies to increase course revenue.
Its mobile app builder, pop-up builder, and live session features enhance the learning experience. LearnWorlds also offers customizable user roles, robust analytics, and reporting to help educators monitor student progress and learning outcomes.
Who is it for?
LearnWorlds is suitable for individuals and businesses creating and selling online courses.
Its flexible course features cater to educators who want to provide a dynamic learning experience for their students.
The platform's robust marketing and sales analytics make it a solution fit for entrepreneurs looking to generate revenue from their online courses.
Top features
Website builder
Interactive video
Marketing tools
Platform #4: Canvas
Canvas provides an extensive platform for managing, delivering, and assessing educational content. It is designed to run the learning process, enhance collaboration, and simplify administrative tasks for instructors and students.
Image Source: Canvas
The platform provides an exhaustive set of tools for course management, grading, communication, and more, making it an all-in-one solution for educators.
Students can also benefit from Canvas, as it provides an intuitive and user-friendly interface for accessing course materials, completing assignments, and having real-time communication with instructors and peers.
Who is it for?
Canvas is suitable for a wide range of users, including K-12 schools, higher education institutions, corporate training programs, and online course providers. It can be a useful platform for institutions and organizations looking for a flexible, scalable, and user-friendly LMS that can handle a variety of educational content types.
Top features
Customizable interface
Collaboration tools
Learning analytics
Platform #5: iSpring Learn
iSpring Learn aims to help businesses and educational institutions create and deliver effective e-learning content.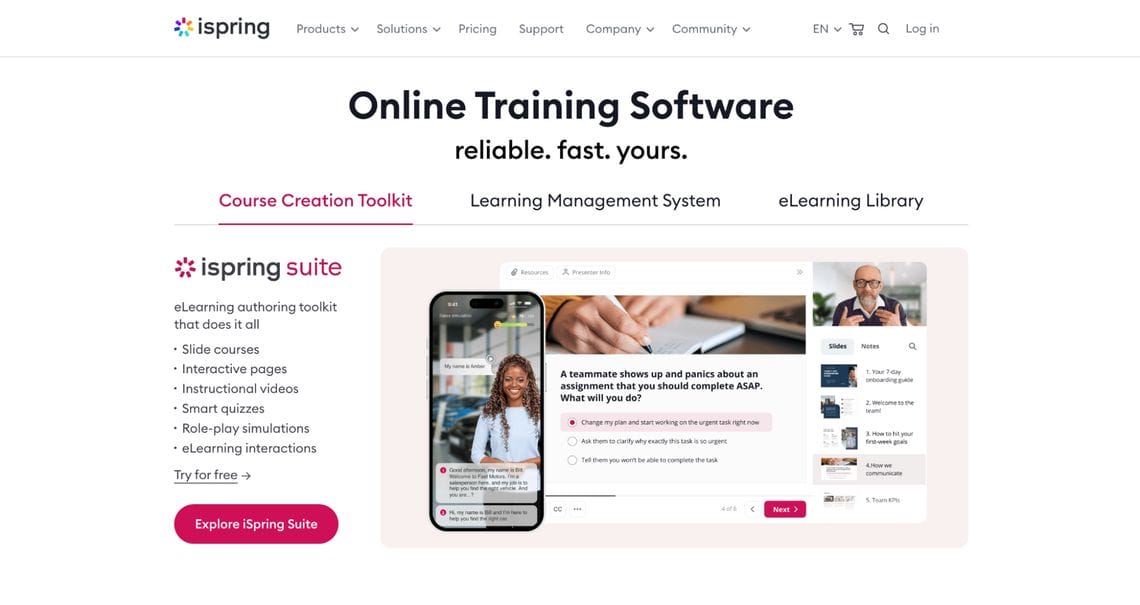 Image Source: iSpring Solutions
It features a user-friendly interface that enables users to easily create courses, quizzes, and surveys without any programming or design skills.
iSpring Learn also provides robust tracking and reporting features that allow users to monitor learner progress and performance and evaluate the effectiveness of their training programs.
Who is it for?
iSpring Learn can be a good fit for businesses and educational institutions that want to create and deliver engaging e-learning content to their employees or students.
Companies looking to train employees on compliance, software applications, sales, and customer service, as well as schools and universities looking to provide online learning opportunities, can use this learning management system.
Top features
Mobile learning
Customizable learning paths
Interactive content creation when paired with iSpring Suite
To Sum Things Up
When it comes to picking a learning platform, you can't go wrong with a SaaS LMS option.
Cloud-based platforms remove all the installation, configuration, and upkeep headaches. That way, you and your L&D team can focus on what matters the most – providing high-quality learning experiences.
Docebo is a SaaS LMS with all the features your company needs to deploy impactful training and build a learning culture: course creation, social learning tools, training management, tracking, gamification, AI tutors…
Schedule a demo today to see how Docebo can optimize your organization's learning and development initiatives.