Only one-third of organizations have a defined knowledge sharing strategy
Using learning technology to implement formal learning programs is important. Equally (if not more) important is using your learning management system to support knowledge sharing and create knowledge capital within your organization.
Those familiar with the 70:20:10 learning methodology understand that learning happens through a combination of formal, informal, and experiential learning. However, a recent study by Brandon Hall Group found that only one-third of organizations have a defined knowledge sharing strategy. The study also found that, for 30% of companies, employees have no forums/communities in which to ask questions and share ideas with each other, and only 20% of companies believe their knowledge sharing efforts are either effective or very effective.
Supporting Corporate Knowledge Sharing
Supporting knowledge exchanges within the flow of work and coupling that with a modern learning management system brings a number of benefits. Knowledge sharing allows organizations to:
Foster innovation through the flow of ideas

Improve customer service and enhance customer relationships

Get products and services to market faster

Improve employee retention

Make decisions faster (and with more information)

Reduce product development time

Improve overall company performance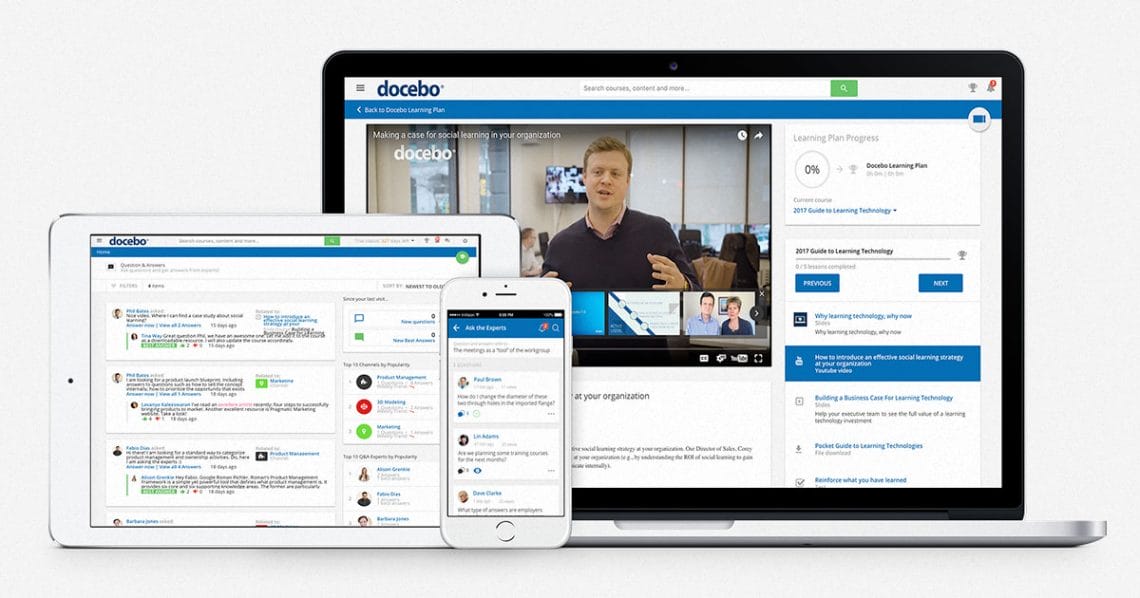 Your employees are one of your most powerful sources of knowledge. Allow them to contribute assets to your
social learning LMS
so they can share this deep knowledge.
Here are a few ways to do so:
Allow learners to easily search, find, and access information on-the-job, whether they look for a course or a user contribution of any kind (such as a video, an article, or a presentation).

Enable an easy way for learners and experts to engage in conversations, ask for information, and share it across the organization. Q&A threads are a great way to create knowledge capital.

Build a recognition system that rewards top contributors to they can become a reference (experts) for coworkers in specific disciplines.
Promote a culture of learning to provide talent with new opportunities to learn, contribute knowledge, reach out to experts, and get recognized and rewarded, thereby fostering learner engagement.
Promote a Culture of Knowledge Sharing
If employees feel like their knowledge is what sets them apart at the company, then it's important that that they also understand that sharing information with employees is a sign of leadership. Encourage employees to share information through recognition and by promoting a culture where people are acknowledged for transferring knowledge. Once this is in place, employees will continue to share knowledge on their own accord.
The more shared knowledge, the better! Start creating knowledge capital at your organization today – start your 14-day free Docebo trial!