Understanding The Connection Between Upskilling, Engagement And Employee Retention
Skills are a valuable commodity to any organization and upskilling presents an incredible opportunity for your organization to engage and retain employees, while boosting your bottom line.
This idea shouldn't come as a surprise, as it's well-known that all valuable employees want to be able to adapt to any situation or challenges their job places upon them. 
Upskilling is a crucial tool that more of today's organizations must consider as a way to bridge gaps related to employee engagement and retention. 
In fact, the labor turnover rate in the US was 20.3% in 2016, and just 40% of companies undertook specific initiatives designed to improve retention. The issue is compacted further by the fact that 33% of US employees considered themselves engaged with their positions, compared to 70% among the world's top-performing organizations.
Modern organizations that give their employees ways to build upon an existing skill set are those that are most likely to succeed, especially given the speed at which technological change is forcing organizations to move.
Almost half of executives believe the workforce isn't receiving the training necessary for their businesses to succeed. According to a report by the World Economic Forum, managing skills in the digital age requires organizations to harness technology that enables them to deploy a data-driven approach to lifelong learning and smarter upskilling. 
How Much Does It Cost To Replace An Employee? 
Upskilling is a tool that encourages employee engagement and retention, presenting clear benefits to not only your organization's bottom line, but also to the well-being of your workforce – especially as it relates to performance. 
Each time a business replaces a salaried employee, the cost of replacing him/her can be equal to 9 months' salary. So, if someone earning $40,000 leaves your organization, it might cost up to $30,000 in recruitment and training costs to replace them. 
But other research reveals that the cost of replacing employees could be even higher. Losing an employee in a highly-trained position could cost up to 213% of their salary, which equates to an executive making $120,000 costing up to $255,600 to replace.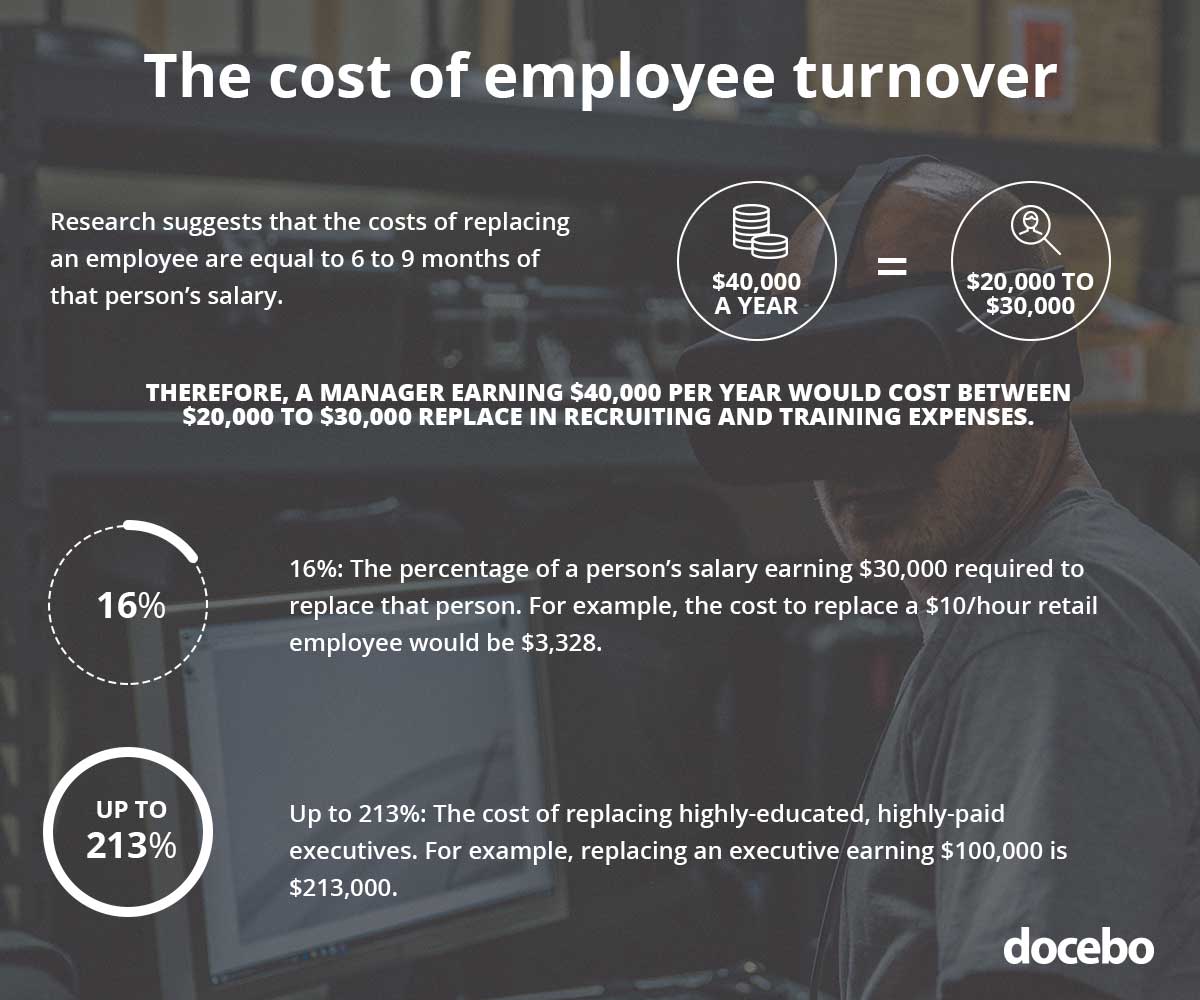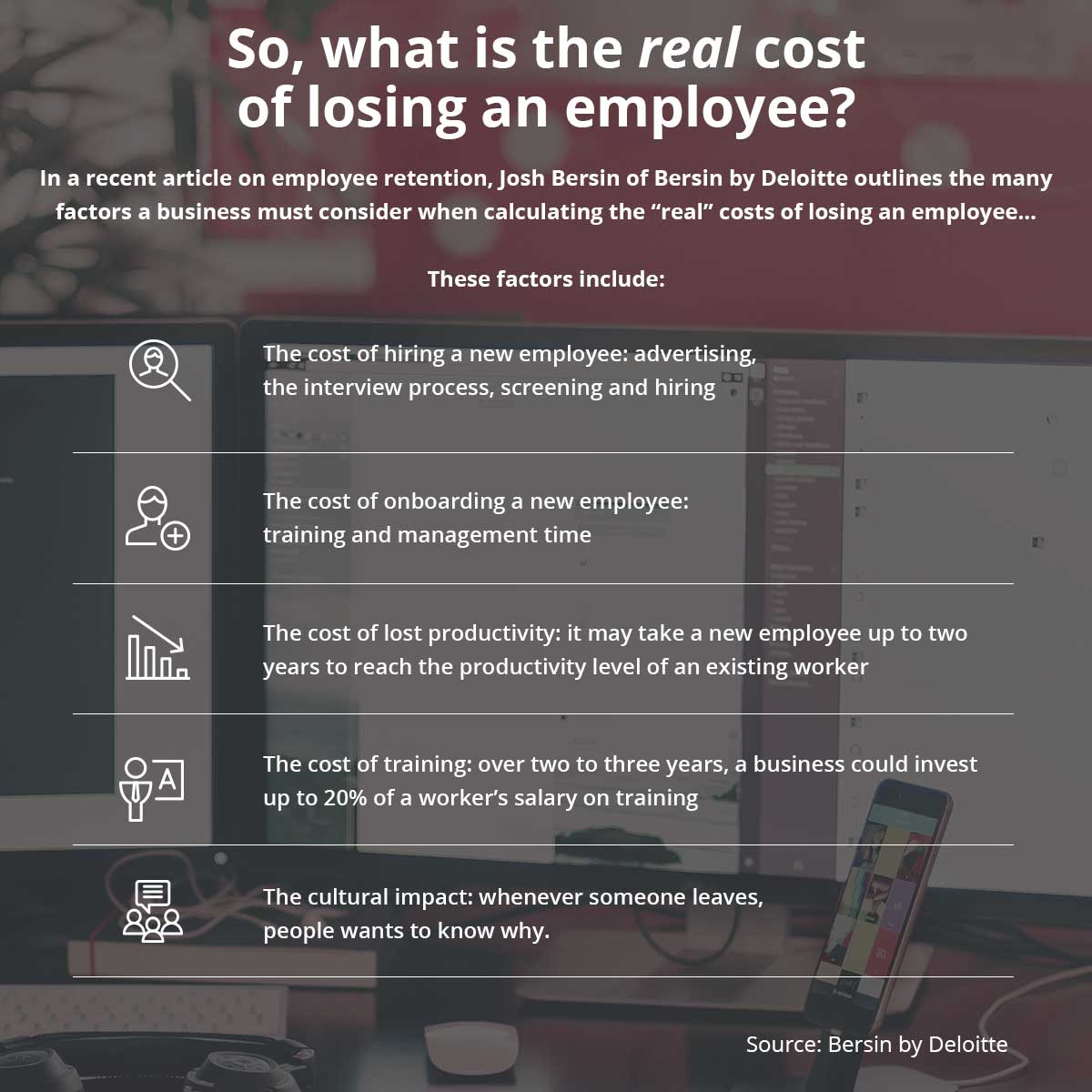 Your workforce requires the tools to go above and beyond, especially when it comes to skills. Doing so means facilitating upskilling effectively via
e-learning programs that leverage artificial intelligence
to make the process seamless. 
A Quick Look at Artificial Intelligence in L&D 
Artificial intelligence (AI) in the context of enterprise e-learning is built on learning-specific algorithms developed to perform actions that normally require human intelligence, such as visual perception, speech recognition and decision-making. 
AI is the backbone of the suggestion engines we see on Netflix and Amazon, but AI-powered learning is much more than that. It analyzes learner behavior and opens up new capabilities for admins to develop more immersive and personalized learning experiences, while automating menial tasks. You can learn more about how AI is transforming enterprise learning here. 
Finding The Best Employees To Upskill 
Let's say you need to fill a new position. You wonder if there is anybody in your company whose skills are closely aligned to those required for the open position. AI is now being used to power a search engine within your learning platform which finds employees whose skills and proficiency levels best fit a given role. 
With this valuable insight, you can start equipping these learners with the skills they need for themselves and the organization to succeed in the future. 
How to Effectively Upskill with The Help of AI
Establish personalized learning and development plans
Before delivering upskilling initiatives it's important to understand each employee's role instead of viewing employees as a group. In an e-learning capacity, it's vital to emphasize the value of the learning materials and why they are important to each employees' development.
In this case, an AI-powered learning platform can predict outcomes, allowing you to provide specific content based on a learner's past performance and individual goals. For example, learners that express a particular skills gap receive targeted recommendations that build knowledge related to their skill gap, in a more personalized format. This could include situations where the system would recognize that a learner might be able to actually skip a few modules to take a more comprehensive and less linear learning journey than someone who might lack the basic skills related to that particular topic.
The platform would also recognize what content format a learner engages with most (videos, quizzes, podcasts) and only present resources that align with this preference to provide a tailored learning experience.
Give them opportunities to access supplemental learning resources
There's always going to be the few people who want to upskill on their own time and take their abilities to the next level. Learning assets, such as blogs, slide presentations, podcasts, webinars and videos are also invaluable for those struggling with their upskilling because it gives them access to additional learning content.
With AI, your learning platform could schedule coursework or deliver resources based on individual learner assessment results or simulations. This would create an environment in which it would be possible to automatically predict course maps for each of your learners who enroll in any of your organization's courses, and then re-adjust whenever the need arises.
Include real-life scenarios
Deploying an e-learning centric strategy to bring your upskilling goals to life requires you to offer learning opportunities that put the concepts and experience your employees will encounter into practice. Also, provide opportunities to analyze and provide feedback on existing use cases within the organizations, and ask them to offer insights on opportunities for improvements. For example, if you're looking to enhance your inbound marketing techniques, have existing employees listen to calls, get their feedback and see how their thinking could improve the process.
Don't forget branching scenarios and gamification that center on skills
Effectively building skills in the modern age requires adding interactive online training content. Encourage employees to put their new skills sets into practice with branching scenarios, simulations and serious games. Try to make e-learning activities as close to real-life as possible by integrating real-world images, characters and scenarios. Employees will feel more empowered if they're able to access their learning content when they so choose, instead of having content pushed upon them, as is the case in more formal corporate learning scenarios.
Take it one skill at a time
Don't overwhelm learners. Do your best to understand how you can fill your skills gaps by assessing your employees' existing abilities and compare them to the desired result. Only then should you develop your e-learning activities and content to cater to individual employee needs instead of deploying generalized exercises that might not be directly related to their upskilling exercises.
Improve retention by integrating previously acquired skills into proceeding modules – let them apply what they've learned!Kickstart your upskilling activities today!