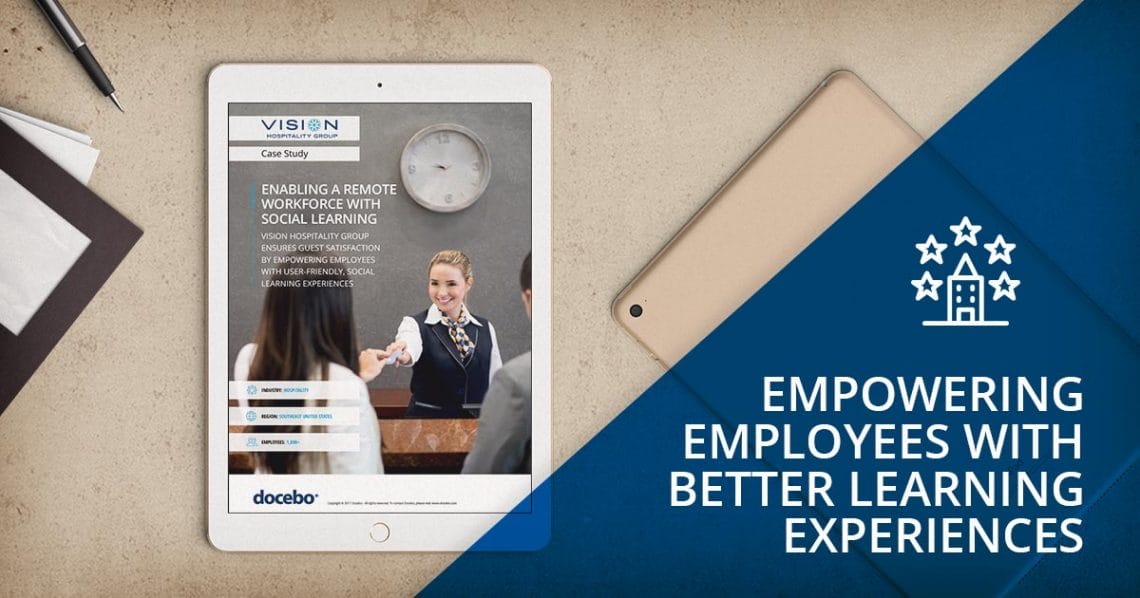 How guest satisfaction scores are tied to a positive, impactful corporate training program
One of the best ways to grow and to improve is to learn from the experiences of others. This is one of the many reasons why we love to share stories from our clients' corporate training programs.
Learning and development departments today are challenged with meeting the needs of employees that have ever-higher expectations and are accustomed to being able to access information when, where and how they want. It's certainly not business as usual, and companies need learning management systems that can keep up.
The Vision Hospitality Group is no different. They own and manage premium select- and full-service hotels affiliated with the Hilton, Marriott and InterContinental brands. With more than a thousand associates located across several states, Vision Hospitality Group must deliver effective training to a workforce that includes everyone from front desk managers and accounting, to maintenance and housekeepers.
In Docebo's newest case study, Vision Hospitality Group's Director of Culture and Talent Development Megan Brown explains what's important for her and her learners to have in a learning management system, and how they're tapping into the power of social learning across their organization.
A Mobile and Intuitive User Experience
Finding an LMS that was user-friendly was "absolutely critical" says Megan. Knowing that Docebo's training could be delivered from a smartphone or an iPad was one of the deciding factors for Megan and Vision Hospitality Group.
As a bonus, the system is easy for Megan to administer as well. For example, the time that it now takes Megan to release new training content to her users has decreased significantly. "Using Docebo has probably cut the amount of time it takes to deploy content in half," she estimates.
Getting Social with Peer-to-Peer Learning
Docebo's Coach and Share solution, which enables learners to take advantage of social and informal learning within learning management technology, is an important aspect of Megan's vision for the hospitality company.
"The thing that I love about Coach and Share is that, for the associates, learning becomes peer-to-peer instead of something that gets pushed down from the home office," Megan explains. "That all of a sudden makes it a lot more personal."
Creating Learning Plans to Encourage Employee Growth
Docebo also provides the ability to design "learning plans" for employees who are interested in developing their skills in new areas. As Megan's seen more Vision associates logging into the LMS because they're motivated to move up in the organization, she's been very excited to get more of these learning plans in place.
"We're able to create learning plans to say, 'Ok, you are a front office supervisor, you want to become a front desk manager, so here are the courses that you need to complete before you're able to move into that role,'" says Megan. "Being able to prescribe that and help them guide their learning journey has been huge."
Better Training Experiences, Better Performance Outcomes
"Our guests have a better experience because our associates are trained well," says Megan. "You train an associate and they become empowered to handle everything that has to do with their role in the hotel and their interactions with the guests. That drives our guest satisfaction scores."
"Because we have Docebo and because we have that opportunity now, we can tap into the strengths of a huge family of associates and really showcase their talents, learn from each other, and truly follow through on our vision to become the best most respected hotel company in America."
For more insights into how Vision Hospitality Group is preparing their corporate training program for the future and beginning to realize the potential of social learning with Docebo, download the full case study!