Here is a preview of Docebo's new features and improvements which will be rolled out by the end of October. We'll be more specific about an exact roll out date closer to release, but we wanted to give you a taste for what's coming up because it's big news! So, what's included? Two disruptive new modules that will allow you to add Coaching, Informal and Social Learning to your online training projects, new integrations with Zendesk, Optimizely and Elucidat, and much more!
Docebo moves beyond LMS: Learn. Coach. Share
Since learning happens in a variety of ways we have been doing some background research, and developing two new modules to address the 70:20:10 learning model (this is explained in a recent blog post by Josh Squires: Does the 70:20:10 model still have relevance in today's learning organizations?).
We are super excited to announce that in the upcoming release Docebo will be comprised of three main modules:
1. Docebo Learn
The Docebo platform as you know it: a LMS to organize, distribute and track online courses.
2. Docebo Coach
A new module that facilitates social learning by engaging the experts. Ask questions, get answers, coach.
3. Docebo Share
Capture user-generated knowledge that is then validated by peer review and shared across the organization.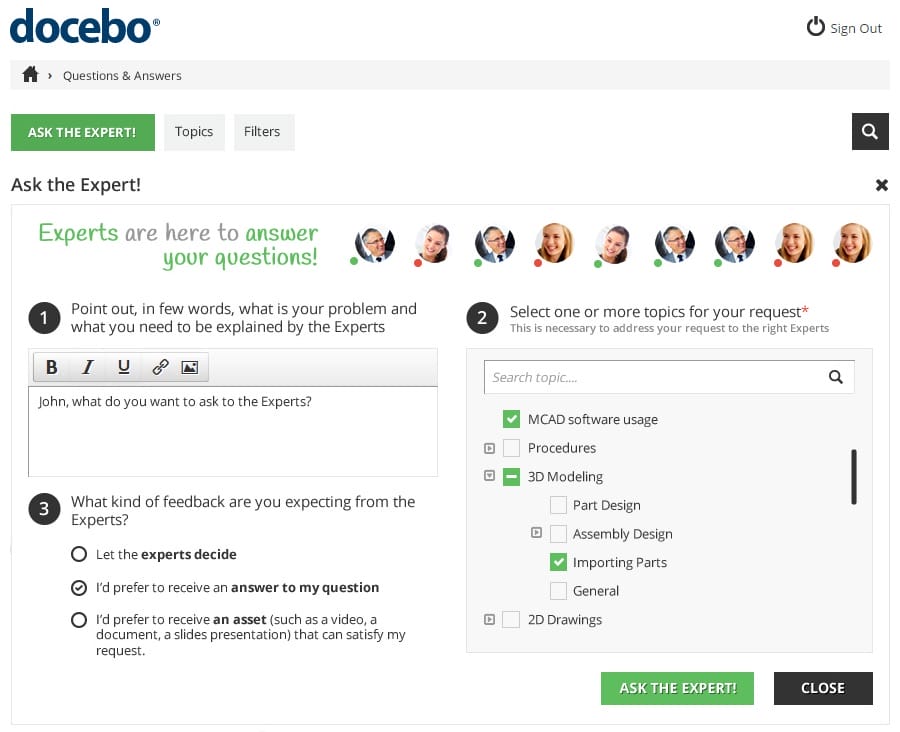 Why should you be excited too? Because this is going to be the perfect tool to capture, formalize – and capitalize on – all the
hidden knowledge
in your organization.
Docebo Coach and Docebo Share will be available for Enterprise customers only, and they will be rolled out as a Beta version
Authoring, A/B testing and help desk
Docebo is a modular LMS which expands its features as you need it – and integrations are a part of that modularity. Our LMS is designed to be used with a multitude of different software, and with the next update we're going to provide 3 new integrations:
Elucidat: an innovative Cloud elearning authoring tool; beautiful UI (User Interface) for mobile devices; Tin Can 1.0 (xAPI) compliant
Zendesk: Zendesk is a cloud-based customer service platform that includes ticketing, self-service options, and customer support features
Optimizely: user experience optimization platform; enables A/B testing to enhance websites & mobile apps
Docebo LMS video player enhancement
Many say videos are the future of learning, and Docebo is working to provide you with future-proof video features! The new Docebo video player comes with full HLS encoding support, and resolution-adaptive streaming of video contents. What's more, we'll be supporting the webVTT standard so you can add subtitles to your eLearning videos in more than 30 languages! Bookmarking has been implemented, and you can even enable an option that prevents learners from fast-forwarding through courses.
Other
There is plenty of news in store related to our core LMS and its functionalities!
xAPI 1.0.x (Tin Can) support for the most advanced authoring tools, and improved tracking capabilities
Learning Object categorization: add tags and topics to categorize Learning Objects
New Learning Object types for ILT: use video, html and authoring files (from slide converter) in your ILT sessions
New notifications: when course is not completed; upon specific actions during Webinars
oAuth 2.0: updated SSO capabilities to integrate with the most modern Cloud applications
LDAP multidomain: manage different LDAP servers for different domains
Just-in-time provisioning for SAML – create Docebo users on the fly the first time they try to log in via SAML
Improved assignment of permissions for Power Users
Improved look & feel of Blog and Forum
Custom Report improvements
Add custom fields to courses in order to improve catalog browsing
We will follow up with more information regarding this release in the next few weeks. Stay tuned!