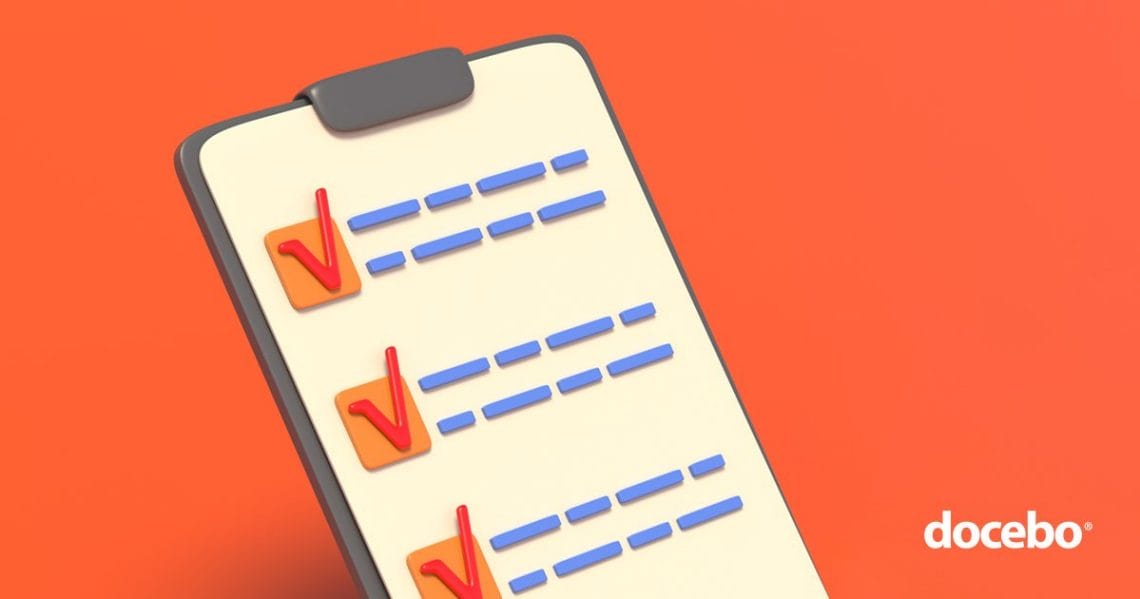 There are many of types of employee training, like onboarding (to bring new employees into the fold 👋), product and service training (to keep current employees up to date 📆), and technical skill training (because there's always room for improvement 🔝). But of all the types of training, one has a particularly bad rap. Compliance training. 😫  (I can hear the groans already! )
Say "compliance training" and it triggers thoughts of laws (like HIPAA or GDPR), regulatory bodies (like OSHA), or company policies (like money laundering). These aren't what most employees would consider common, real-life scenarios. But make no mistake about it, compliance training plays a very real and very important role in our daily lives.
Take COVID-19, for example. The overnight shift to remote work meant updated training modules around compliance topics like cybersecurity and workplace safety were needed to keep employees safe in their everyday (WFH)0 lives. And, for employees who still had to physically go in to work (like those in healthcare), updated occupational safety training was necessary to keep them safe on the job.
I'll say it again. Compliance training plays a very real and very important role in our daily lives.
So, let's take a deeper look at what compliance training is and why it's valuable for your employees and organization.
---
What is compliance training?
In a nutshell, compliance training is mandatory training that your employees need to take, based upon your industry, and enforced by the government. This can include training that addresses industry- or job-specific laws and regulations, work environments, and even behavior.
As legislation changes, it's important to ensure that your employees keep up to date with changes, and also regularly renew their knowledge (usually annually). As a result, completion rates are the most important metric taken from such learning activities, signaling that your employees meet the requirements or standards.
Other considerations that satisfy your organization's compliance (deadlines for course completion, and reporting on your training efforts) are dictated by the governing body related to your field.
Related: Compliance training with Docebo's certifications & retraining app
Corporate compliance training program essentials
Employees aren't the only ones who view compliance training as a chore. It can be quite a lift for L&D teams to develop and deliver. Thankfully, the same technologies that make online compliance training more relevant and engaging for learners also makes it easier for L&D to administer.
If you've been tasked with creating a corporate compliance training program and aren't sure where to start, here are a few things you should do:
Identify the regulation(s) or legislation(s) that your company needs to adhere to.
Assess the criteria that needs to be satisfied.
Curate course content—either by creating it yourself or leverage reputable third-party resources. (As policies tend to change over time, be sure to keep your content up to date!)
Use your learning management system (LMS) to deliver the course material to your employees and set up renewal reminders in advance.
Track each of your learner's activities to make sure that you have a reliable and accurate audit trail.
An LMS allows you to provide and manage compliance training at scale, without the hassle.
Related: Corporate elearning: managing compliance training with Audit Trail
Why compliance training matters
More than wanting to offer our employees a beanbag chair and pool table to play on, we want to make sure that our employees and customers are safe.
Whether you're making sure that your organization is free from workplace violence, harassment, and bullying, or ensuring that your consumer data is properly protected, compliance training helps to manage this at scale.
As well as risk management, compliance training keeps your organization in-check in areas such as:
Safety in the workplace
Increasing employee productivity
Protecting business reputation
Reducing absences due to injury or health issues.
Securing organizational insurance
Minimizing the risk of legal action
In addition, showing your employees that you care about their wellbeing speaks volumes and legitimizes your organization—not to mention avoids the penalties associated with non-compliance!
Related: City of Kingston: Keeping cities running
Make compliance training fun!
Just because it's governing body mandated doesn't mean you can't provide a great learning experience for your teams! (I'm sure there's a joke about putting the fun in FUNdamental training here, but I digress… 😂 )
To start, make sure that the content that you create is relevant to your employees' position and presented in small enough bites (microlearning) that they can easily digest the information. This helps to keep your learners engaged and allow them to visualize certain scenarios where the compliance training is applicable to their daily work.
While we're on the subject of personalization, providing different content formats to suit the varying learning styles of your teams is critical—think about how you can create fun videos, add interactive elements, and provide quizzes so that your learners use different parts of their brain, helping to improve knowledge retention. Another great tool is gamification, spurring some friendly competition between colleagues and encouraging fast completion rates.
Related: Make compliance training a breeze with Docebo's observation checklists tool
Final thoughts
LMSs make managing compliance training easy. So, instead of a burden, it's an opportunity to remind your learners what values your organization holds and that they're safety and wellbeing is a priority.
With Docebo, you only have to manage the initial set up on your compliance training courses. Our learning suite takes care of the rest—from auto-renewals to follow-up reminders and accurate reporting, you won't have to lift a finger!
Get in touch with our team today to see how you can optimize and scale your compliance training!