Docebo FLOW
You don't have to choose between working and learning
Bring learning into the flow of work.
Say goodbye to context switching and hello to getting work done
Support your always-learning culture with just-in-time resources at the point of need for practical work.
Make learning convenient
Remove barriers to learning by injecting personalized learning experiences into your applications for easy access to information on the fly.
Boost productivity
Keep your learners in the flow of work by surfacing just-in-time, context-based learning within your platform exactly when and where they need.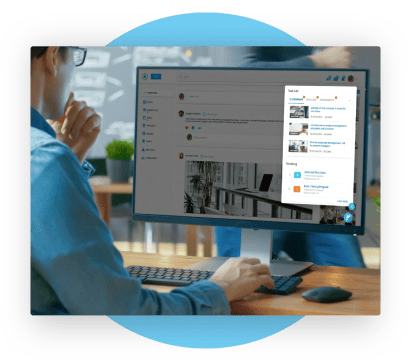 Drive product adoption
Embed learning content into your customer-facing applications to educate users on new product functionality, support your customer experience, and drive adoption.
Always-on learning culture
Create opportunities for continuous learning, so users can work and learn at the same time. Because learning shouldn't be limited to a specific time, place, or platform.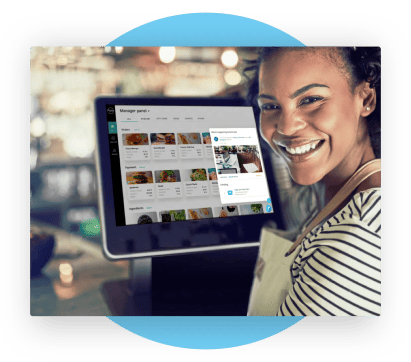 Can I embed Flow into any application?
Docebo Flow works on web-based technologies like JavaScript, HTML5, and CSS. As long as you have access to the code, Flow allows you to open an instance of your Docebo platform in any external web platform.
Can I personalize the learner's experience within Docebo Flow?
You bet! You get to design both the style and content that you surface for each Flow experience within your application directly from within the LMS Admin Menu.  The courses that surface are based on your users' profile.
Can I stylize the flow icon to blend with my products?
Yep. You're in control. You can configure the size, shape, color, and icon that appears throughout your application. Because your brand matters, and we get that.
Do I need a technical resource to use Flow?
You may need to lean on your technical team to help insert the Docebo-generated JavaScript snippet into the environment where you're embedding Flow widgets and content.
Does Docebo Flow use SSO?
It sure does. As part of the code snippet generated by Docebo, there's a function to authenticate your user "behind the scenes" leveraging a special type of SSO authentication. Depending on the product you're integrating with Flow, this may work differently. You should double-check with your tech team for more details.