THE BEST LMS FOR HEALTHCARE
The training learners need. The care patients deserve.
To deliver the best patient outcomes, you need the most skilled workforce and most effective partners. Docebo helps every healthcare audience learn, grow, and thrive.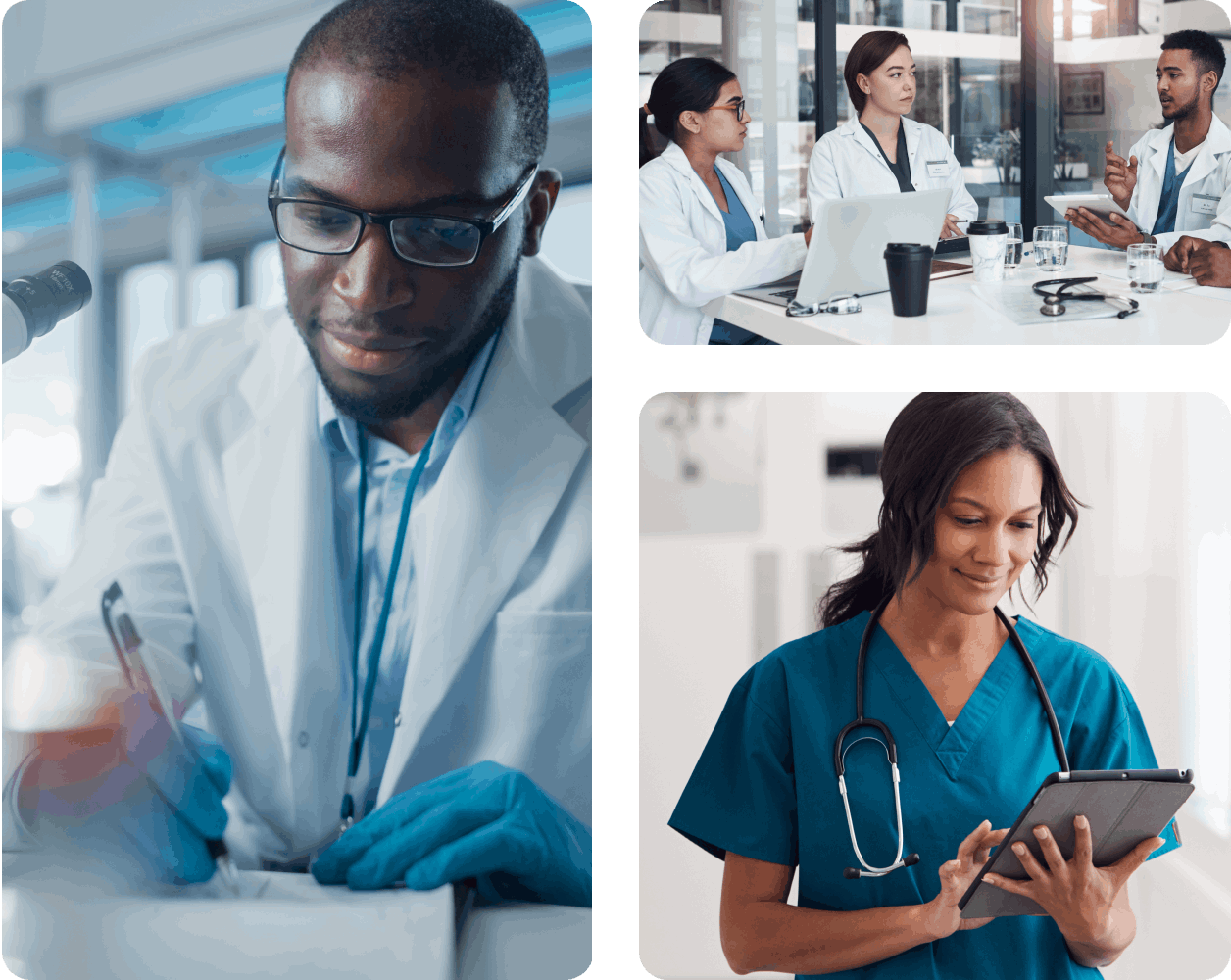 Industry leaders choose Docebo
Healthcare moves fast. Help your learners keep pace.
More than three quarters of healthcare workers feel stressed, anxious, burnt out, and overwhelmed. And with constant updates to diagnostics, medicines, procedures, and regulations, who can blame them? Docebo is optimized for this fast-paced, complex industry, helping grow skills and improve engagement and retention.
Accelerate digital transformation
Meet security and compliance goals
Own and analyze your data
Train all audiences in one place
Upskill and retain
Turnover in the healthcare industry is at 30% and upskilling is more important than ever. Delivering world-class learning can solve both challenges. Over 90% of employees say they'd stay with their organization longer if they had more opportunities to learn, which means you get more skilled, more engaged people who stay longer.
Simplify and accelerate digital transformation
Your learning platform should help reduce tech complexity, not add to it. Docebo integrates with the tools you already use, saving time and helping learners stay focused. And social learning and mobile functionality make it easy to learn any time, anywhere—no desk required.
Meet your privacy, security, and compliance goals
Automate compliance, safety training, audit trails, and reporting to stay on top of HIPAA and OSHA regulations while keeping your organization secure. And with powerful version controls, automated tracking, reporting, and recertification, you can minimize risks and ensure nothing falls through the cracks.
Own, protect, and analyze your data
Keeping your data secure doesn't mean keeping yourself in the dark. With Docebo, you can analyze your courses, learners, and platform—while maintaining airtight security. And with skills data and AI-powered course recommendations, your teams will cultivate the skills they need for the future.
Train your extended network from a single platform
Exceptional learning shouldn't just be for employees. Docebo is built to meet the needs of multiple audiences and use cases. Deliver personalized, tailored learning experiences to different partner audiences—from retail and technology partners to insurance companies.
Case Studies and Testimonials
The innovator's learning platform
Resources for healthcare companies
Does Docebo LMS support Single Sign-On (SSO) and two-factor authentication?
Yes, our pre-built SSO and authentication connectors allow easy-to-set-up integrations with your organization's identity provider.
How does Docebo run compliance management reporting and certificates for the healthcare industry?
Docebo's Certification & Retraining app allows you to create a certification program quickly and easily.
Users can earn a certification by completing designated online courses and learning plans or external training activity, or certifications can be manually assigned.
Does the Docebo Learn LMS support mobile learning?
Yes, Docebo has an award-winning native mobile learning application (Go.Learn). The app is free and can be downloaded from the Google Play and Apple stores.
Docebo also has a mobile app publisher, allowing you to personalize and publish your own mobile learning app based on the Go.Learn app (extra fees apply).
Can I automate re-certifications to avoid risks related to non-compliance?
Yup! Docebo automates workflows related to managing and renewing certifications, allowing Admins to set expiration dates for certifications to manage renewals.