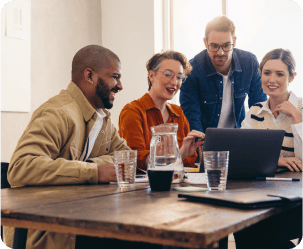 Decrease time to performance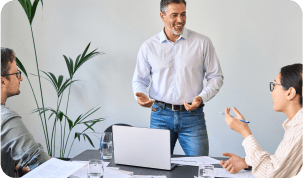 Overview
Empower your sales reps. Power your business
Equip your sales teams with the personalized learning, seamless mobile experiences, and relevant content they need to ramp faster, perform better, close quicker, and sell bigger!
Hyper-personalized experiences
Leverage AI-powered content recommendations, adaptive learning paths, virtual coaching, and automated upskilling to create tailored learning experiences for better engagement and faster onboarding.
Connected environment
Connect your LMS to your learning tech stack and other business systems to create a centralized and seamless sales environment, complete with the data, content, and training reps need to do their jobs.  
Always-on learning
Remove barriers for busy reps and make learning convenient and available to them no matter the context—whether they're on the go or in the flow of work—with mobile and embedded learning.
Data-driven insights
Use learning data to help reps develop by identifying and filling knowledge and skills gaps. Use business data to prove training is building behaviors that impact the bottom line.
353% ROI
Companies that invest in training and coaching their employees can expect a 353% return on investment.
*Accenture
84%
Of sales reps achieve their quotas when their employer incorporates a best-in-class sales enablement strategy.
*G2
55%
Of C-Suite executives say that sales enablement solutions are the top technology investment necessary to boost sales productivity
*G2
KEY FEATURES & BENEFITS
Unleash your sales team's full potential
With Docebo's sales enablement platform, it's easy to turn your sales team into a revenue-generating machine. Accelerate pipeline, increase revenue, decrease time-to-productivity, reduce program administration, and more, with a single solution.
Accelerate pipeline and increase revenue
Drive better business outcomes
Improve program and content adoption
Measure program performance
Maximize limited resources
Accelerate pipeline and increase revenue
Grow your people and your pipeline. Ramp up reps faster, get them in the field sooner, and teach them how to sell better with the hyper-personalized training, coaching, and content they need to close deals.
Hyper-personalized experiences
Bring on new hires faster and more effectively while continuously enabling and enhancing existing sales teams with tailored AI-powered learning paths and virtual coaching.
Content creation and knowledge sharing
Use AI-based content creation tools and social learning capabilities to make it easy for top performers and SMEs to turn their sales knowledge into shareable training material.
Learning data and insights
Gather feedback to find out what content is (or isn't) working, track and measure the impact of sales enablement efforts, and tie learning to revenue to prove the impact of your programs.
Drive better business outcomes
Set sellers up for success. Provide teams with the knowledge, skills, certifications, and training content they need to sell more effectively and efficiently, shorten sales cycles, improve win rates, and hit quotas.
Rev up revenue
Teach salespeople how to manage their time effectively, prioritize their activities, and focus on the most promising leads so they can increase sales productivity and overall revenue.
Build knowledge and credibility
Certifications equip sellers with in-depth knowledge and validate their expertise. Our enablement platform helps decrease time-to-certification and improve certification scores.
Continuous learning and growth
Your business is constantly changing, so your salespeople should be constantly learning. Deliver the latest information and training to the right reps at the right time to ensure they grow with your product and your business.
Improve program and content adoption
Whether reps are on the go or in the flow (of work), they should always be in the know. Support them with convenient, always-on learning and relevant resources to drive outcomes like increased engagement with content, completion rates, and certification scores.
Learn on the go
Learning shouldn't be limited to a desk or desktop. Provide access to training and resources at any time and from any device with mobile learning experiences.
Learn in the flow
Remove barriers to learning and support an always-on learning culture by surfacing just-in-time, context-based learning within tools sales reps live in.
Learn from the pros
Empower strong sellers to create a community of coaches, peers, and mentors and improve knowledge-sharing among sales, and between sales and other parts of the organization.
Measure program performance
Your learning programs work. (And we can prove it!) Our solution gets you the data you need to demonstrate the effectiveness of your sales enablement programs against KPIs and show impact across the organization, especially related to revenue.
Tracking and reporting
Get qualitative feedback from reps and quantitative data from your learning platform to gather feedback on and measure the effectiveness of training content.
Data-driven insights
Use your learning program data—cleaned, organized, and ready to analyze—so you can tie learning to sales performance and revenue.
Continuous improvement
Bring your learning and enterprise systems into your business intelligence tool and use the data to inform and validate your strategy and improve enablement programs.
Maximize limited resources
Program admin resources are finite. Maximize them with AI, automation, and integrations. Simplifying administration doesn't just save you time and money, it also helps you manage programs more efficiently, scale more effectively, and improve the learner experience.
Streamline your ecosystem
Connect your learning platform and sales tools (e.g. revenue intelligence, CRM, engagement platforms, etc.) to enable seamless data exchange between systems, simplify content updates, and track your team's progress.
Automate administration
Offload the grunt work to AI. Use rules and triggers to automate processes and workflows (within the platform and between platforms), like enrolling new sales hires into onboarding.
Provide a single solution
Centralize sales opportunities, enablement processes, product information, and learning content in your learning platform so everyone knows where to go.
Case Studies and Testimonials
See why successful sales leaders
trust Docebo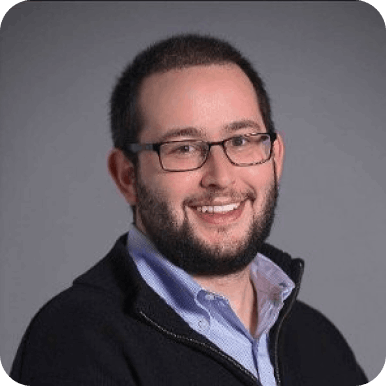 Nick Thomas
Director of Sales Enablement, Docebo
"
From streamlined onboarding, role-specific content and experiences, and deep analytic insights to guide our future planning, we've got all we need under one roof to build and launch revenue-driving training and enablement programs."
Vytautas Jurgaitis
Senior Training Manager at Samsung
"
The sky's the limit for us right now. There is no reason we can't quadruple revenue in the next two years. None whatsoever. The engine is built. The LX is there. Docebo has allowed us to create an education engine that's very plug-and-play and very scalable."
Does Docebo integrate with Salesforce or other CRMs?
Yes, Docebo for Salesforce module is a native connector, making prospecting, sales opportunity creating, and learning from in-house content or content providers like LinkedIn easy. Docebo can also connect to other CRMs via API.
Contact us to learn more about CRM and other integrations.
Are the CRM integrations native or via API?
Docebo for Salesforce is a native integration, other CRMs can be connected via API.
Does Docebo include gamification features?
Yes, Docebo allows you to apply gamification mechanisms to your learning activities to boost sales performance, knowledge retention, and sales success at all stages of the sales cycle.
Can I provide sales training programs through the Docebo mobile app?
You sure can! Docebo's Go.Learn app allows your sellers to upload content quickly and easily from any device.