At Docebo, we take pride. Pride in our roots (viva l'Italia 🇮🇹). Pride in what we do. 🔵 (We even take pride in our hard-to-pronounce name!) But most of all, we take pride in our people. 
As a global company, our team is made up of people from around the world. Different sexual orientations, cultures, genders, religions, languages, ideas—all coming together to create something bigger and better than we ever could have imagined. 🌈  Without them, we wouldn't be who we are today. 
All this month, we've been celebrating Pride. 🏳️‍🌈 And we've been doing it in a way that's relevant to our company and particularly meaningful to our people. Each week, we tied our celebrations to a core Docebo value. 
Togetherness 
We kicked off Pride Month with a presentation focused on LGBTQIA+ civil rights. Everyone has a right to be who they are. Unfortunately, that's not always the case. Our goal at Docebo is to provide a place where people can feel safe being their true self. That's where Togetherness, our first core value, comes in. 
Togetherness is more than teaming up to work on projects. (Although, we're really good at that. Collaboration for the win! 🙌  ) It's about taking care of each other and encouraging a sense of community and belonging. This means embracing our global teammates for who they are and giving them a place where they can be their authentic selves at all times. 
"Pride Month means being able to be appreciated by my colleagues and teammates in an authentic way. Being able to be myself at all times in a place where I can truly express myself!"
Carmelo Vadala (he/him), Talent Acquisition Specialist 
Accountability
We believe in empowering people. 💪  And we hold ourselves accountable to that belief. 
We also believe that empowerment starts with awareness. So, in week two of our celebration, we set out to increase awareness, specifically on intersectionality—how the combination of our various identities or intersection points, like race, gender, sexual orientation, language, culture… all the things that make us special and uniquely who we are—can create space for either vulnerability, discrimination, marginalization, or privilege. 
Members of our LGBTQIA+ community sat on a panel and shared their personal experiences about issues they've faced in workplaces. This was hugely important, because the more we build awareness around the many unique and overlapping identities and experiences that our Docebians' have, the more that we can take accountability in being creators of safe spaces and combating the discrimination and inequalities that persist, and the more we strive towards true social equity, the more we can empower people.
This belief is entrenched in everything we do, from the people we hire to the conversations we have to the events we host.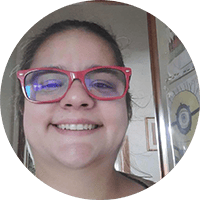 "To me, Pride means loving my LGBTIA+ relatives and friends for the wonderful people they are."
Irasema Sarmiento (she/her), Senior Technical Deployment Manager
Impact 
We're committed to making an impact. Not just for the month. And not just for our employees. We want to create the kind of change that's long lasting and far reaching. We recognize that one of the most effective ways we can do this is through allyship (which happened to be a focus for week three). In the spirit of allyship, members from our Docebo Women's Alliance and our LGBTQIA+ community partnered together to share their stories and examples of how we can all play a part, big or small. 
We're working closely with our LGBTQIA+ community to understand what they need, how we can create a safe and inclusive space for them in our offices and in the community, and how we can better promote authentic allyship. We realize one of the ways we can do this is by listening to our LGBTQIA+ community and letting them lead. Which is why we gave our LGBTQIA+ community members and Pride Month committee the reins for our celebrations. 
Whether it's sharing our pronouns, creating employee resources groups, knowing when to take a back seat, or sponsoring Pride events in our communities, every action can make a difference. 
"This is how we build our communities, how we create alliances with people both outside of and within the LGBTQIA+ community, and how we move forward, together, as an unstoppable force towards liberation and joy for all people. It all starts with making space for Pride."
Andrea Cascone (she/her), Proposal Specialist
Innovation 
Docebians (yep…that's really what we call ourselves!) are innovators. We strive to think positively and progressively. We love to experiment and find new ways to do things. And if there's one thing we know, it's that diversity drives innovation.
"In order to become better as humans (and as an organization), we have to listen and learn from one another—about what makes us similar, what makes us different, and then use that knowledge to broaden our world and make it a better place. Without diversity, there is no innovation."
Haley Sasser (she/her), Sr Employee Branding Specialist
We spent our last week of Pride focusing on innovation. Throughout history, LGBTQIA+ innovators have been deliberately silenced. In keeping with our commitment to life-long learning, we spent time in purposeful reflection, learning of their contributions to the LGBTQIA+ community, and other communities at large. One of the ways we did this was with a fun company-wide trivia night where every question was about global LGBTQIA+ history.  
We looked at the crusaders, the groundbreakers, the people who came before us and paved the way. Because if you want to make things better in the future, you need to learn from the past. (That's how #innovators roll.) 
More than just a month
Pride Month may be coming to an end. But we're just getting started. 
"We're committed to living our values. Not just today. And not just for Pride Month. But for the days, months, and years (and teammates) to come. We will continue to come together to create safe and inclusive spaces. To increase our awareness and accountability. To be trusted allies. And to strive to change things for the better."
Claudio Erba (he/him), CEO and Founder
Because Pride is more than just a month. It's a movement. And movements have the power to create meaningful and lasting change.  
---
A note from the author: Just like our Pride Month celebration was a collaborative effort, so was this article. I'd like to thank the members of the LGBTQIA+ community at Docebo for their time and input, and for graciously sharing their personal experiences with us.