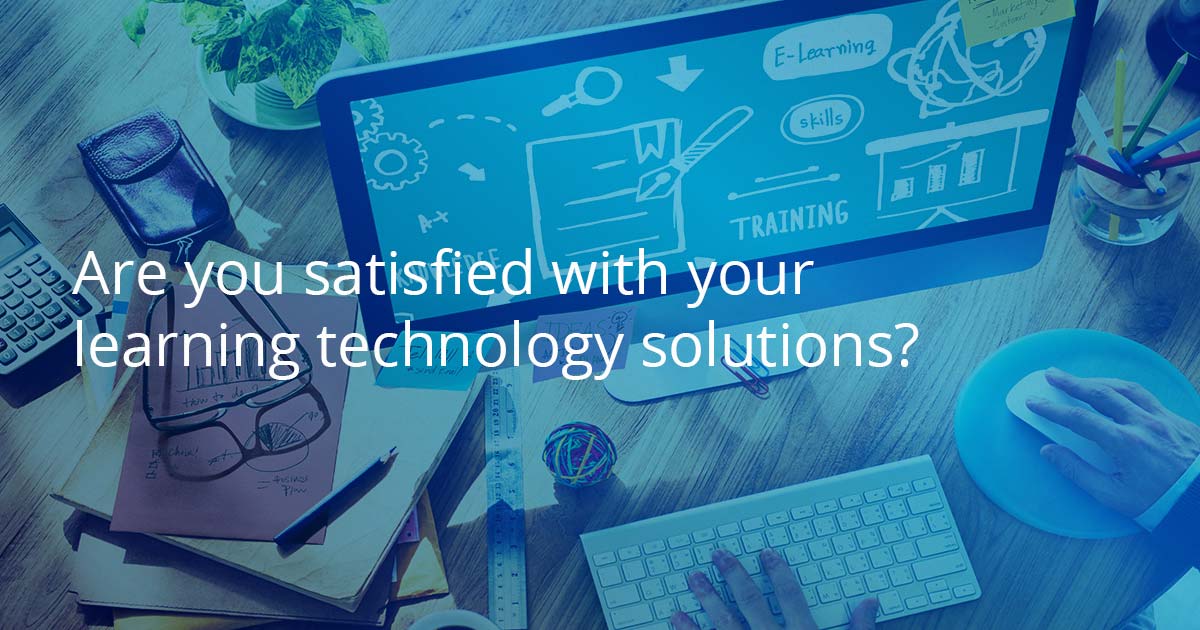 Up to 50% of companies are dissatisfied with their learning tech – what gives?
When organizations give their learning technology solutions low satisfaction ratings, what does this tell us?  Should we attribute the low rating to bad user experience? Low user adoption? Or, maybe, to the limited functionality of the solution they implemented?
To some extent, it's all of the above. But, according to a recent learning technology study by Brandon Hall Group, the top reason organizations are dissatisfied with their learning solutions goes right back to how they selected the solution in the first place.
For those who are happy with their LMS and other learning technology tools, it may come as a surprise that dissatisfaction with learning technology is so pervasive. In fact, according to the same study, less than 50% of companies believe their learning technology selection process is actually effective. That's disappointing – especially considering the time, effort, and cost that goes into implementing a new solution.
Get the process and the team right, first
As unsettling as this data is, it does shed light on what we have to start doing to effect change. This all starts at the beginning with the selection process. Too often, organizations make hasty, poorly thought out decisions on which LMS or learning solution to select. To learn how to combat this, we need to take a step back and look at the approach that organizations that have reported success in their learning technology implementation are taking.
So, what is a common thread between organizations that are happy with their solution? Answer: a formalized solution selection process and a proper selection team to assess the solutions under consideration. 25% of companies reporting a neutral, somewhat ineffective, or very ineffective process indicated they had no formal technology selection team. For those that said their selection process was somewhat or very ineffective, that number went up to 40%. The correlation is clear; companies without a formal selection team were 60% more likely to report an ineffective selection process. Those numbers tell a story.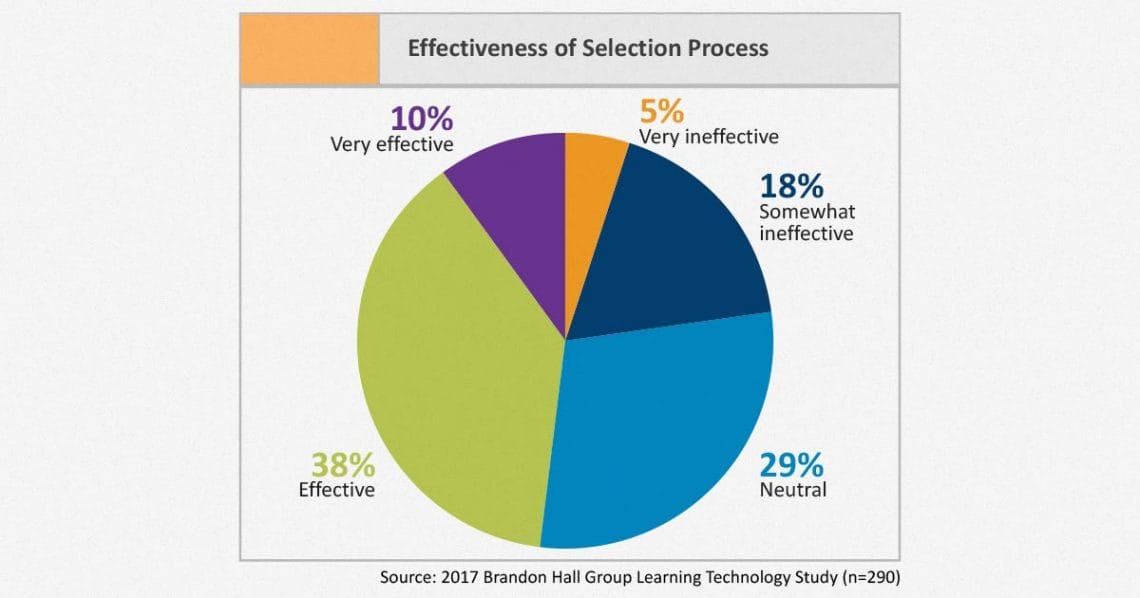 Involve key stakeholders from day one
What does all this tell us? Well, the good news is that with a little planning and organization, the root cause of dissatisfaction with an learning technology solution can be overcome. The key is defining a clear process and leveraging a formal selection team to make the best choice possible.
Hot tip: make sure the selection team is a cross-functional, closed-loop group of stakeholders that includes:
Learning and development experts

: This one should be obvious, as L&D personalities in the organization are going to have the most direct, ongoing relationship with learning technology solutions and ought to have the greatest say in how the solution, implementation, and day-to-day use plays out.

IT

: A proper enterprise or SMB solution can't be implemented effectively without attention from the IT department, so it is important to get the IT team involved at the onset of the selection process, as opposed to the start of implementation.

HR

: With a role in the organization that is deeply intertwined with L&D, HR – especially with the very direct relationship HR technology tools will have with learning technology – will want to have some input in the selection process. This is key.

Sales

: Yes, you read that right. Establishing a pedigree of sales enablement and getting new and existing sales hires up to speed quickly and effectively will obviously be in the interest of sales leadership. So the input from this critical – and often underrepresented – stakeholder group will be essential to an effective implementation and long-term satisfaction.

Finance

: Those that hold the purse strings are fundamental to the learning technology buy-in equation, and it will serve an organization well to get a representative from finance in early on as opposed to the end of the process. That way they can have clear context of the costs involved and the prospective ROI of new solutions, right from the outset.

End-users

: While we don't want to have a bloated selection team, it's important to remember that a learning solution is only as effective as its weakest links – i.e. end-user adoption and user experience – it's essential to give some users some skin in the game and even allow them to demo solutions as they are shortlisted and under consideration. Their feedback will be highly valuable and help the selection team establish a barometer of how successful the solution is likely to be.
To get a more complete picture of how to approach the solution selection process and learn how high-performing organizations are charting the course to success, download the free Brandon Hall Group report now.
Download the free Brandon Hall Group report, Satisfaction with Learning Technology Inextricably Linked to Strategy and Planning, today!