It's a winning idea to include coaching in an elearning course in order to mix different learning styles. Here we go over how you can use coaching to help learners achieve their objectives in the best possible way!
When a student takes a standard elearning course (that's the same for every student enrolled in that course) the coach can provide customized help to individual learners and in doing so support them on a personal and specific level (i.e. not only answering questions but specially filling an existing gap in skills and confidence).
How you can use Coaching
A coaching approach may be useful in managing teamwork and task performance issues. It is also important to drive the learning process, i.e. support and facilitate the learning process, help in setting specific learning goals, and discover best strategies to achieve objectives. Another important asset of coaching has to do with motivation. How? Coaches can provide continuous feedback to users, especially positive feedback to reinforce positive behaviors.
A good example of the coaching approach in elearning is the managing of language courses. These elearning courses typically provide a video lesson and some exercises to improve grammar and listening comprehension, but what is really effective in language courses is talking and receiving feedback about pronunciation, vocabulary, and particular expressions in a language – and that's exactly what a coach can do during sessions.
How to manage a coaching session using Docebo LMS
The new Docebo coaching feature allows you to create coaching sessions inside an elearning course. During these sessions the specified coach will support learners to achieve their goals. The system allows you to have one or more coaches in the same course, and each coach can follow one or more users simultaneously.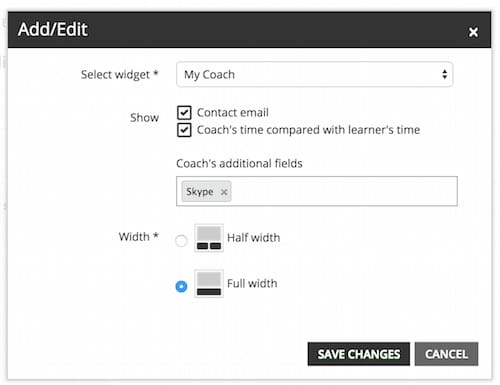 The process has the following steps:
Enabling the Coaching feature in a course: Access the elearning course in which you want to enable this feature and enable coaching for this course option. You can choose how to manage the allocation of the coach(es) to the users.
Assigning coach(es) to a course: From the enrollment area just choose the coaches you want to assign to this course. Once you have one or more coaches in your course, you can start creating and managing the coaching sessions.
Creating and managing the coaching sessions: In the coaching management area you will be able to create different sessions, and assign a coach to a specific user or group of users. Select the coach and assign the session's start and end dates that define the time period in which users assigned to this session will be able to get in touch with their coach. You can also specify how many users are allowed to attend the sessions.
Enabling the My coach course widget: here you can specify the user view by choosing to show the coach's email address, his/her timezone (compared with the learner's time zone), and you can use the additional fields to provide additional info such as the coach's Skype ID.
The Docebo LMS Coaching App will be progressively updated with new features in order to continuously improve elearning outcomes.