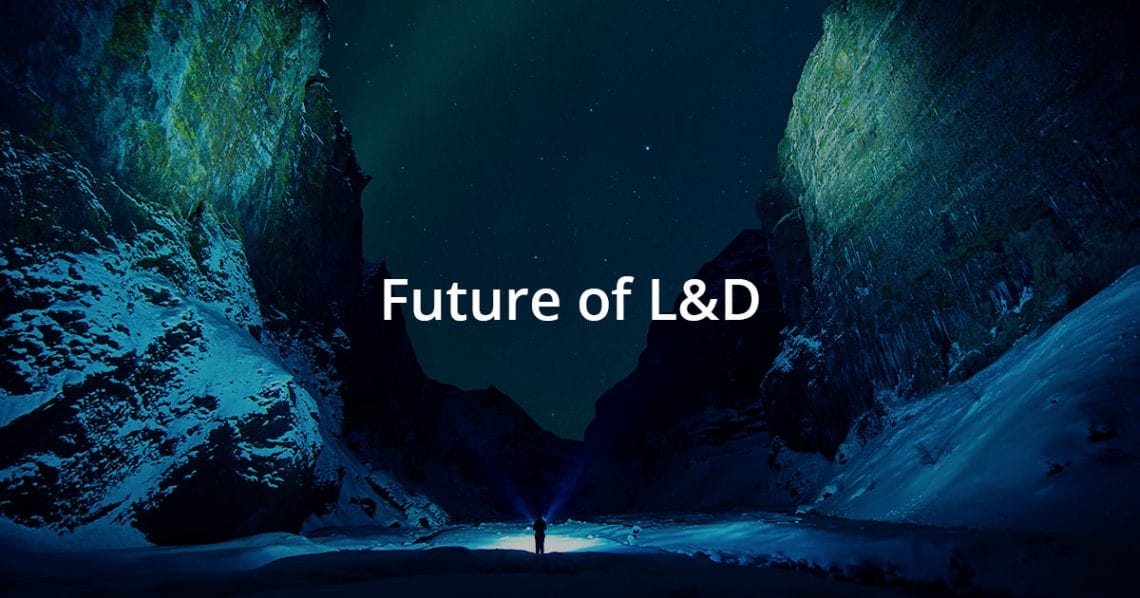 Technology is forever evolving and the learning and development sector is no different. It's important to keep up with industry trends and equip yourself with the most future-forward learning technology solution if you want to continue to see growth within your organization.
But how do you stay ahead of the curve and prepare for the future of L&D? Here's a breakdown of what to look out for.
Stay Ahead of The Competition With a Top-Notch Learning & Development Strategy
Your learning and development strategy should, by nature, reflect the business goals your company is aiming to achieve. When creating your strategy, start by speaking with other departments to understand their goals and determine skill gaps to identify where learning can provide real business impact.
Aim to foster a culture of continuous learning by leveraging your learning platform to provide learner autonomy and measure areas for improvement and success.
4 Trends in Learning And Development
It's important to keep your corporate eLearning strategy aligned with your business goals and up to speed with the happenings in the industry. But how can you be sure that it will still be relevant 6-12 months from now? First, you need to be aware of what is rapidly changing in the L&D environment.
Social and collaborative tools:
Social and collaborative tools are among the highest priorities for companies looking to elevate learning programs for employees, customers, and partners by capturing learning as it happens, in the flow of work. Social learning facilitates collaboration organically, especially in an e-learning environment, in which insights are shared and valued across the entire organization by curating knowledge capital, filling knowledge gaps, and cultivating a culture of learning.
Mobile Learning:
Mobile learning – and the ability to deliver it – has gained major momentum in the L&D industry, as learners are no longer confined to learning in a single environment, at a specified time. Instead, mobile learning applications enable access to learning anywhere, anytime – even if an internet connection isn't available, while synching progress once the learner comes back online. Mobile-ready course content is also key to the success of any program in today's enterprise environment to maximize the flexibility your learners desire.
Business intelligence:
Many companies are also looking at business intelligence as a key element of their learning strategies, which is why data analytics is becoming more important than ever. BI tools are useful as they translate learning management data into meaningful information for devising better L&D strategies and improving processes.
Satisfying the needs of multiple learner audiences with their own domains:
Multi-domain and enterprise specific learning technology solutions have begun to emerge, as more and more companies look to scale up their learning efforts as their businesses grow. This is an important trend, as picking a learning technology solution provider that is right for you, both now and in the future, is the best way to future-proof your company by establishing an environment that satisfies the needs of multiple learner audiences, within or outside your organization.
How Are Businesses Approaching Innovation?
According to a report by Brandon Hall Group, nearly two-thirds of companies have either a poorly defined technology strategy or no strategy at all.
It's not that companies are unaware of the need for change, it's rather that they are not ready to move forward in exploring new opportunities and implementing these in their learning technology stacks – which are usually a combination of Learning Management Systems, Authoring Tools, Collaborative Learning Tools and Simulations/Gamification tools.
This is why, even when the satisfaction rate with current technology is low, many companies struggle when it comes to finding a new approach to L&D . Interestingly enough, market leaders are those moving towards a new, more effective approach by focusing on innovation. Top performing companies invest a lot of time into the selection and implementation phases of these new technologies, as they realize that a poor selection process usually creates misguided expectations and unexpected costs.
One thing is absolutely clear: organizations of all sizes see the value in e-learning and recognize it as a viable solution to budget and productivity-related issues. They are progressively embracing new learning tools. This is why, according to Brandon Hall Group, L&D leaders will continue to allocate e-learning budgets that are aligned to organizational growth goals.
Prepare For The Future of L&D
How is your company preparing for this new shift in the eLearning technology landscape? How fast is your company innovating towards the most anticipated L&D trends? Download our white paper on the E-learning trends set to impact the year ahead to learn more about the status of the L&D market and the biggest trends reshaping L&D in 2020.