Read on to find out how a 3 member L&D team delivers training to 5400 employees and sellers
As Docebo's multimedia content person, I am lucky to be able to spend a lot of time chatting with our customers. This means I get indepth insight into the lives and jobs of the people who use our software. My role gives me the wonderful ability to get beyond the tech-support, implementation and hear directly about their customer success and sales processes. Before the camera even comes out I get a good read on what Docebo means to them, their jobs, and the value it adds to their business.
An introduction to GroundTruth

This was more true than ever at Docebo's first ever conference last year, DoceboInspire. Amongst all the energetic and passionate customers I had the pleasure of meeting, a few young professionals stood out. Leah, Sean and Jess were the envoy from GroundTruth (previously XAd), an innovative and fast-paced location-based marketing and data company. These guys are serious, professional and impressive… but they are also a lot of fun!
Pitching a film  
Struck with their energy and enthusiasm, I got to pitching them about the possibility of making a little film about their insights into the Docebo platform. In his easy going, we-can-make-anything-work vibe, Sean greeted my idea with, "Absolutely, just tell us when!" And that was that.
New York
GroundTruth occupies the 60th floor of One World Trade Centre. Freedom Tower. I'd just been invited to spend my first ever few days in New York high up inside one of the most iconic and important buildings in the world.
Learning more about GroundTruth
Learning more about the GroundTruth team in the Big Apple was fascinating. The company had been one of the early adopters of geo-location tech. The early idea was that they could collect relevant data about an individual based on their location, and use that data to cut out irrelevant marketing. "I just don't want to see another candy crush ad," Sean jokes with me. This is where location tech comes in.

"Let's say you love beer. And maybe you also like really expensive whiskey," muses Leah, ingeniously pitching herself perfectly to an Irish man. "So you're doing research on bottles of whiskey that are thousands of dollars, but you're realistically at the bar buying a ten dollar drink not a hundred dollar glass of whiskey, right? So our online search history can tell us stuff about who we are. But it might not tell us the most accurate information about what we might purchase." And therein lies the basis of location information marketing.
Fast paced and non-stop
The company is one that never sits still. They have developed from specifically location based marketing, into location information tech in a wider sense. They offer various ground breaking insights to their partners about the trends and movements of buyers. I was further fascinated learning about the tech behind their recent acquisition of WeatherBug, another sign of the fast pace at which they work. The prospect of training a whole new set of employees in their location tech, as well as training their existing employees in weather tech at the same time made me feel dizzy. (I admit this may also have been caused by looking straight down on Wall Street from the 60th floor.)
With the fast-paced non-stop nature of their operations, the L&D team had seen first-hand the importance of a great learning system to back them up. Their old LMS was too slow, too buggy, and too limiting. With internal and external learning programs at stake, they were in a place where they saw the value of taking the time to choose the right system to navigate. After a long period of studiously comparing LMS's, the team confidently chose the Docebo LMS.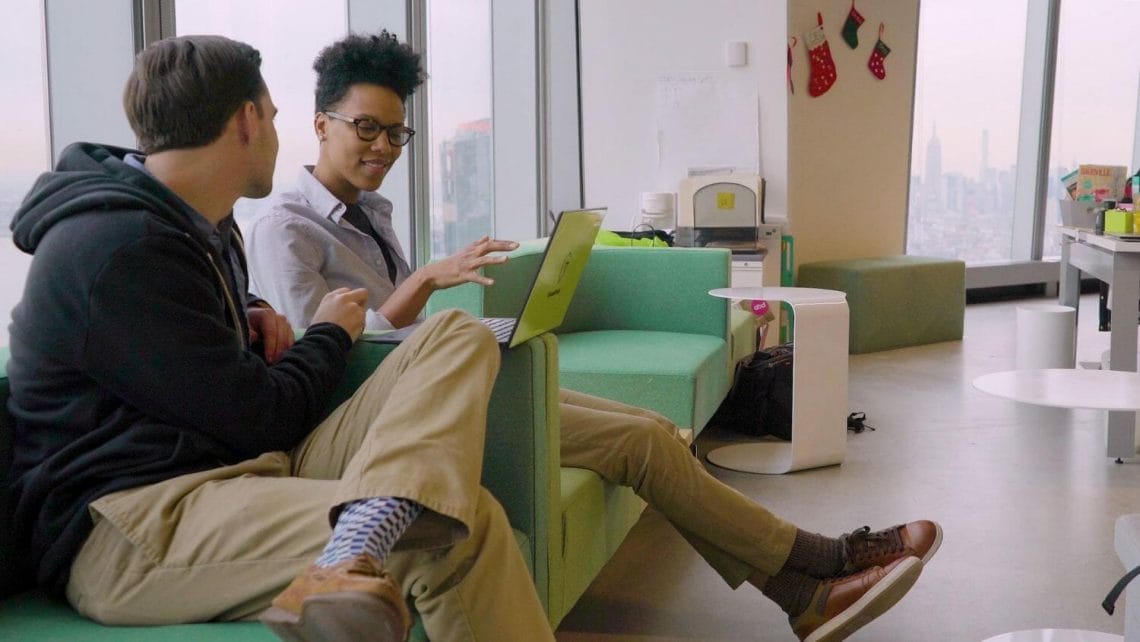 Docebo as the perfect learning partner
On top of training their internal employees, GroundTruth use Docebo successfully to lead their external selling partners through an automated progression of courses explaining highly advanced technology. At implementation of the platform, they were able to bring their history of employee data and existing courses. Every question I had for them led back to their exclamations of just how simple and easy Docebo had made the process. Leah explains, "Docebo understands how people work. The easier it is, the better the experience. Everything is designed with that in mind. To minimize confusion and maximize ease of use." As I chatted with the various team-members about their own experience with the platform, it became clearer and clearer to me just how well Docebo fits in to their innovative, professional, and fast-paced nature of work.
And there starts their Docebo story. You can see their vibrance and passion in the video. The whole experience with them was equally interesting and great fun. Together we hope you enjoy the finished film. Take 3 mins and watch it here: