Boost Engagement and Performance with Modern Blended Learning Programs
Traditional blended learning was introduced to address the learning needs and styles of a wide variety of learners by incorporating two key learning dimensions into its approach:
Online, self-paced learning, where learners essentially guide themselves through the learning process; and,

face-to-face classroom learning, where learners are taught directly, in real time by assigned instructors in a classroom setting.
Though seemingly opposed, these two approaches can actually complement each other. For example, both can be supported with learning technology, such as e-learning. However, both programs are invariably delivered through a "push" modality, where trainers prepare and push formal and structured learning content to learners.

On the other hand, we can find an alternate example in the 70:20:10 learning model, which holds that 70% of learning is experiential, 20% is social, and only 10% is formal. Accordingly, in real world environments people learn in ways other than formal learning (courses, readings, quizzes, etc.), such as through social interactions and on-the-job activities, among others. These would be considered instances of casual, ad hoc learning that can't necessarily be planned by design, but are highly practical and effective nonetheless.
What is a Blended Learning Approach?
Blended learning is increasingly used to describe an approach to e-learning that combines traditional classroom methods and independent study to create a hybrid teaching methodology. It combines offline (face-to-face, traditional learning) with online learning in a way that they compliment each other to provide learners with an opportunity to enjoy the best of both worlds.
Two key principles often associated with blended learning include:
Learners who share information and work with others directly in a collaborative, social setting to produce a more enriched learning experience.

Collaboration between learners is improved when group activities rely on information gathered from online resources or lessons.
Blended learning activities that include formal, online coursework components that are followed by interactive, social learning activities are well known to produce richer learning experiences.
Traditional vs. Modern Blended Learning
Let's combine these two ideas and see how modern blended learning programs can take advantage of this model. Traditional blended learning is comprised of the following components:

Classroom (instructor-led) learning: Live, in-person classroom training will never go out of fashion, but it tends to be overwhelming, expensive and time-consuming. Knowledge retention after an intensive classroom training can be very low. Also, this approach to learning takes people away from the field, a factor that can damage productivity for some teams. That said, in conjunction with online training, classroom training can significantly reinforce learning material by providing an opportunity to practice required skills in a more structured, organized environment.

Instructor-Led Training (ILT) meeting technology: Virtual ILT on the other hand is incredibly convenient, as participants can access and take courses from anywhere, thereby reducing time away from the field. The best virtual ILT offers learners frequent opportunities for collaboration through chat, polling, discussions and interactive exercises.

Online, self-paced learning: With this approach, training is accessible and actionable whenever and wherever it works best for the learner. This means an individual's peak activity hours can remain uninterrupted. Learners access training at any time, even on the go. Online learning is proving to be a great way of reinforcing training, as it can be delivered in short, bite-sized modules, on-demand and from any device. Finally, not only does this approach enable trainers to manage and distribute learning content on an online training platform, the solutions it leverages often provide tracking and reporting capabilities for a better 360-degree view of training progress and effectiveness.
The problem with traditional blended learning is that it's mainly focused on pushing formal, structured courses to learners. To that point, here are a couple of things to consider:

How do people naturally learn in an organization? Most learning occurs through interactions with peers and managers, as well as on-the-job experiences, tasks and problem solving, as opposed to through formal, structured training programs. By its nature, formal learning tends to take learners away from their workflow instead of providing support for learning within the workflow. It simply does not provide all the information required at the point of need.

Where do workers go for information that is critical to perform the task at hand? In these cases, generally users don't take formal courses to get essential information. Instead, they execute research, ask questions, and find the individuals that they view as experts.

On the other hand, modern learning, based on the 70:20:10 learning model, is bidirectional: it involves both push and pull learning. When we add informal learning modalities to the equation, we incorporate a pull modality into the learning process.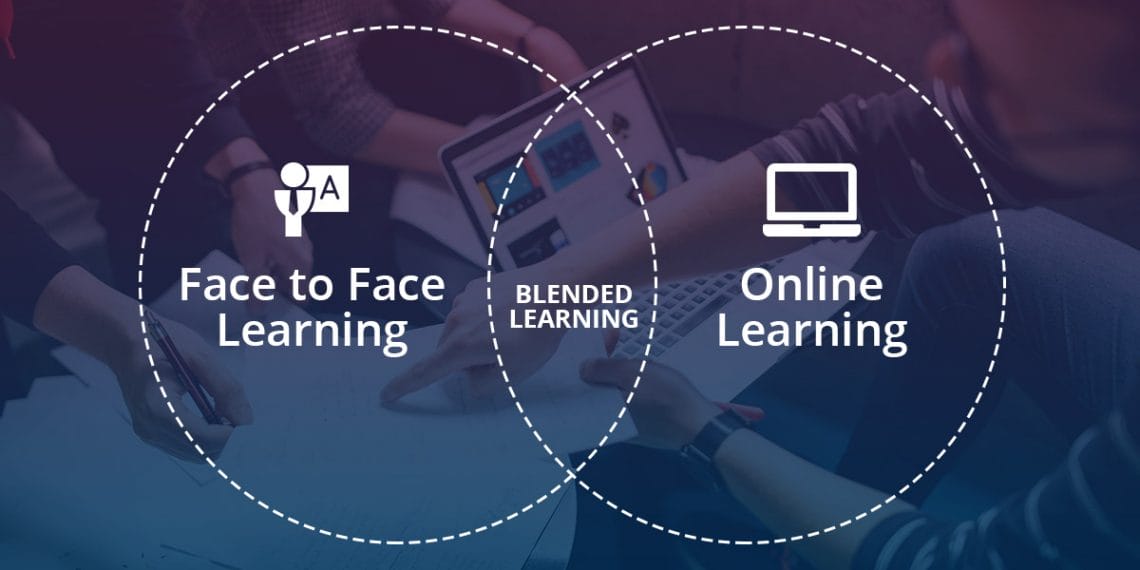 Benefits of Blended Learning in Corporate Training and Development
As a tool for corporate training and development, blended learning provides the organizations an opportunity to deploy learning activities made up of an ideal mix of online and on-the-job learning experiences. For corporate training, the many benefits of blended learning include:
It's cost-friendly: For many companies, blended learning cuts costs considerably by providing reduced training costs in the form of less facilitator fees, lower classroom expenses and reduced travel and accommodation requirements.
Make classroom training more efficient: A hybrid learning approach helps instructors make the best use of the time in the classroom. Learners can be asked to complete certain portions of the learning content online, such as basic concepts or theory, and this allows instructors to spend more time clarifying doubts and testing the comprehension levels of learners in the classroom.
It brings two worlds together: Blended learning brings the best of the offline and online learning worlds together, allowing learners to derive a learning space at their own pace to back motivation and engagement levels consistently. Online and offline face-to-face interactions foster critical thinking skills among learners, as the digital and real worlds come together to help learners find guidance among their own ranks, such as internal subject-matter experts, to facilitate effective learning.
Learners consume content at their own pace: Whenever necessary, blended learning in online environments gives learners the chance to access their learning content whenever they choose and at their own pace. When traditional face-to-face interaction is used offline, learners have the opportunity to put their learned concepts to practice in the real world.
Produces greater retention: Online and offline interaction helps learners grasps concepts more effectively because their learning experiences are much richer (and repeat of concepts). Learners can apply their learned concepts in practice activities, gather feedback from instructors and administrators and benefit from a learning environment that values concept absorption and engagement. Strong retainability produces learners that are more effective in applying their knowledge in real-life situations.
Strong communication abilities: As learners grow into members of a community both online and in-real-life, they benefit from being able to not only provide feedback to their peers, but also consume, interact with and absorb complementary knowledge from other learners.
Blended Learning Models
The Face-To-Face Driver Model: Best for diverse learning environments in which learners function at various levels of ability (or mastery). Learners excelling in specific areas may proceed at a more rapid pace, preventing boredom by giving them more appropriate challenges. Learners struggling with specific course content are given appropriate remediation in hopes of accelerating their learning. This model is effective in giving accelerated learners the opportunity to put the content they're absorbing into practice and encourage them to devise their own techniques.
The Flex Model: Relies heavily on online instructional delivery, with instructors or administrators acting as facilitators instead of their learners' primary source of instruction.
Self-Blend Model: Allows learners to participate in a formal classroom course setting, but also gives them the opportunity to enroll in other courses designed to supplement regular programs of study.
Online Driver Model: The complete opposite of a traditional face-to-face instructional environment, in which students work from remote locations and receive all instruction via online platforms. There are more formal learning components, such as "check-ins" with course instructors and more social components, such as contributing to online forums and collaborating with other learners.
How to Implement Modern Blended Learning With Technology
Effectively incorporating modern blended learning approaches with technology means finding the right solution that brings some of the following elements together within one platform:

Online learning: Solutions should feature the ability to organize courses and catalogs, distribute learning content across the extended enterprise, and track and measure results (which are increasingly desired among companies trying to show value through informal learning approaches.)

ILT, Classroom training management: Trainers should also be able to electronically manage classroom schedules and locations, monitor performance and attendance, and assign learners and instructors to courses.
Social learning: Users also need a place where they can engage experts, ask questions, and get answers when they need them. An ideal platform enables learners and experts to join forces to create best practices and curate knowledge capital. It is also a place where performers can be recognized by coworkers.

Experiential learning: Effective solutions need to offer ways for learners and experts to contribute with user-generated knowledge that can be validated through peer-review and shared across teams, all while fostering a culture that rewards top performers.

Mobility: An effective cloud-based platform that supports all of the above and enables any delivery modality, from PCs to tablets and smartphones, is no longer a nice to have. It's now an expected aspect of any best-in-class eLearning solution. Don't settle for anything less.
Blended Learning Strategy and How to Implement it Successfully
While the instructor-led format has been leaned on for decades as the go-to for effective corporate training, it also has its fair share of shortcomings. Organizations have long faced issues with the format related to logistics issues, higher training costs, and an inability to facilitate continuous access to training. To confront these shortcomings, a new, hybrid learning methodology evolved, utilizing both classroom and online learning methodologies. Below, you'll uncover just a few of the many reasons you should consider a blended learning approach to your corporate training activities and how to implement it successfully.
Express the benefits of the hybrid learning approach to your learners: The success of your learning activities depend as much on your strategy as it does your learners' ability to buy into it. You need them to actively participate to ensure they're learning effectively, retaining the knowledge they need to put the concepts they're learning into practice on-the-job. Explain how a blended learning approach cuts down on classroom training time, while offering anytime, anywhere access to their learning materials, which will improve productivity and efficiency.
Your blended learning platform should be based on expected learning outcomes: Blending learning formats requires you to guide learning outcomes. Whatever format you choose, it must enable your organization and its learners to achieve the learning outcomes you've established. For example, if service technicians have a learning outcome based on understanding how to troubleshoot a company's products, their objective may be met through a blend of video-based e-learning modules and workshops. A workshop would give the technicians hands-on experience with the product, while online courses can serve as complementary knowledge resources that can be accessed anytime in case they need an answer to a question in the field.
Consider employee learning preferences when formulating your learning blend: If you want your blended learning approach to be effective, you must consider the preferences of your learners. Doing so can be as simple as conducting a quick survey to determine the preferred methods of learning content delivery to meet the needs of all within the organization. Some may prefer video courses, while others will prefer instructor-led classes. The key is finding the right balance to satisfy everyone's needs in a way that produces desired learning outcomes.
Technology, technology, technology! Make the most of a learning management system (LMS). It can be an incredibly useful tool in implementing a blended learning strategy because it enables you to inform learners about classroom sessions, host a repository of learning materials, facilitate knowledge exchanges via social learning, assess employee skill levels, and measure the effectiveness of your entire learning strategy with a range of reports.
Are You Using Blended Learning in Your Corporate E-Learning?
While there are many popular approaches to using e-learning, blended learning is an effective way to uncover the best of both worlds between formal and informal learning. Not only does it make use of online and in-real-life learning methods, doing so ensures that the needs of all learners are met, finding the balance you need to see your learning outcomes through successfully.
Docebo is the only learning management system (LMS) that combines formal, social and experiential learning with skills management to not only maximize learner performance, but drive the productivity and profitability of your company. Docebo can help you bring your blended learning strategy to life!