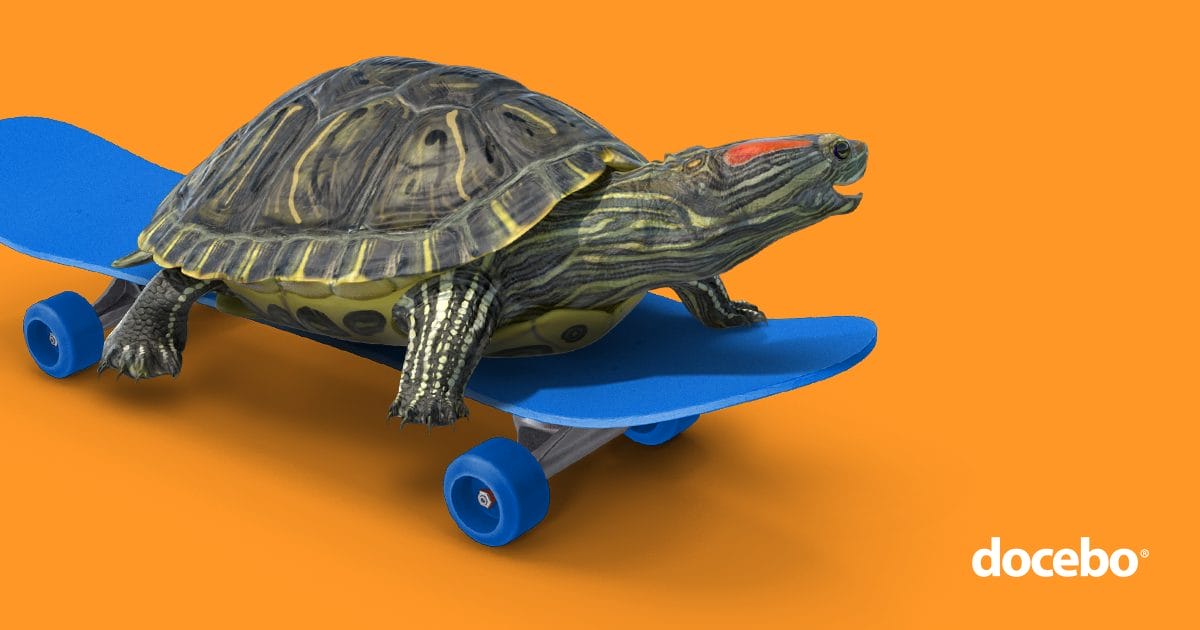 With high stakes riding on the success of our training and development strategies, it's time for us to unpack the importance of polished learning programs and, even more crucially, better understand how our training programs have failed in the past.
By reflecting on Learning and Development (L&D) as a whole and the L&D strategies we know don't work, we can rewrite our approach to enterprise learning. While reading this article, consider what sticks out to you, why it sticks out, and what actionable moves you can make to get your learners right where you want them.
---
What is Learning and Development?
The Human Resources experts over at HR Technologist define Learning and Development define Learning and Development to a tee: "A specialized HR function, learning and development (L&D) is defined as the process of empowering employees with specific skills to drive better business performance."
Currently, big money is being spent on enterprise learning solutions and there's a good reason why – learning is your competitive advantage, and as mentioned above, it's how you initiate "better business performance".
According to Training Mag's 2018 Training Industry Report, organizations in the U.S. spent 87.6 billion dollars on training expenditures that year, and this is only expected to grow. The global corporate learning market is expected to register a CAGR of close to 11% during the period 2018-2022. These stats tell a similar story: all eyes are on Learning and Development (L&D) departments right now, and your strategic objectives moving forward will be pivotal.
There's no doubt executives see the importance of developing employees; almost 50% of executives believe the workforce isn't receiving the training necessary for their businesses to succeed. They fear a loss of revenue and business to competitors, eroding customer satisfaction, and delaying product development. Not to mention the financial consequence of hiring rather than training employees, and low retention rates. These truths are all alarming, but the good news is that we have tools to improve.
---
Why is Learning and Development important?
L&D professionals (who sometimes live with Human Resources) cast a wide net. Usually learning and development will encompass the following: onboarding, professional development, leadership development, upskilling, reskilling, skill gap training, elearning, etc.
All of these learning objectives set the foundation for the success and growth of not only your human capital, but your business as a whole. From the moment your talent begins onboarding on their first day, they depend on your talent management strategy, but equally you depend on your talent's ability to contribute to the business. Here are some examples of what hinges on the success of employee training programs:
Retaining top talent
Let's face it: Dwayne Wade or Megan Rapinoe wouldn't be caught dead on a team with a coach that was not constantly giving them opportunities to improve. Business is not that different. According to the Work Institute, the top reason employees leave their job is because of a lack of career development (22% reported). In 2019, that was the 9th consecutive year where this reason for leaving ranked first, and out of 100 people, 22 will likely quit for this reason.
Your highest performers are ambitious and restless. They need to feel that they are challenged and their development needs are being addressed or you can guarantee to receive your employee's notice sooner rather than later.
The cost of turnover
When we lose top talent, or any at all, we face the costs of turnover. Research from the Work Institute shows that the average cost of employee turnover is 33% of the position's salary, which is approximately $20,000 for a job paying $60,000 a year. In addition to this, after your talent is replaced, you likely still will not see them at full productivity for months after hiring.
The best way to prevent bleeding out money from lost talent is with investments in human capital.
Scaling growth
Business objectives typically have shared a similar goal – to grow. Learning and development plans, when done well, are supposed to grow with you. Learning and development plans, when done well, are supposed to grow with you. Traditional and more formal approaches to learning limit an organization's capacity to scale their learning with their growth.
There is a high risk involved when your LMS or learning solution is not capable of supporting your people, and it should be a top priority.
Customer satisfaction
One of the best indicators of success in talent development is your customer satisfaction metrics. When employees retain knowledge from your training and development strategies, it's directly reflected in a customer's experience with your brand. When are enabled to succeed, their job performance speaks for itself through your customers.
Related: What will the future of work look like?
---
How Learning and Development has gone wrong
With all of the resources you are pouring into a learning management system and new learning methods that you are devising, it's important that they prove their value. Here is where L&D has failed in the past:
TD (no, not touchdown): Top down formal training is traditionally how previous generations have learned. We're not saying that this mode of learning should be written off, but rather that it does not work on its own.
Top down learning is most effective when it's supplemented. HR Technologists highlights that multiple components make up positive and successful learning experiences. They also point out that Human Resources professionals recommend following the 70:20:10 model when inventing your learning design.
This suggests that employees pick up 70% of skills through their jobs, 20% through peers and colleagues, and 10% through formal training sessions.
On its own, formal training simply does not hit the mark. Human Resources and L&D professionals should rather provide learning opportunities that encourage blended learning and collaboration amongst peers and learning new skills in the flow of work/on the job in addition to formal training.
Poor content delivery: Despite the workforce being made up of three generations, young adults in the millennial generation take the highest proportion. If we've learned anything since millennials entered the workforce, it's that presentation and delivery in e-learning matters.
With everything from targeted advertisements, to personalized Netflix recommendations, we are used to feeling accommodated to. If learning content is not personalized and tailored to different learning styles and job specifications, you won't have highly engaged learners or even an audience motivated to hit play in the first place.
In that same school of thought, with most of the world's resources being accessible on laptops, lablets, and mobile devices, a learning platform should be too. Learning programs that are presented from binders or solely powerpoints are entirely unrealistic at this point – if we expect to compete for our learners' attention, we need to feed them what already feels familiar.
Repeating the cycle (low engagement): Whether it's realizing we do not have effective onboarding or trying to force our people to take their compliance, most of us have been guilty at some point of perpetuating low employee engagement. The most unfortunate truth here is that there are few bigger wastes of resources than training that harbors low engagement.
In this report, Gallup identifies that "highly engaged business units result in 21% greater profitability". They explain that because these employees are more process driven, productive, and attentive to customers, all of these behaviors drive up profitability.
Bottom line: employee engagement drives business impact, and if we already know that our learners need personalized learning, mobile accessibility, and peer-to-peer interaction to feel truly engaged in what they're doing, it's time for L&D teams to act.
Related: The critical importance of the learner experience in e-learning
---
Playbook: Just do it (Right)
We get it — designing anything from online courses, to an onboarding program, all the way to redesigning your whole learning and development strategy is no small feat. The development process for all of this requires us to be intentional and strategic if we want to produce the results we're aiming for.
Here are the ways in which you'll want to pivot to reach your ideal state:
Ongoing feedback: Whether your audience is engaging with peers to solicit feedback from each other, or completing a course survey to help you understand how impactful your course was, feedback is crucial.
Workhuman actually identified that 89% of Human Resources leaders agreed in a survey that ongoing peer feedback and check-ins positively impact their organizations.
Sending some form of communication after tests are completed is another great way to distribute helpful feedback to learners. Tests that have a grade with no feedback attached don't give your learners a lot to go off of.
To keep your audience engaged and accountable, they should continually receive actionable feedback so that they are constantly moving forward. Opportunities to learn and grow will keep your talent invested, ensuring that your teams will stick around.
Delivery: What's important here is that we are realistic. Ask yourself: when I go to Youtube to quickly learn something, how long is the video, usually? And how do I consume that piece of content? Enter our favorite "M's" in training and development: Micro and Mobile.
Everything we do these days is bite sized. Micro-sharing is what we are used to (think Twitter, Instagram, Snapchat, Youtube, even texting). The big takeaways here are that the more digestible a piece of content is, the more successfully it will land.
When we look to Youtube to learn from a new piece of content, we want it to be as digestible as possible, and that's what keeps our attention and keeps us coming back. Learning should be no different.
Thinking about how we consume digestible content is crucial as well. Everything listed above is accessible on mobile devices, and frankly CNBC predicts that by 2025 roughly 73% of the world will use solely smartphones to access the internet. What this is saying is that, ready or not, your learners will expect e-learning to be mobile- accessible in just a few short years.
High adoption rates and successful learning plans will soon depend on being mobile ready, but this will also guarantee that learning feels natural to your audience. When it begins to feel natural, it will become routine and your engagement rates will reflect that.
Peer-to-peer knowledge sharing: there's no greater example of peer-to-peer learning than LinkedIn. They have completely changed the way we network and learn from one another. Never before has it been easier to access subject matter experts or solicit advice and training from people who have the job you want. Take this mantra, and let it inspire your learning program internally.
Ideally, you want to know who your subject matter experts are and let them do a lot of the talking on your platform. When they start engaging, others who want to learn from them will too. Social learning is how 20% of learning takes place, and it helps cement best practices and replicate success internally.
Quality content: The goal for any piece of content is for it to reach as many people as possible, and to streamline your messaging so that there are established and solidified best practices recognized internally.
Content that is up-to-date and consistent with your organization's brand, best practices, and messaging will keep your workforce polished. You do not want your customers to have 50 different experiences with your brand. You want their experiences to be positive and similar, which comes about through training that is streamlined.
 If there are cemented best practices, you will always be able to predict your customers' experience, which you want to be entirely in control of. When training content is out-of-date or sends misinformation, you risk having to conduct damage control and you risk what's most valuable: your customer's experience and satisfaction.
When it comes to reaching multiple audiences, similar to TV, channels should be different. Every job contributes something unique to the business, so while messaging should be streamlined, content should be personalized to each learner's role.
Training and Development has undergone a technological awakening where personalizing content really is as simple as it's ever been. With technology like artificial intelligence that only gets better with time, it automates the process of pushing the right training to the right people at the right time. This is your ideal state. By providing the most relevant content to your workforce, and satisfying their training needs, they'll be more engaged and likely to tune in.
Related: What is Social Learning (and how to adopt it)
---
What happens when learning is a priority
According to research from IBM, an increase in skill levels linked to business value can result in $70,000 in annual savings and a 10% increase in productivity when teams are well trained.
Piecemeal solutions are also no longer effective for scaling enterprise organizations. World-leading brands are looking for solutions that can address any learning challenge, and tackle all aspects of the enterprise learning lifecycle. Effectively mastering your learning activities with a single learning solution is the key to enabling organizations to respond to changes and adapt to an increasingly competitive (and ever-changing) market.
Related: Why and how to create a continuous learning culture
---